27 September, 2013
South Indian Beef Curry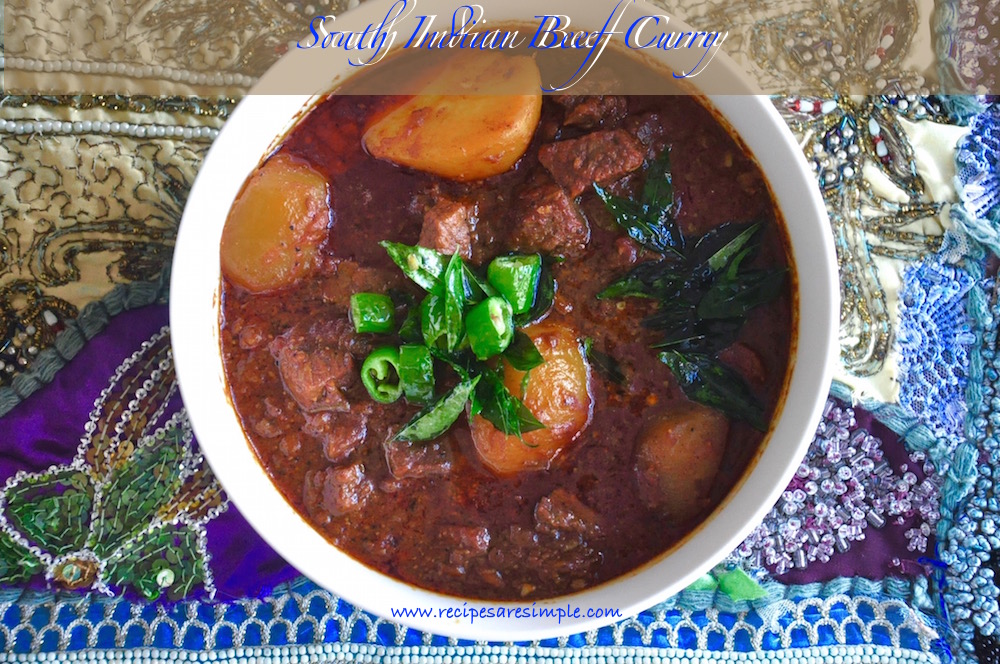 South Indian Beef Curry
This South Indian Beef Curry is often requested. I am sharing the trusted and delicious recipe with you all. Beef curry is very famous in the Southern Indian state of Kerala.Especially this Spicy Delicious Version – great for lunch or dinner. In Kerala, it is even served up for breakfast with 'Puttu'- steamed rice cake, 'Appam'- fluffy rice pancakes with yeast, 'Idiappam' – Rice hoppers or 'Pathiri' – Roasted rice Roti.
South Indian Beef Curry
Ingredients:
For Beef Marinade:
½ kg beef cut into small curry pieces
1 Tbsp ginger paste
1 Tbsp garlic paste
1 tsp pepper powder
1 tsp chili powder
1 tsp vinegar
½ Tbsp  white poppy seeds (kasakasa)
For curry:
½ cup oil
1 cup onion, diced
1 Tbsp ginger, crushed
1 Tbsp garlic, crushed
½ tsp fennel/aniseed seeds
1 ½ Tbsp coriander powder
1 ½ Tbsp chili powder
1 tsp turmeric powder
1 tsp curry powder
1 tsp pepper
 Method:
Rub the ingredients for marinade into the beef and set aside for a while.
You will need a pressure cooker. Add oil and heat.
Heat oil and sauté the onion, ginger and garlic till softened.
Add all the spices and stir till nicely aromatic, sprinkling water if necessary so that the masala doesn't stick to the cooker.
Add the marinated meat. Stir well. Add just enough water to cover the beef and pressure cook on medium. (Around 10 whistles). The beef should be cooked tender.
Notes:
Potatoes may be added . Add after 8 steam whistles and then cook for a further 2-3 whistles.
Optional Tempering: Heat a small amount of oil in a frying pan.  Fry some dried and green chillies, curry leaves and sliced shallots and pour over the prepared curry. Cover and allow to sit for 10 minutes, without stirring.
Towards end of cooking, add some smoothe cashew paste and let boil for further 3-5 mins. This enhances flavour and richness.
Did you enjoy our South Indian Beef Curry?
You May Also Like: