8 November, 2013
Kerala Beef Chilli Fry – Indo Chinese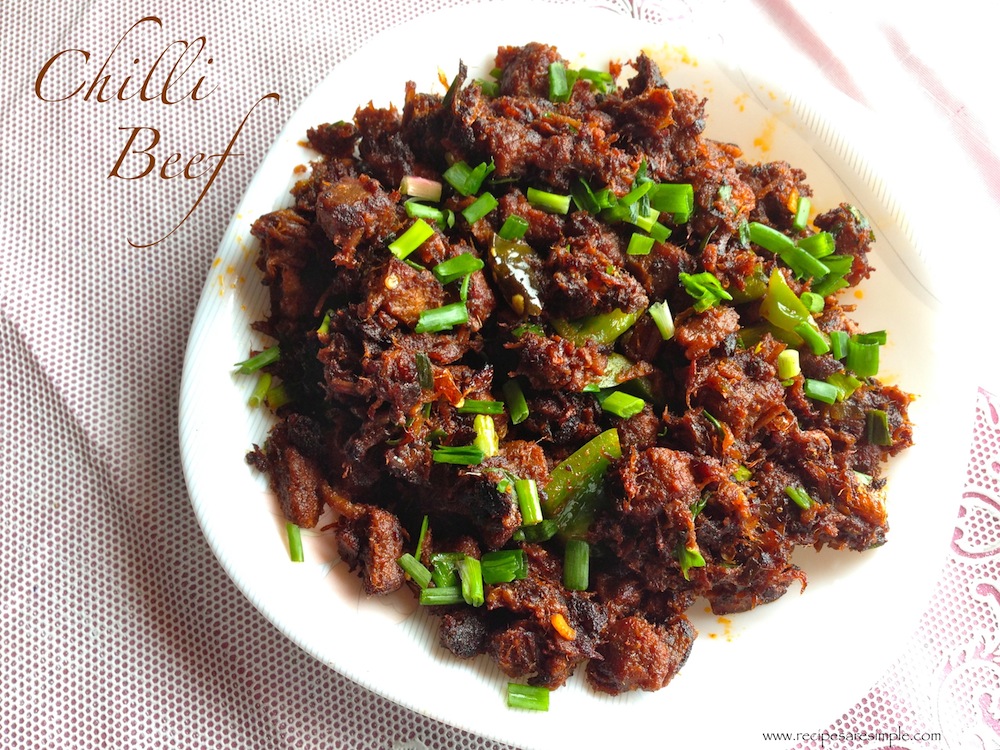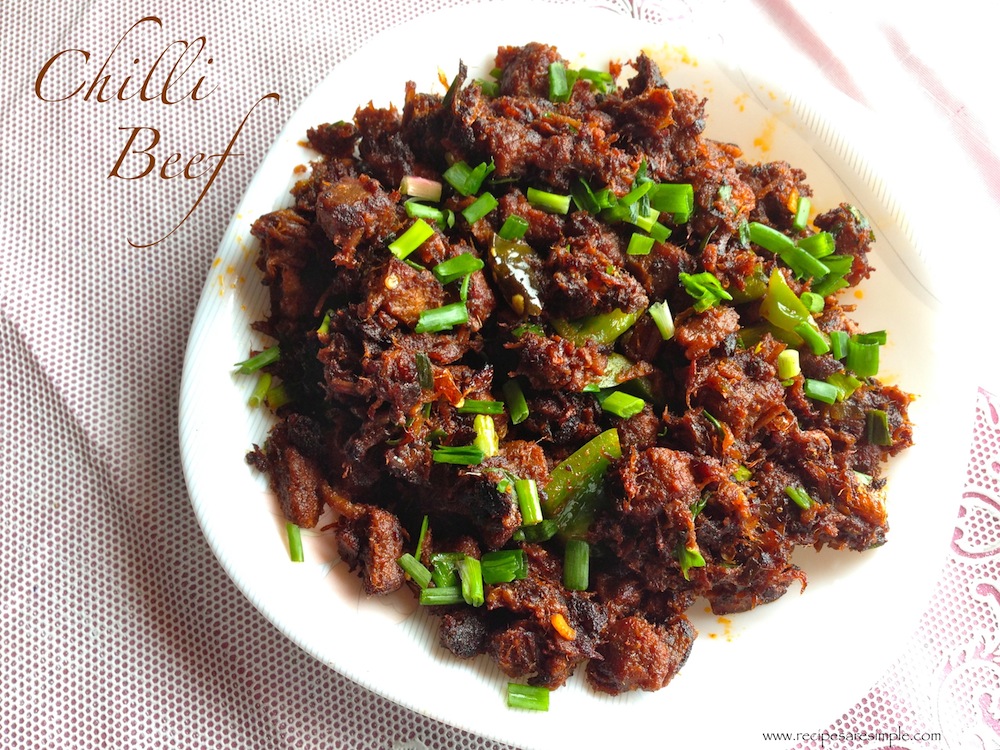 Kerala Beef Chilli Fry – Indo Chinese
Lip Smacking Beef Fry, right in front of you. This beef fry was one of my dads creations and my mom helped me to recreate his recipe. Have I told you that my mom is the best cook I know? She's awesome. My dad an Aeronautical Engineer by profession, was also a great chef!  I remember so many occasions where I would see them both in the kitchen making us Weekend Meals. Of course mom was head chef, but dad would occasionally do his thing in the kitchen on weekends and I LOVED his food too. I miss him a lot. 

Kerala Beef Chilli Fry – Indo Chinese
Author:
Prep time:
Cook time:
Total time:
Ingredients:
½ kg beef, washed rinsed and cut into small pieces
3 long red chillies sliced
4 long green chillies sliced
1 Green Bell Pepper/ Capsicum, cut into thin pieces
1 stick of celery, finely diced
2 Tbsp garlic, minced
1 tsp ginger, chopped finely
3 Onions, sliced finely
1 Tbsp light soy sauce
½ tsp black pepper powder
½  tsp vinegar
½ cup chicken stock
3 Tbsp oil
1 tsp cornflour + 1 Tbsp water – mixed together
salt to taste
¾ Tbsp Kashmir / Mild Chili powder
To marinate the beef:
1 Tbsp onion
1 Tbsp ginger
½tsp pepper
1 tsp meat tenderizer (powder or liquid)




Method:
Marinate the meat with the above ingredients for  1 hour.
Heat oil in wok,  Add red chillies and green chillies. Saute till softened.
Add the marinated beef and stir fry well on high heat, tossing continuously.
Add the ginger, garlic, celery, capsicum and onion. Saute 3 more minutes, till aromatic and cooked.The ginger and garlic should no longer smell raw.
Next add the stock, pepper, soy sauce, salt to taste and cook till beef is tender.
Now add cornflour solution and allow to thicken.
Laslty add the chili powder and cook till dryish but moist.
Kerala Beef Chilli Fry – Indo Chinese
Did you enjoy our Kerala Beef Chilli Fry – Indo Chinese?
You can cook the beef on a low flame in a heavy bottomed wok/pot till cooked or you can use a pressure cooker.
The first method, provides a tastier beef but you need to keep watch, stirring occasionally.