28 June, 2014
Vegetable Fried Rice – No Egg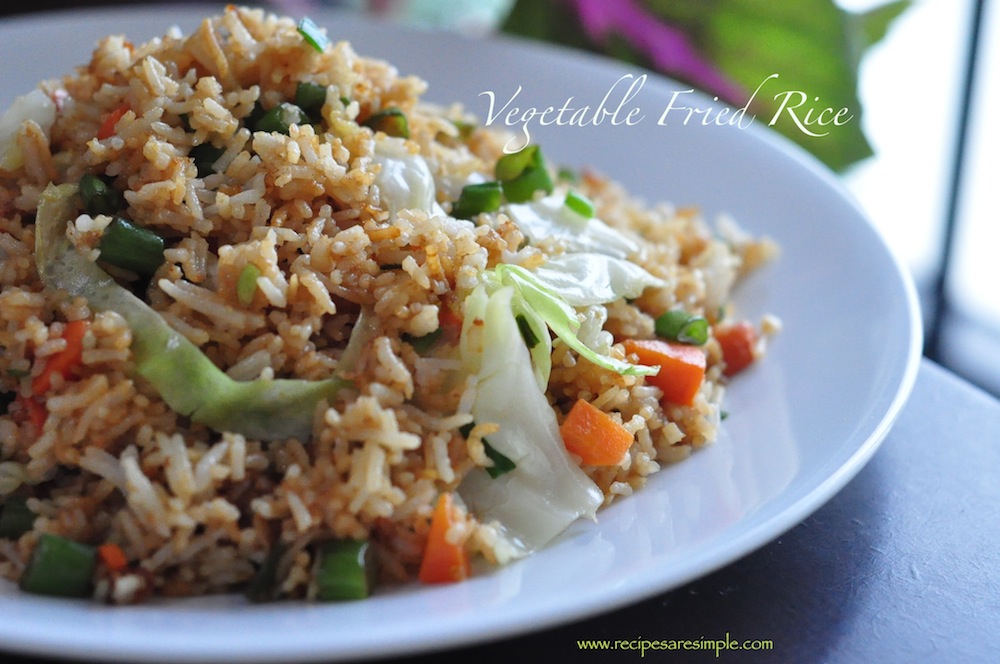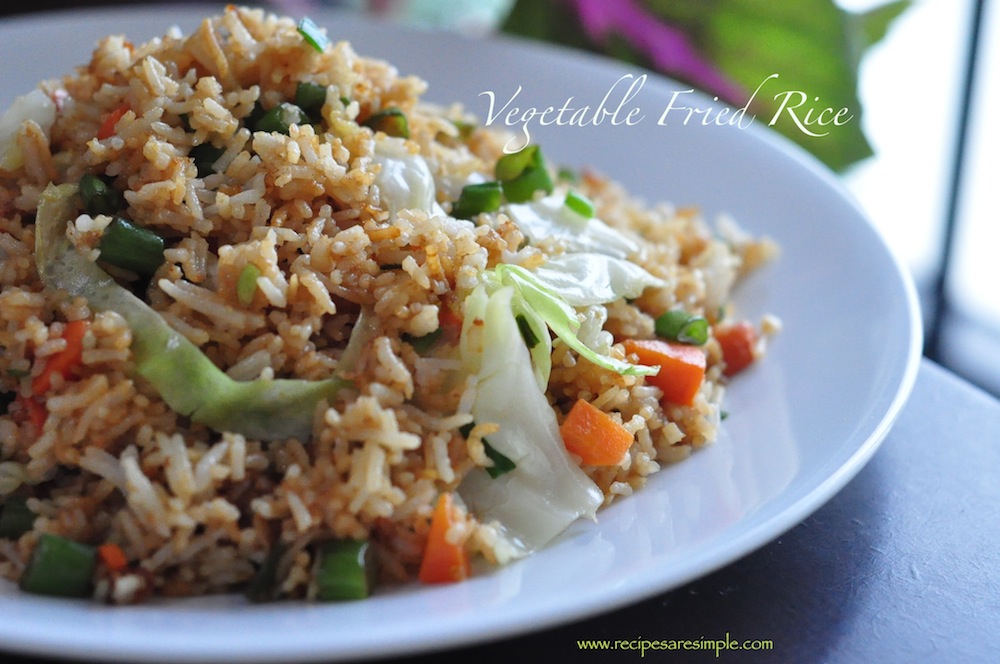 Vegetable Fried Rice – No Egg
  We love a good Fried Rice any day. I am always experimenting with new and diverse  types of fried rice all the time. However, I realized that I don't make a totally Vegetarian Fried Rice too often. One that does not even contain eggs. I was looking for a Veg Fried Rice Recipe  that stood strong next to the Chicken and Mixed Fried Rice that my family is fond of.  I realized that a combination of sauces is needed to give the Vegetarian version the boost to make it flavorsome and moist without adding too much oil. A very tasty recipe. Do try.
Vegetable Fried Rice – No Egg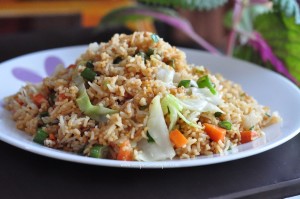 Recipe Type: Rice / Vegetarian

Author: Recipes 'R' Simple

Prep time: 15

Cook time: 15

Total time: 

Serves: 2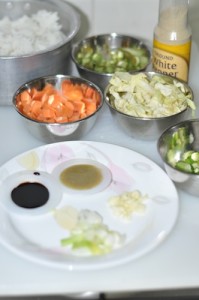 Ingredients:
1 cup basmati – cooked the previous night. Or use leftover rice
½ cup beans, chopped
½ cup carrot, diced
½ cup cabbage, sliced to large shreds
1 tsp minced garlic
2 Tbsp spring onion bulbs sliced and the leaves reserved for garnish
1 Tbsp GREEN chilli sauce
½ Tbsp DARK soya sauce + ½ Tbsp LIGHT soya sauce mixture
1 Tbsp oil – sunflower oil
salt to taste
a dash of WHITE pepper powder
Method:
 You can use left over long grain or basmati rice if you have that on hand.
OR – If you are planning on making Fried Rice – it's best to cook the rice the night before. (Day old Cold rice always makes a better fried rice. The grains get separated and glossed as they are fried better without getting mushy or soaked in oil).
To prepare the rice for cooking fried rice:
Rinse the rice thoroughly to remove any starch. Drain.
For 1 cup of Rice (drained) add 2 ¹⁄8 cups of water.  add to  the smallest pan or pot you have with a lid.
Bring to boil on the smallest burner on you stove.
As soon as the water boils, cover and reduce heat to a very low flame.
Cook, covered for 12 minutes – 15 minutes – varies depening on heat source and diameter of pan.
The water should have run dry. Check by increasing heat  for a moment. You should hear a light crackling sound that indicated the water has run dry from the bottom. The rice should not look wet on the surface at all either.
Allow to cool briefly and then place in the fridge, in the same pan if possible and chill till the next day.
To make the Vegetable Fried Rice:
Before Starting, fluff up the rice with a fork to separate each grain and remove any lumps. Do so gently to avoid mashing the rice and breaking the cooked grains.
Heat oil in a well seasoned wok.
Allow the  wok to get really hot – like smoking.
Quickly add and toss the spring onion bulbs and garlic.
Before the garlic changes color, quickly add the green  beans and carrot.
Toss well on continuous high heat for under a minute, just until the vegetables are tender.
Bring the wok back to a high temperature. Add the fluffed up rice and toss well to coat the rice grains with the oil  and vegetables.
Also add the sauces and toss to evenly distribute the sauces through the rice.
Add the cabbage and spring onion greens towards the end so that the tender leaves do not get overly wilted.
Add a dash or two of White Pepper Powder. (I find white pepper powder is better for Vegetable Fried Rice).
After tasting for seasoning – Also add a little salt or other seasoning sauce.
Vegetable Fried Rice is best served nice and hot!
Vegetable Fried Rice – No Egg
Try it and let us know – Vegetable Fried Rice – No Egg .
Frying the rice should not too long. If you over toss and fry the rice the rice may get a little hard and dry and the vegetables will not be crunchy.
Do fry however just long enough for the grains to all be glossy and separate.
Other vegetables you might like to add are cauliflower, cooked dried green peas, mushroom, baby corn etc. However do not use  too much vegetables when compared to the rice. The ratio should be. 1 cup rice( uncooked) : 1½ cups chopped vegetables.