19 January, 2015
Beef Fried Rice Chinese Recipe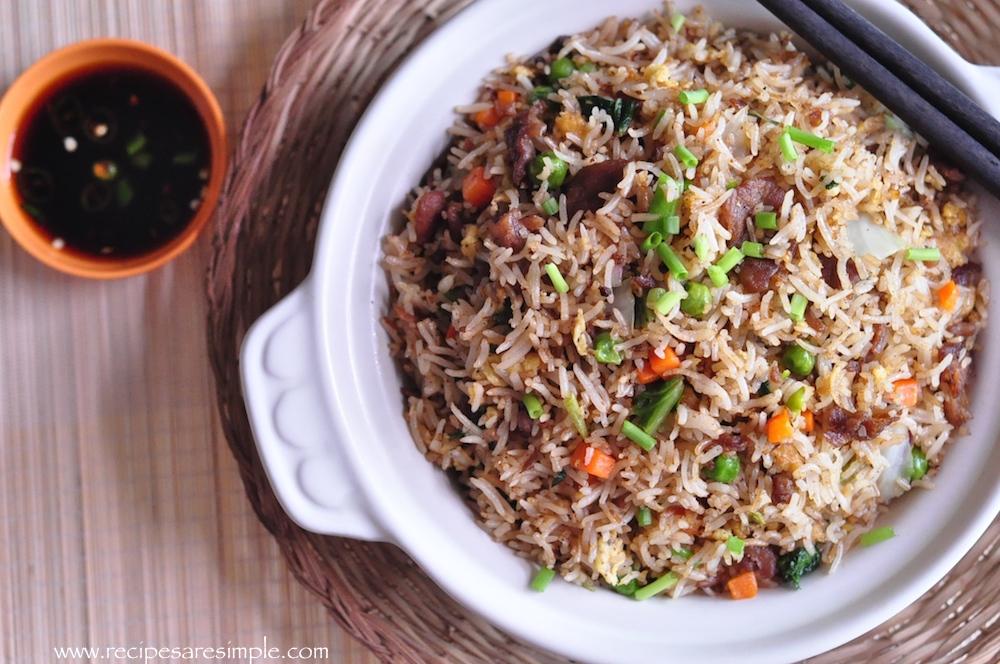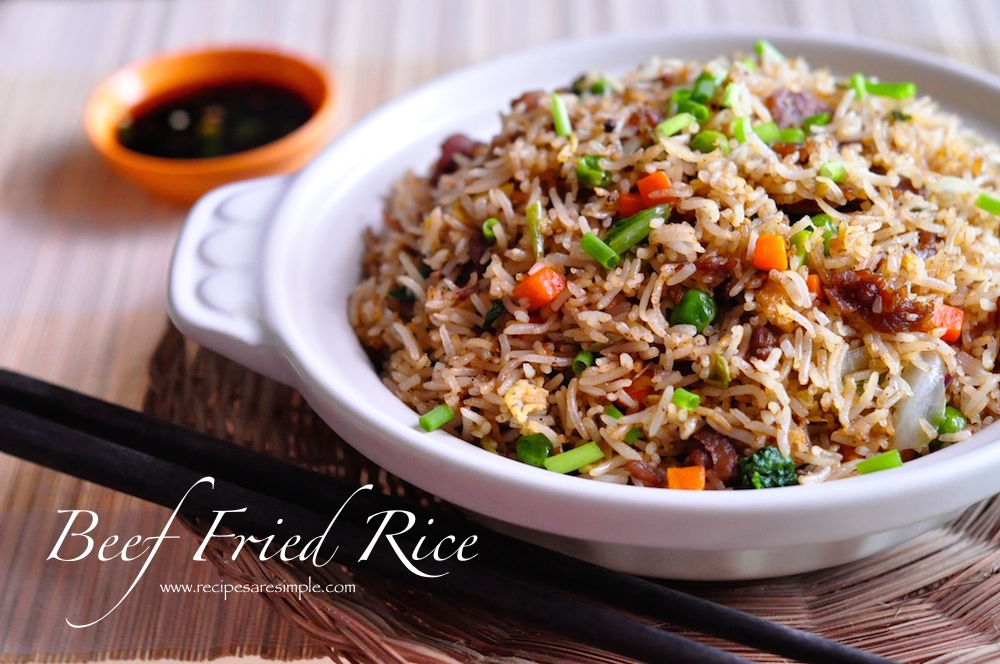 Beef Fried Rice Chinese Recipe
This Beef Fried Rice is surprisingly easy to prepare. Delicious Wok tossed, marinated beef strips blended in a combination of sauces  and tossed into yummy fried rice. Makes for a nice hot meal! Serve with some pickled green peppers and fried shallots.
 

Recipe Name: Beef Fried Rice Chinese Recipe

Author:  Recipes 'R' Simple
You are here: Home > Rice Dishes  > Beef Fried Rice
Beef Fried Rice Chinese Recipe




Ingredients:
300 gms thinly sliced – tender beef ( I use  pre packaged Beef Knuckle Slices)
2 cups long grain rice, (jasmine or basmati) cooked ahead of time and cooled

( day old rice is perfect)

½ cup carrot, diced
½ cup frozen peas
½ cup cabbage, chopped
½ cup, mustard greens ( sawi / chye sim), chopped
4 spring onion shoots
¾ tsp salt  for rice
1 tsp dark SWEET soy sauce (kicap manis)
5 Tbsp Peanut oil, divided
salt and black pepper to taste
To marinate the Beef:
1 Tbsp ginger juice : 

Crush /smash  ginger without water and squeeze out the juice.

½ tsp salt
½ tsp light brown sugar
½ tsp soda bi carb (baking soda)
½ tsp paprika
½ tsp meat tenderizer (optional)
½ tsp asian sesame oil
½ tsp sunflower oil
For the sauce:
1½ tsp light soy sauce
1½ tsp dark soy sauce (not sweet)
1 tsp oyster sauce
1 tsp green chili sauce
½ tsp paprika
¼ tsp light brown sugar
1tsp knorr seasoning powder or Hao Chi Or Your Favorite seasoning powder
3 Tbsp water
Method:
 Rub the beef slices with the vinegar throughly. Rinse well and keep drained.
Marinate with all the ingredients for the marinade and keep for 30 minutes at room temperature.
Meanwhile chop up the required vegetables.
Fluff up the cold rice with a fork. Set aside.
Add all the ingredients listed under Sauce to a bowl. Stir and set aside.
Finely chop the spring onion into rings. Divide into three portions : the white bulb portion , central portion and greenish ends separately.
Steam  the diced carrots in the microwave or on stove top for just a minute. Add in the frozen peas and microwave for 30 seconds longer. This will thaw the peas. Drain any water and set aside.
Beat the

eggs

with

salt

and  

black pepper

powder.
Heat wok with half the peanut oil till smoking.
Add the

beaten eggs

and wait 10 seconds before you scramble the eggs thoroughly.
On continuous high heat, add the

cooked rice

. Add

salt

and toss well till coated evenly.
Toss in the

sliced bulb portion of the spring onions

.  Toss till the rice is completely heated through. Add the

carrot

and

peas

  as well as cabbage. Toss once more. Remove the rice to a large plate.
Add the mid section of the chopped spring onion to the marinated beef now and toss thoroughly with hands.
Return the wok to  heat and add remaining oil.
When smoking, add the

marinated beef.

Toss well and fry. Juices will be released. Stir fry till these juices are absorbed and the beef is cooked tender.
At this point, add the mixed sauces and bring to a simmer.
Cook till the sauces are reduced and just coat the beef slices.
Toss in the mustard green and cook till just wilted.
Return the fried rice and toss well to evenly coat and color the rice with the beef and sauces.
Add the sweet soy sauce now and season to taste with

pepper

and salt if needed. Garnish with the Green

Leaf tip portion of the sliced spring onion

.
Must serve hot! Serve with sweet pickled green chili.
Beef Fried Rice Chinese Recipe
I recommend serving the rice immediately off the stove for best, tastiest results.
Remember to add pepper at the end.
Key Ingredients: Beef, Rice, Soy sauce ( dark, sweet and light), carrot, peas, cabbage, greens, spring onion, salt and pepper
Let us know if you tried it – Beef Fried Rice Chinese Recipe . Comments from you provide motivation to keep up the driving force behind this blog, bringing you more delicious and perfected recipes regularly. Please do leave a comment. We love to hear from you.