24 June, 2014
Zafrani Pulao – Saffron Scented Rice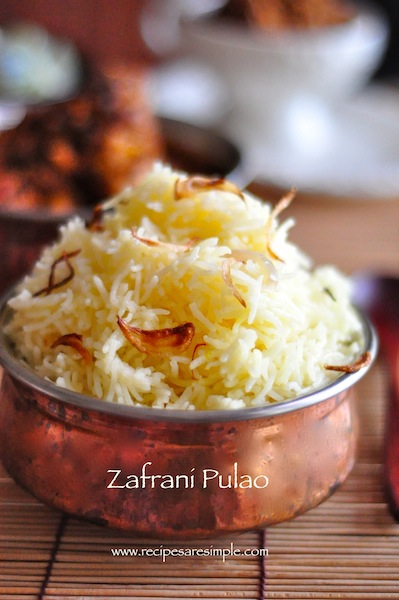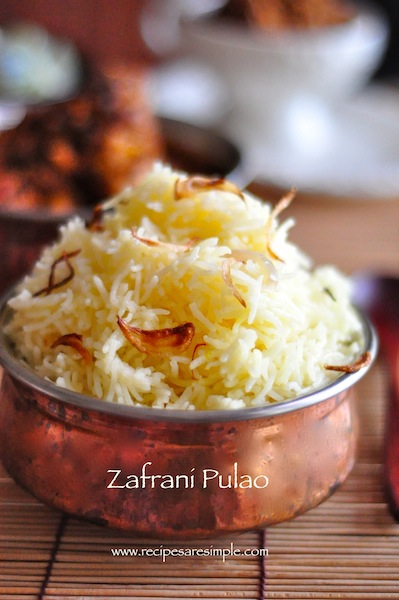 Zafrani Pulao – Saffron Scented Rice
  Watching the cute movie ' Cheeni Kum' always triggers the need to taste some delicious Hyderabadi Cuisine. 'Khas kar ke'  – Above all the Zafrani Pulao. The saffron scented rice can be served plain as part of a Vegetarian Feast or with Mutton Cooked in the 'Dum' method.
Zafrani Pulao – Saffron Scented Rice
Recipe Type: Rice

Author: Recipes 'R' Simple

Prep time: 10

Soaking time 1 hour

Cook time: 10

Total time: 1 hour 20

Serves: 6
Ingredients:
3 cups, long grained Basmati rice
1 large onion – half sliced very finely, remaining roughly chopped
½ tsp ginger, minced
½ tsp garlic minced
¼ tsp saffron
10 Tbsp Milk
8 cardamom pods, bruised
¼ cup Pure Ghee

salt to taste – about 2 ½ tsp
Method:
Rinse the Basmati well and then soak in cool water  for 1 hour.
Strain the rice before cooking.
Heat the milk and add the saffron to it. Set aside, allowing the saffron to color and enrich the milk.
Heat ghee in a pot or small pan.
Add the finely sliced onion 

(I use a mandoline slicer).

Fry till light golden brown. Keep watching it. Drain on paper towels, reserving the ghee in the pan.
Add this ghee to a larger pot and add the cardamom.
When aromatic, add the remaining onions and saute just till softened – do not allow to turn golden.
Gently toss the basmati, without breaking to coat with the ghee.
Add the saffron milk and enough water to cover the rice by 1 cm / ½ inch
Also add salt.  Bring to a boil on high.
Lower heat once boiled and cook covered for about 10-15 minutes till the water is absorbed. You could do this in a rice cooker as well.
As soon as the rice is cooked. Fluff up with a fork and remove from heat source. Garnish with the reserved crisp fried onion.
Serve with Vegetarian or Mutton Side dishes.
Zafrani Pulao – Saffron Scented Rice
Try it and let us know – Zafrani Pulao – Saffron Scented Rice .
Fluff up the rice as soon as the water has run dry to prevent the rice from becoming mushy. The grains should by fluffy and separate.
If you need to reheat, sprinkle some water and microwave for 1 minute or place in preheated oven for 5 minutes. The water is needed to maintain the moistness or else reheating would cause the rice to be dry to the mouth.
PS : I adore Mr Amitabh Bachchan!