2 July, 2015
Za'atar Spice Recipe (Zaatar – Middle Eastern Spice)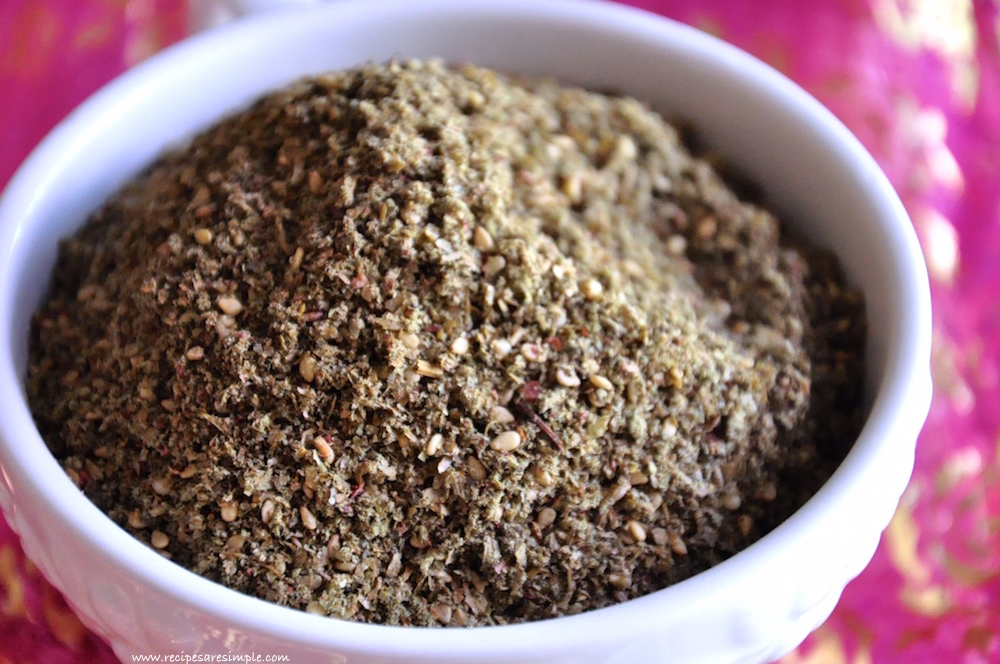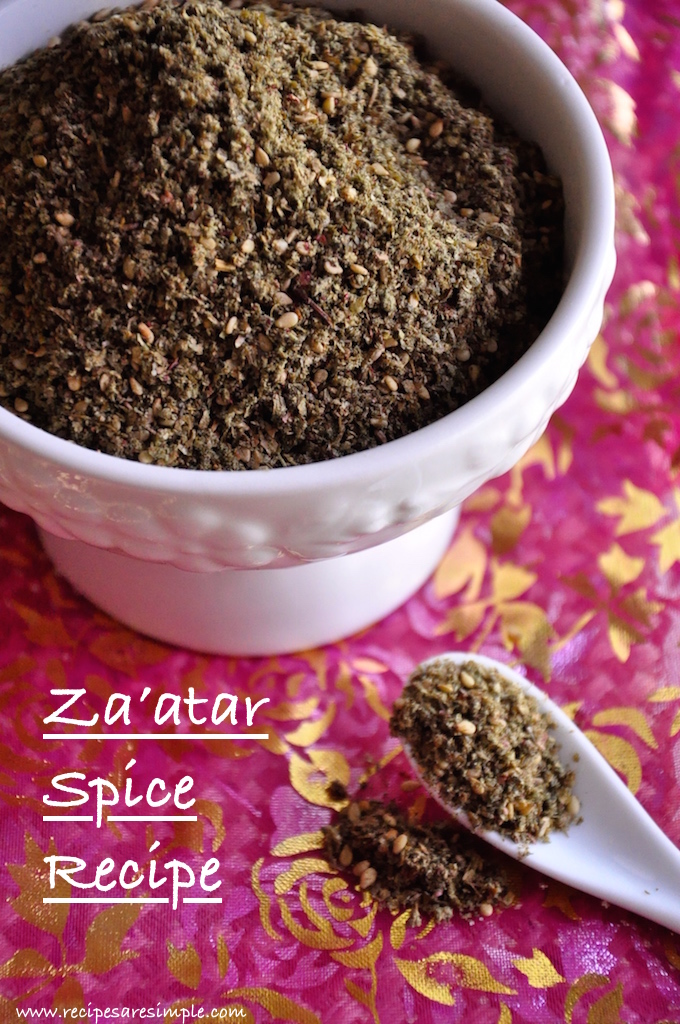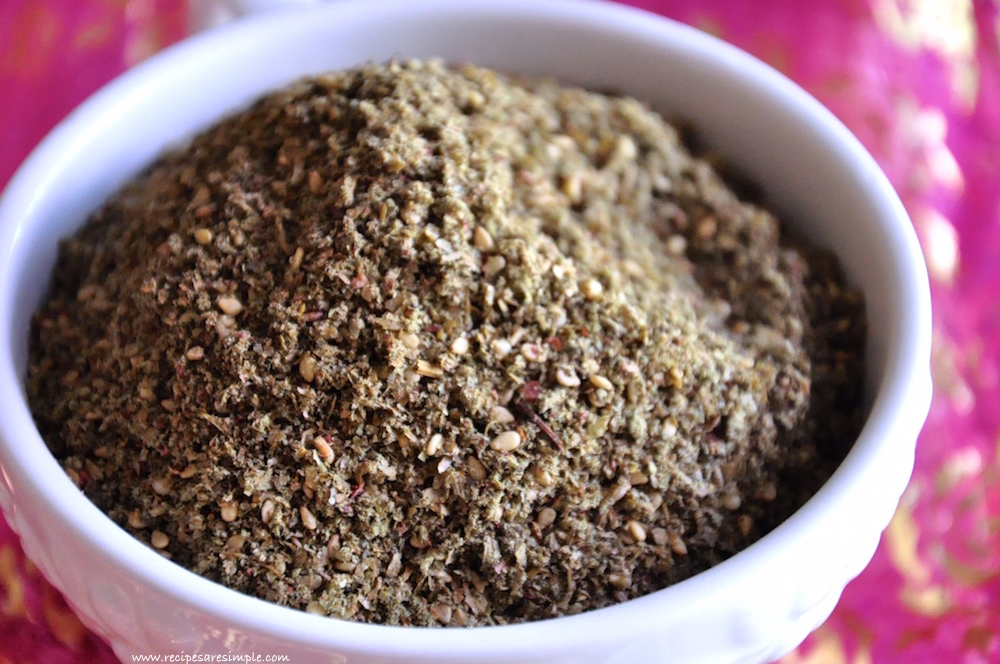 Za'atar Spice Recipe
Za'atar is the generic name given to the set of herbs that belong to the Genera Origanum. These are Oregano, Thyme, Basil Thyme and Savory. Za'atar is also the name for the spice/ condiment made from a mixture of these herbs with sumac and sesame seeds. It is very popular in Arab Cuisine. I love it on flatbreads and in dips like Labneh Dip. Here's the Za'atar Spice Recipe so that you can prepare this handy spice mix at home!
You are here: Home > Basics  >Za'atar Spice Recipe
 

Recipe Name: Za'atar Spice Recipe

Recipe Type: Spices / Condiments

Author: Shana c/o Recipes 'R' Simple
Za'atar Spice Recipe
Ingredients:
1 Tbsp  dried Sumac

2 Tbsp dried Thyme or Wild thyme if you have that

2 Tbsp dried marjoram
2 Tbsp dried oregano
2 Tbsp sesame seeds
2 tsp fennel seeds – optional
1 tsp cumin seeds – optional
¾ tsp salt
Method:
Toast the sesame seeds in a dry pan, till nice and aromatic without turning brown. Set aside.
Add half of the toasted sesame seeds to a small coffee grinder, along with fennel seeds and cumin seeds. Grind to a powder.
Add remaining herbs and pulse briefly to mix. Retain some texture of the dried herbs.
Add salt  and stir through
Store in airtight bottles, away from all moisture. Keeps up to 2 months.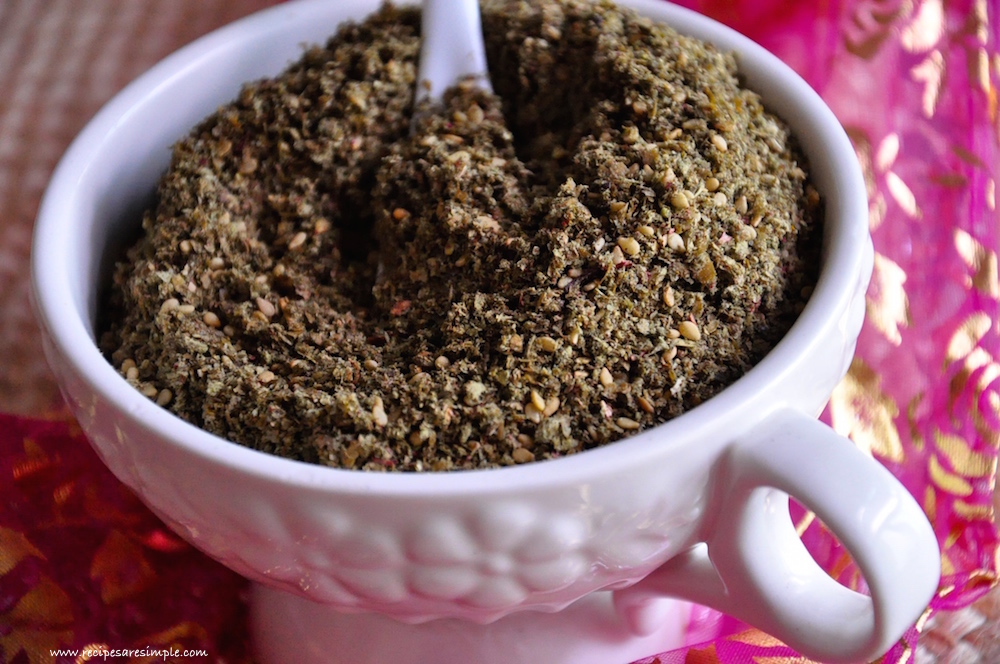 Za'atar Spice Recipe
Variation – You can grind half the toasted sesame seeds if you want some texture and appearance, but instead you can grind all of it up too so that it blends in with the herbs.
Uses of Za'atar Spice: mixed with olive oil as a spread, sprinkle on labneh, sprinkle on hummous, season meats and vegetables.
Key Ingredients: Sumac, Sesame Seeds, Thyme, Oregano, Marjoram, Salt
Let us know if you tried it – Za'atar Spice Recipe. Comments from you provide motivation to keep up the driving force behind this blog, bringing you more delicious and perfected recipes regularly. Please do leave a comment. We love to hear from you.