18 July, 2013
Yakitori (Japanese Grilled Skewered Chicken Meatballs)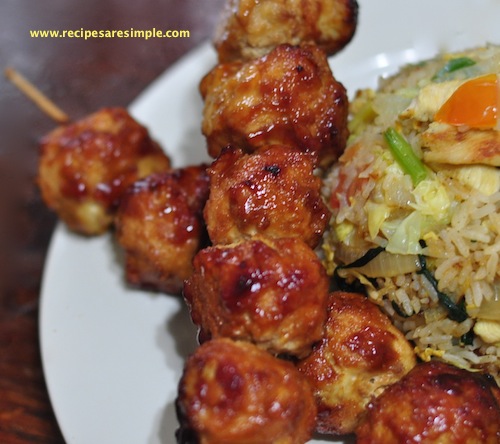 Yakitori (Japanese Grilled Skewered Chicken Meatballs)
These delectable skewered grilled chicken meatballs are our take on the Japanese Favorite. Served with the special sauce straight off the grill! Yakitori (Japanese Grilled Skewered Chicken Meatballs) are simply yum!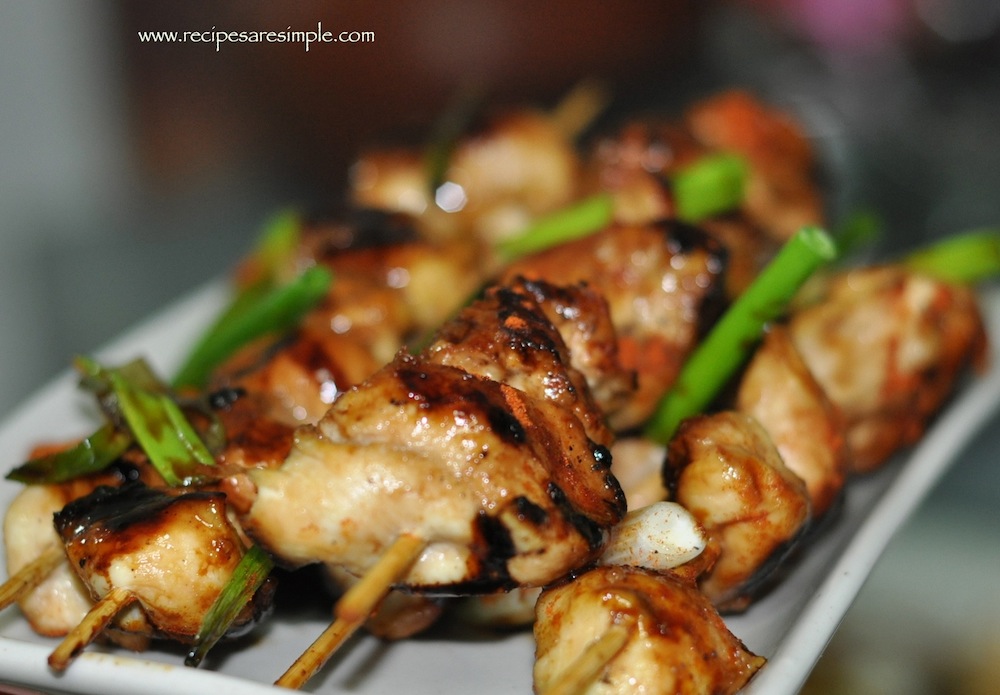 Yakitori (焼き鳥),  or grilled chicken, refers to a Japanese Skewered Grilled Chicken. The term "yakitori" can also refer to skewered food in general.

Yakitori is made with several bite-sized pieces of chicken meat, mounted on a bamboo skewer and grilled, usually over charcoal.

Diners ordering yakitori usually have a choice of having it cooked with salt (shio), or with tare sauce; a combination of of Mirin – a sweet Japanese Rice Wine, Sake – Stronger Japanese Rice Wine, Shoyu – Japanese Soya Sauce and sugar. The sauce is applied to the skewered meat which is grilled until

delicately

cooked.

Grill as meatballs or as plain skewers . Scroll down to see the slideshow of steps.
Yakitori (Japanese Grilled Skewered Chicken Meatballs)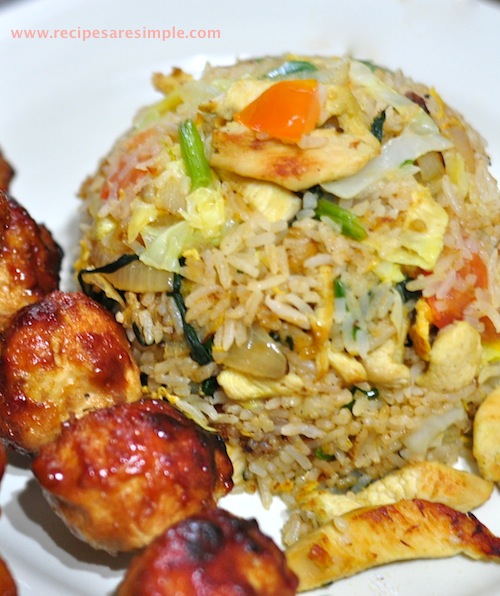 Slideshow showing Steps
Ingredients: – 
For Meatballs
12 oz/  1 ½ cups skinless, boneless chicken leg
2 eggs
½ tsp salt
2 tsp plain flour
2 tsp corn flour
6 Tbsp Japanese Panko OR dried bread crumbs
2 " Fresh Ginger- Crushed
For Sauce
6 Tbsp sake or chinese rice wine
6 Tbsp Soba Sauce
1 ½ Tbsp Mirin
1 ½ Tbsp  Sugar
1 tsp cornflour mixed in 2 tsp water
Optional
Black pepper or Shichimi tōgarashi. 

See notes




Method:
Combine all ingredients for meatballs in food processor except ginger and mince.
Squeeze only the juice of the ginger into this mince and mix.
Wet hands and form into small lime sized balls.
Bring water in a wide saucepan to simmer. Add all the balls, spaced evenly. Leave undisturbed.
Cover and simmer for 4 – 7 minutes just till the chicken turns white and floats.
Drain.
Prepare the sauce: Add all the ingredients for the sauce (except cornflour solution) in a small sauce pan.
Bring to boil Then simmer covered for 5 minutes till reduced.
Now add the cornflour solution and thicken. Take off heat.
Secure the balls onto soaked wooden Skewers a half inch apart from eachother.
Brush with the prepared sauce till uniformly covered. We should have enough sauce leftover for basting and dipping later remaining.
Preheat oven.
You may Grill, Broil or Barbecue , basting frequently  about 8 minutes.If Broiling in a conventional oven, preheat the oven to medium high and broil.
Serve Hot!
Yakitori (Japanese Grilled Skewered Chicken Meatballs)
Try and let us know – Yakitori (Japanese Grilled Skewered Chicken Meatballs) .
Notes:
You may sprinkle some black pepper or for more authenticity

 Shichimi tōgarashi

(Japanese: 七味唐辛子, "seven flavor chili pepper"), to the grilled meatballs before serving!
You can substitute the alcoholic ingredients, with a combination of grape juice, rice vinegar, ginger juice and lime juice.
Instead of mincing the meat, the chicken can be cut into small bitesize pieces instead and rolled in remaining meatball ingredients.
You May Also Like: