26 February, 2015
White Biryani Recipe – Masala Free Yoghurt Based Biriyani
White Biryani Recipe – Masala Free Yoghurt Based Biriyani
This is a Royal Khansama Biryani – A deliberately White Biryani. The Khansamas (Court appointed male stewards who took on the role of chefs) catered to Royalty as well as the British, during their rule. That's probably why the spice is reduced. No ground powders of turmeric, chili or coriander. Yoghurt, Cream and Almonds ground to a paste along with whole spices makes this Biryani Rich without the Spice factor. Kids love this Biryani.  I make it for them when they ask, although my favorite remains my Malabar Style Biryani. I tried this recipe by Sanjeev Kapoor for the first time, a long time ago and adapted it somewhat. It's quite easy to prepare.
Speaking of Sanjeev Kapoor, my Sister entered a contest a LONG time ago  on S K 's cooking show. She got first prize for her Cabbage Roll with Kheema. Note to self : I must post that recipe for you soon.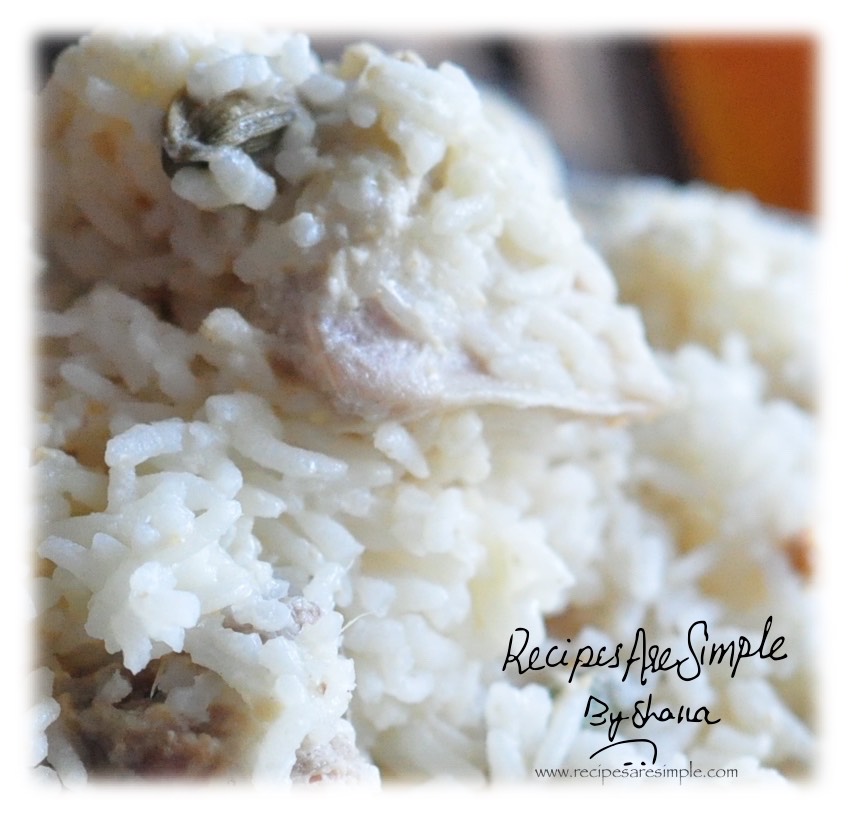 You are here: Home > Rice  > White Biryani
 

Recipe Name: White Biryani

Recipe Type: Rice Dishes / Main

Author: Shana c/o Recipes 'R' Simple
White Biryani Recipe – Masala Free Yoghurt Based Biriyani
Ingredients:
For Chicken Masala:
1 kg chicken, cut into medium sized pieces
1 Tbsp green chillies
2 Tbsp ginger
2 Tbsp garlic
1 tsp salt
4 Tbsp Almonds
3 onions, sliced finely
8 cloves
8 green cardamom, crushed
2 – 2″sticks of cinnamon
1 cup yoghurt, whisked
1 Tbsp freshly squeezed lemon juice
3 Tbsp Ghee
4 Tbsp Khoa/ Khoya / Mawa 

( Milk that is reduced by heating in a cast iron pan till it becomes the texture of a thick ricotta cheese – available at Indian stores). If you can't find it – Use Ricotta that has been heated in the microwave with a little ghee, cream and milk powder, stirring every 30 minutes for about 3 minutes till it forms a ball- knead this into khoya).
For Rice:
4 cups basmati rice
6 cups water
3½ Tbsp ghee
3½ tsp salt
8 cloves
8 green cardamom, crushed
2 sticks, 2 " each of cinamon
2 tsp lime juice
Other:
3 Tbsp cream or coconut cream
Fried shallots, sultanas and cashews for garnish – optional
Fresh Coriander sprigs – for garnish and layering
1 tsp green cardamom powder
½ tsp white pepper powder – optional – use a brand that smells good as some brands smell very strange if stored over long periods.
Raita Salad
Method:
For Chicken Masala:
Rinse the skinless chicken pieces thoroughly. Leave to drain.
Add the ginger, garlic and green chillies to a small grinder/ mixer and add a dash of water. Grind to a smooth paste.
Marinate the drained chicken in a bowl with this paste as well as salt and lime juice. Allow to sit for 30 minutes.
Meanwhile add the almonds to a saucepan of water and boil for 5 minutes. Rinse under cool water and peel the blanched almonds.
Add this to the mixer with a little water and grind to a smooth paste as well.
Add the marinated chicken to a large and thick bottomed pot with a lid. Add the almond paste, sliced onions, cloves, cardamom, cinnamon, yoghurt, and ghee. Add about ¼ tsp more salt and mix all ingredients well.
Cook on high till simmered. Then cover with a tight fitting lid and reduce heat to low. Cook slowly till the chicken is tender and done. ( Do not pressure cook). The gravy should be thick and creamy. Stir occasionaly.
For Rice:
Soak the rinsed Basmati rice in cool water for 10 minutes.
In another pot, add water, ghee, salt cloves, cardamom and cinnamon. Bring to boil. Add the lime juice and the drained rice.
Cover with a tight lid and cook on a very low heat till all water is absorbed.
Fluff up the rice with a large fork.
Layering:
If the pot used for cooking the chicken, is large enough to hold the rice as well, use the same. Otherwise, transfer to a wide bowl and put a little ghee on the bottom, followed by all the chicken masala. (The masala should have some moisture or liquid, so that it doesn't stick/burn to the bottom of the pot)
Add a few sprigs of fresh coriander leaves and drizzle over the cream.
Also add the white pepper powder if using.
Now add the fluffed up rice over the top, making sure there are no lumps.
Press gently to pack the rice firmly.
Cover the pot with a damp towel.
Place the lid in place.
Cook on low heat for another 15 minutes.
Scoop the rice from the bottom and gently fold in the masala with the rice, without over mixing.
Garnish with the fried ingredients.
Serve with Raita (Yoghurt Salad)
White Biryani Recipe – Masala Free Yoghurt Based Biriyani
Key Ingredients: Basmati Rice, Chicken, Ginger, Garlic, Green Chilli, Onion, Almond, Spices, Ghee, Milk Solids,Yoghurt, Lime, Coriander,
Read More on The cuise of the Royal Khansamas here.
Let us know if you tried it – White Biryani Recipe – Masala Free Yoghurt Based Biriyani . Comments from you provide motivation to keep up the driving force behind this blog, bringing you more delicious and perfected recipes regularly. Please do leave a comment. We love to hear from you.
You May Also Like: