6 May, 2014
White Bee hoon with Vegetables & Egg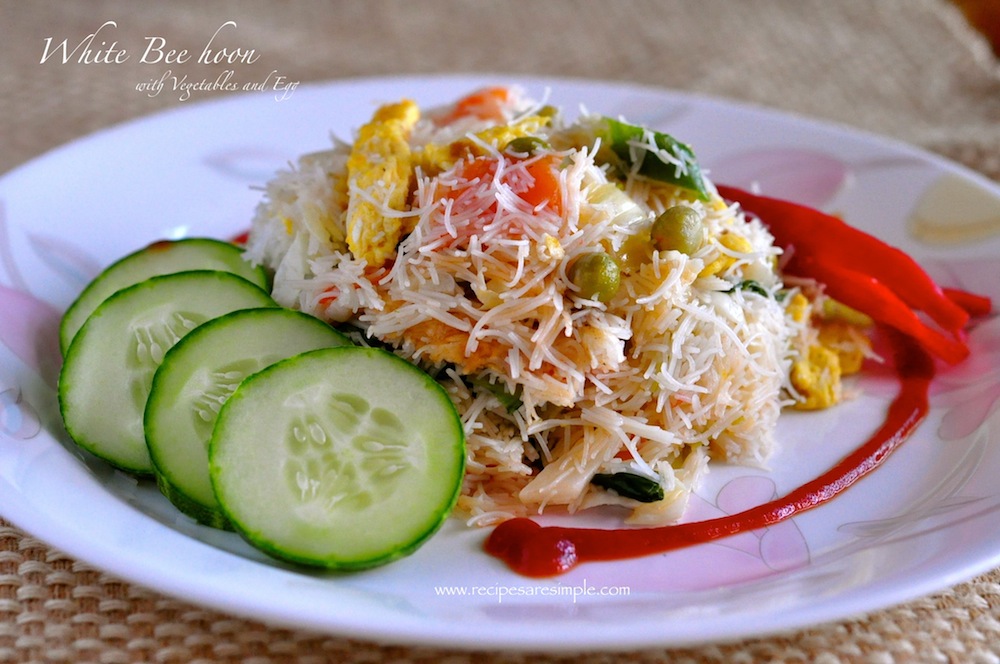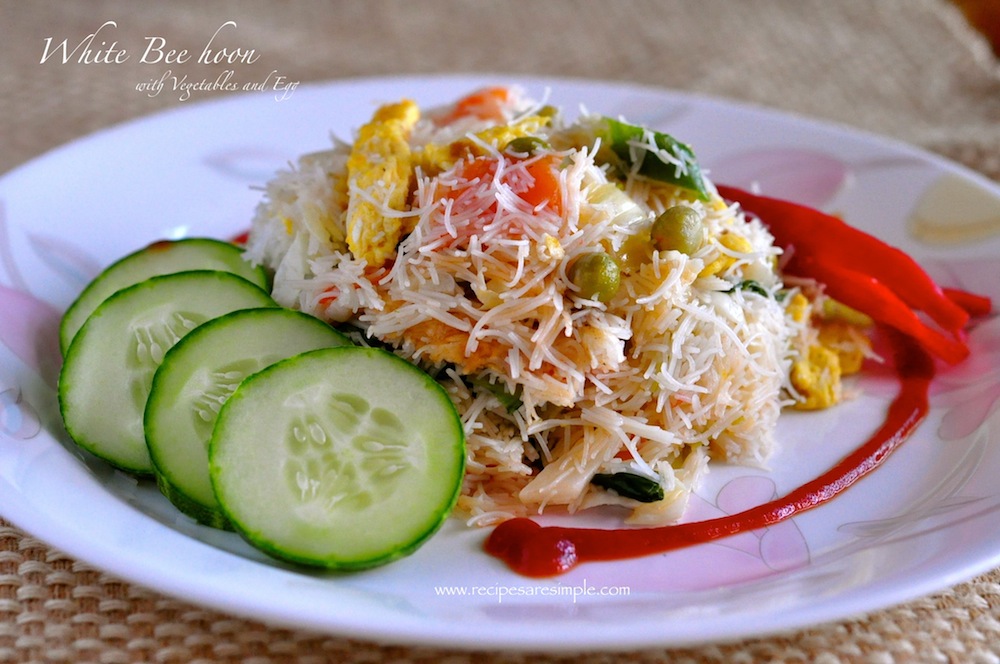 White Bee hoon with Vegetables & Egg
Bee hoon or 'Bihun' is a very common dish in Singapore. Rice vermicelli is stir fried along with vegetables, egg, chicken or seafood. Although very simple, Bee hoon can be hard to get right. The key is to keep it flavorful and keep the bee hoon from tasting too dry. This White Bee hoon version incorporates, Dried green peas which have been soaked overnight and cooked, to add some bite as well as tomato to keep the bee hoon moist. Green Ginger length chillies, provide a nice aroma and some spice.

White Bee hoon with Vegetables & Egg
Recipe Type: Breakfast / Noodle

Author: Recipes 'R' Simple

Prep time: 10

Cook time: 10

Total time: 20 

Serves: 4
Ingredients:
4 bundles of rice vermicelli
½ cup dried green peas – soaked in water overnight and pressure cooked the following morning with salt for 5 steam whistles.
1 small vidalia onion, sliced
4 cloves garlic, sliced
¾ cup shredded cabbage – large shreds
¾ cup chye sim/ sawi or other spinach , harder stem and  tender leaves separately chopped
2 small tomatoes, chopped
2 finger lenth green chillies, sliced
3 eggs, beaten with salt and white pepper
salt to taste- around 1 tsp
Vegetable/ Peanut  oil – around 4 Tbsp all together
1-2 Tbsp chilli sauce.
cucumber slices for serving
Method:
 Cook the green peas which have been soaked overnight. Pressure cook with salt in enough water for around 5 steam whistels. Cool off your cooker and open. The green peas should retain a good bite and not be mushy.
Drain and set aside.
Soak the rice  beehoon vermicelli in a large bowl of cool water for  up to 10 minutes. IMPORTANT: No more than 10 minutes.
Drain when softened.
Heat some oil in a large wok. Add the beaten egg. Allow to set a bit before flipping over. When golden on the sides but still soft in the centre, remove to a plate. Cut into strips using a knife or pizza cutter.
To remaining oil in the wok, add the onion and garlic and allow to soften.
Add the cabbage and harder stalks of the spinach. When softened but still crunchy, add the tender leaves of the spinach, stir to just wilt and add this to the plate of fried egg and set aside.
Heat a little more oil in the wok. Add the green chillies and fry on hight till nice and aromatic.
Add the soaked and drained vermicelli and toss well in this green chilli infused oil.
Add the tomato and green peas as well as salt. Toss thoroughly.
Also add the reserved egg and vegetable mixture and toss till completely mixed through.
Taste test for seasoning and adjust.
Finally add the chilli sauce and mix to combine well.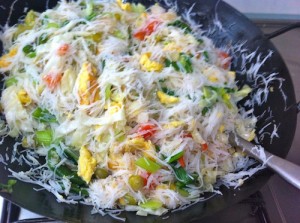 Serve with cucumber slices and more chilli or tomato sauce
White Bee hoon with Vegetables & Egg
Try it and let us know – White Bee hoon with Vegetables & Egg .
Many are under the misconception that rice noodles need to be soaked in cold water. Even noodle packages sometimes  give these directions. I beg to differ! It takes way too long and doesn't contribute at all to a better texture.
Also some people boil the noodles. This is terrible and you will end up with stick, soppy noodles.
You can add mushrooms to this beehoon to make it more aromatic.