28 July, 2013
What part of Lemon Grass do I use for Cooking?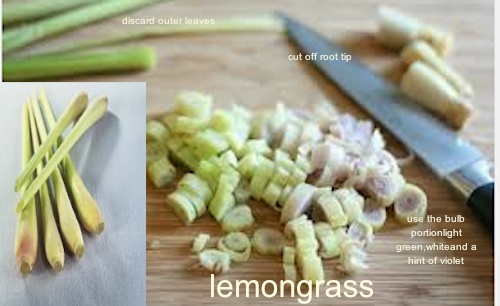 Lemongrass, (Cymbopogon citratus) is a stalky plant, a perennial  with a lemony scent that grows in  tropical climates, most notably in Southeast-Asia. A common ingredient in Thai cooking, lemongrass provides a zesty lemon flavor and aroma to many Thai dishes. Lemongrass is also thought to have numerous health benefits ,
When purchasing lemongrass, look for firm stalks (not soft or rubbery, which means it's too old). Lower stalk should be pale yellow (almost white) in color, while upper stalks are green (do not purchase if outer leaves are crusty or brown). Usually fresh lemongrass is sold in groupings of 3-4 stalks, secured with an elastic band. Stalks are approximately 1 foot long (or more). Look for fresh lemongrass at your local grocery store or Asian market. If you can't find it with the fresh produce, check the freezer section – lemongrass stalks are also sold in frozen packets.
What part of Lemon Grass do I use for Cooking?
 To use ; cut off the root tip, peel off the tough outer leaves, and cut away the top part of the stalk. It is the bulb section, (the paler,fleshier part) that is used.
The leaves however can be boiled to give aroma to soups, curries etc.The stalk will last for several days in the fridge or can be chopped and frozen for later use.
In aromatherapy, lemongrass essential oil is a toning, revitalizing, and antiseptic herb. It is used to treat circulation, digestion, as a muscle toner, and for acne and oily skin. It blends well with basil, geranium, jasmine, and lavender. It is excellent for post-diet saggy skin.