7 February, 2015
Western Chicken Chops with Mushroom Sauce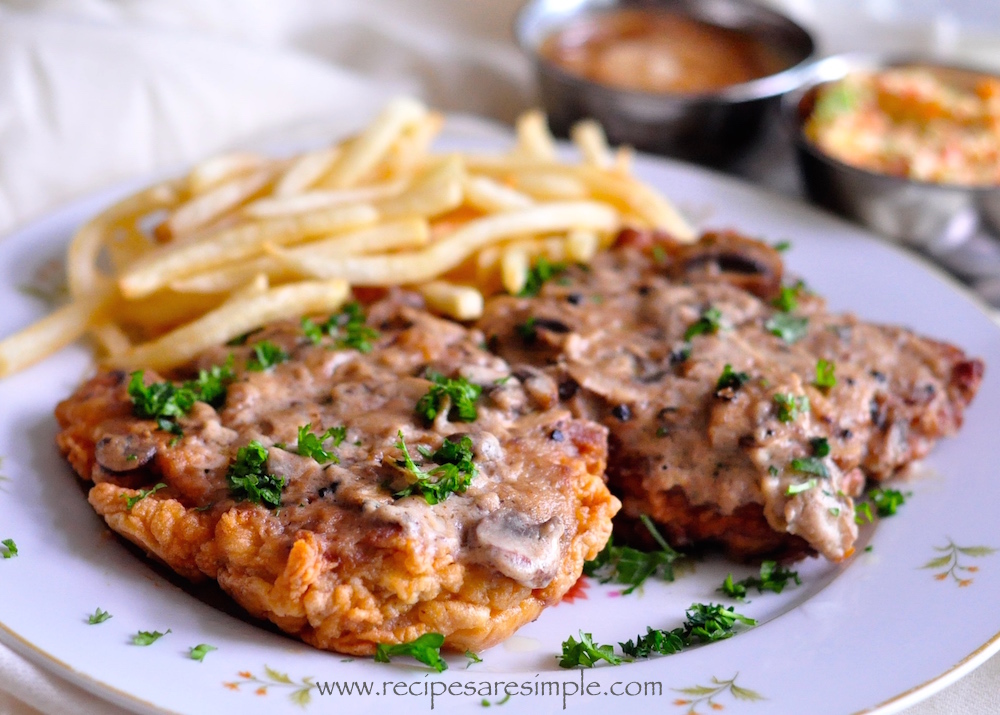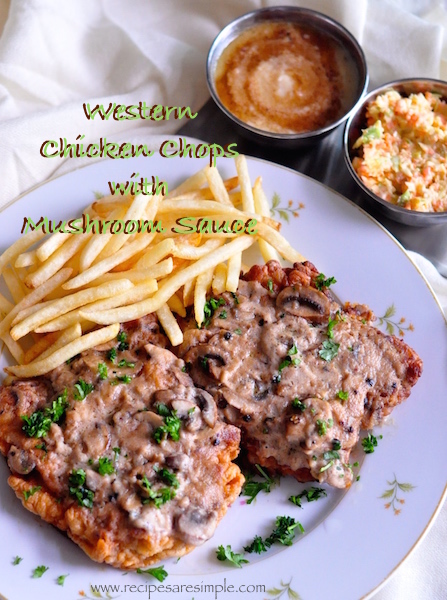 Western Chicken Chops with Mushroom Sauce
This  Western Chicken Chops with Mushroom Sauce is made of fried boneless thigh and leg portions, dipped in batter, then partially fried. It is then smothered in a simple, yet tasty cooked mushroom sauce. Pop it into the oven to complete cooking. Serve with an easy coleslaw and fries!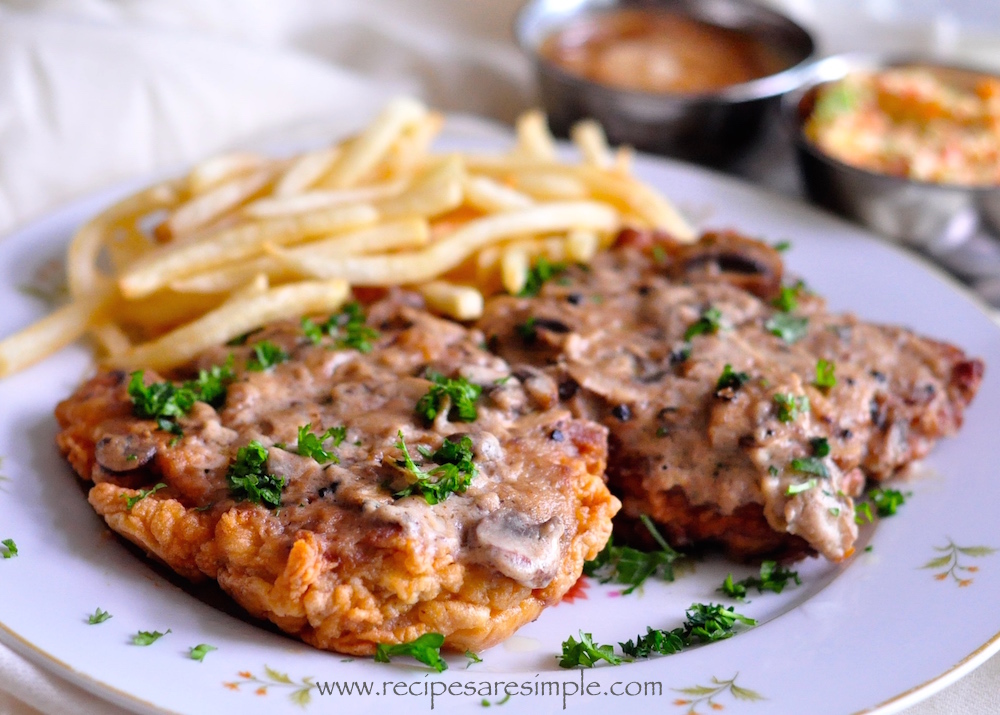 Recipe Name: Western Chicken Chops with Mushroom Sauce

Recipe Type: Chicken / Western 

Author: Shana c/o Recipes 'R' Simple
You are here: Home > Chicken  > Western Chicken Chops
Western Chicken Chops with Mushroom Sauce

Ingredients:
2 Chicken Thighs or Legs ( this is important- doesn't really work with breasts) – boneless and skin removed.
¾ cup soy bean oil for frying / or use sun flower oil
For the batter:
1 egg
2 tsp english mustard or dijon
1 tsp garlic powder Or 2 tsp garlic (paste)
1 tsp onion powder Or 2 tsp shallots (paste)
1 tsp tomato paste ( concentrated paste)
2 tsp lime juice
1 tsp chilli powder
½ tsp black pepper
½ tsp tarragon ( dried herb)
3 Tbsp plain flour plus a plate of flour for dusting ( ½ cup)
1 ¹⁄8 tsp salt
For Mushroom Sauce:
8-10 swiss brown mushrooms, sliced
1 tbsp olive oil
1 tbsp butter
2 tbsp flour
1 cup low fat milk
¹⁄3  tsp mushroom or vegetable seasoning powder
¹⁄3  tsp chicken stock (knorr)
¼ tsp cracked black pepper
parsley for garnish



Method:
For The Chicken Chops:
Wash and rinse the boneless chicken (skin removed)
Cut away any yellowish bits of fat and discard. Drain well.
Combine all the ingredients for batter in a bowl.
Add about ½ cup water and whisk to a thickened, smooth consistency.

(Reserve the extra flour for dusting).

Heat oil in a pan for frying.
Once the oil is hot but not smoking, dip the chicken pieces in  the batter and coat evenly.
Immediately place in the plate of extra flour for dusting.  Coat both sides evenly, shaking off excess.  There should be no areas that are not coated with the dry flour.
Preheat oven to 200 ° C / 392 °F.
Place the chicken in the hot oil and fry on medium heat, till the coating turns golden. (Do not fry longer) We will complete the cooking in the oven. Fry both sides till light golden.
Drain the chicken.
For The Mushroom Sauce:
Add olive oil and butter to a skillet or non tick pan.
As it heats up, add the flour. Stir well to cook the flour well, till it is slightly colored. This is the Roux.
Once the Roux is made, add the Milk and  the chicken stock together and stir till smooth.
Add the sliced mushrooms now and allow to cook as the sauce simmers and thickens.
Add the seasoning powder for extra flavor. (I like to use Mushroom Seasoning Powder).
Once the mushrooms are cooked, you can add a little liquid stock or water if you want to make it looser in consistency.
Lastly add the cracked black pepper and remove from heat.

(Salt is optional) – Since seasoning and chicken stock contains salt, add only  if needed.
Bake the Chicken Chops with Mushroom Sauce:
Place the fried chicken chops in an oven proof dish.
Pour some of the sauce over the chops (lightly).
Place in the oven and reduce the temperature to 180° c 356 ° F.
Bake in lower rack of oven for 20 minutes. ( check to see that sauce does not get overly dry).
Pour remaining Mushroom Sauce over the hot baked chicken .

(Loosen if needed with hot liquid- it should be creamy, not runny.

Sprinkle chopped parley before serving.

Serve hot with fries, coleslaw and whipped potato if desired.
To make the Easy Coleslaw:
 Add 1 carrot and half a cup of cabbage to a food processor and pulse till grated finely. Add to a bowl. Stir in 3 Tbsp of Mayonnaise and 3 Tbsp of greek style yoghurt. Stir well. Serve cold.
To make Easy Whipped Potato: 
Pressure cook 2 large potatoes (not the sweet variety) and one clove of garlic , Drain off the water completely. Mash till smooth with salt to taste. You can use a hand blender to get it to a whipped consistency if desired.  Add to serving bowl. Add 2 Tbsp of the oil used for frying the chicken to a small pan. Heat and add 1 flour. Stir till slightly golden and add ¾ cup milk. Stir till slightly thickened. pour over the whipped potato.
Western Style Chicken Chops with Mushroom Sauce
Key Ingredients: Chicken, Flour, Oil, Milk, Butter, Oil, Seasoning, Black Pepper, Mushrooms, Parsley
Let us know if you tried it – Western Chicken Chops with Mushroom Sauce . Comments from you provide motivation to keep up the driving force behind this blog, bringing you more delicious and perfected recipes regularly. Please do leave a comment. We love to hear from you.
Thanks for visiting www.recipesaresimple.com