2 May, 2014
Vietnamese Sticky Chicken with Peppers and Onions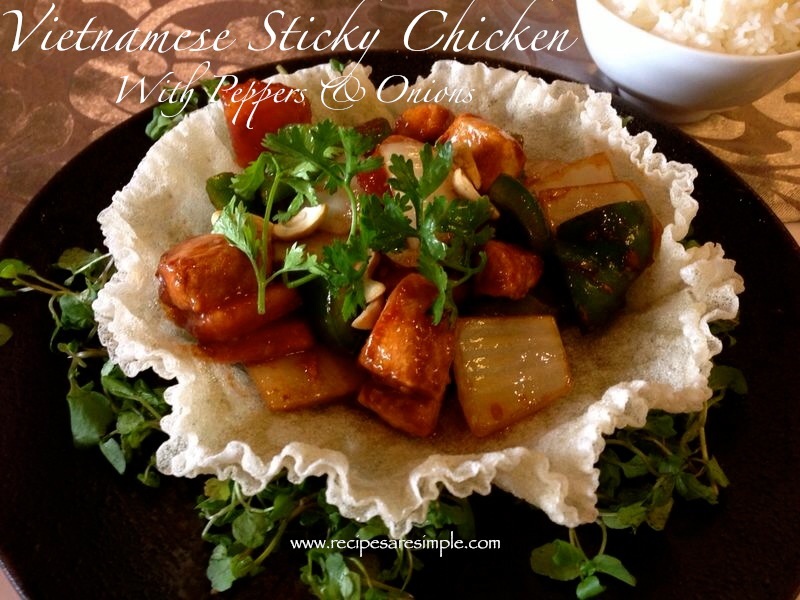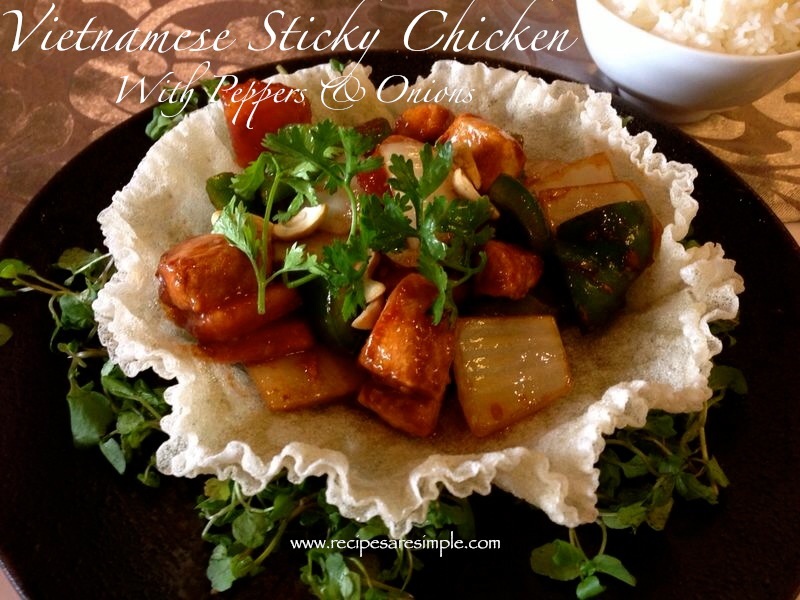 Vietnamese Sticky Chicken with Peppers and Onions
A slightly sweet and savory chicken dish with onions and peppers, served over lettuce or Vietnamese Rice Cracker baskets made from rice paper (bánh tráng) . Try this impressive Vietnamese Sticky Chicken.

Vietnamese Sticky Chicken with Peppers and Onions
Recipe Type: Chicken / Vietnamese Cuisine

Author: Recipes 'R' Simple

Prep time: 10 

Cook time: 10

Total time: 20

Serves: 4
Ingredients:
1.5 lb / 680 gms boneless chicken breasts
1 – 2 white onions cut into squares
1 small green pepper (capsicum) , cut into squares
1 small red pepper (capsicum), cut into squares
¼ cup packed brown sugar
½ cup water, divided
1 Tbsp fresh ginger, grated
2 cloves garlic, minced
¼ tsp chilli flakes or add more for more spice
1 tsp crushed black or green pepper corns
For Marinating: 1 tsp fish sauce ,¼ tsp pepper powder
Fresh cilantro/ coriander for garnish
Fresh lettuce/ vietnamese rice paper (bánh tráng)  for serving
1- 2 Tbsp oil
Method:
 Clean the chicken and cut into bite size pieces. Pat dry.
Mix with ingredients for Marinating and leave aside while you chop / prepare remaining ingredients.
Heat oil in non- stick pan. Stir fry the chicken for 2 minutes till tender and opaque but not fully cooked. drain and set aside.
Stir fry the onion and peppers in the remaining oil till softened but still crunchy. Set aside.
Heat the sugar and half the water in a saucepan over medium heat. Stir occasionally till bubbly and dark brown.
Now add remaining water, fish sauce, ginger, garlic, pepper and chilli flakes.
Bring to a simmer. Add the chicken and cook on low till chicken is cooked and sauce is semi- dry.
Stir in the vegetables and remove from heat.
Garnish with fresh cilantro/coriander.
Serve over a bed of herbs / lettuce or fried Rice paper baskets to present attractively. To make the crisp rice paper baskets : use two or three rice paper sheets (bánh tráng)  at a time. Use a spider strainer while deep frying to shape into a basket shape. Lay the fried basket over a plate of fresh mint, cillantro, watercress lettuce etc…The rice paper becomes very crisp much like shrimp crackers except they are plain in flavor.
Vietnamese Sticky Chicken with Peppers and Onions
Try it and let us know – Vietnamese Sticky Chicken with Peppers and Onions.
The same dish can be prepared with fish, using more green pepper corns and a twist of lime.
Chopped celery can also be used along with the other vegetables