24 October, 2014
Vietnamese Pho Bo – Rice Noodles in Slow Cooked Beef Broth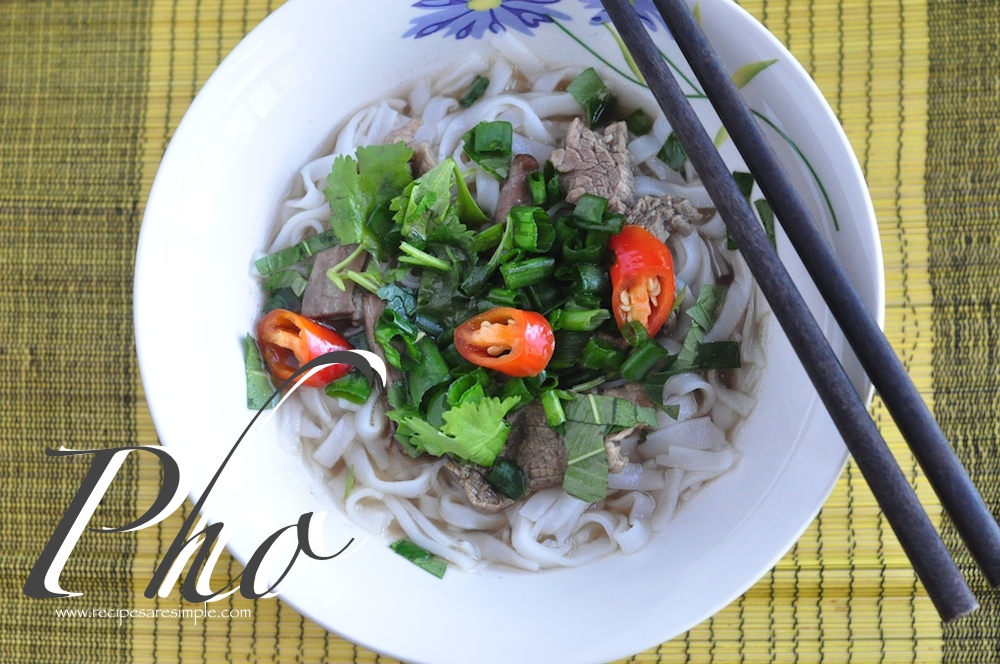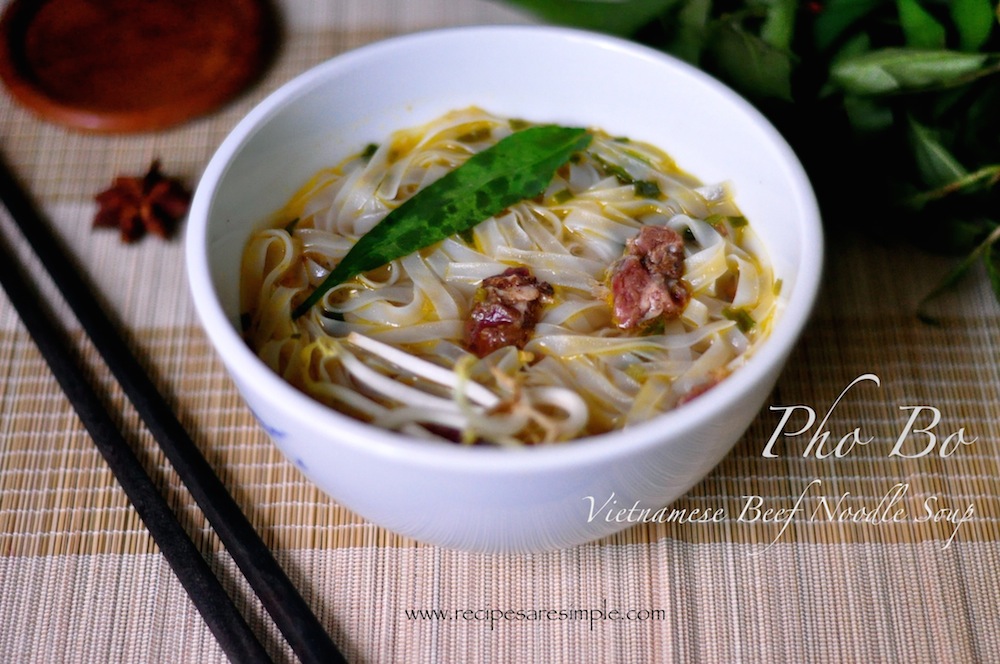 Vietnamese Pho Bo – Rice Noodles in Slow Cooked Beef Broth (with Video)
If you have ever visited Vietnam, ' Pho ' ( Pronounced Fur with a silent 'r' ), is a staple at the breakfast coffee shops everywhere. It can be had at any time but it's very popular as a early breakfast dish. The broth is what makes Vietnamese Pho Bo so delicious! It is slow cooked on very low heat all night. It is skimmed to get it as clear as possible, then served over bánh phở noodles or Pho Rice Noodles with some thinly sliced beef and fresh herbs.
In Vietnam you can smell the broth as you ponder near the morning Cafes and you have.'t had Vietnamese food at its best if you haven't had '  Vietnamese Pho Bo ' . Pull up the custom Vietnamese plastic stool (seat) and have a bowl of Pho with your Coffee! Do check out how to make Vietnamese Coffee too.
The Rice Noodles for Pho are flat noodles that can be bought fresh or dry. Do not substitute with rice vermicelli. Dried Kway Teow Noodles can be used if you can't find bánh phở noodles, since they are quite similar.
The true star of this beef noodle soup, is not the beef – it is the lovely broth. There may be quick versions of Vietnamese Pho Bo, but to make it the right way it must be cooked slowly.
I use my Thermal Cooker to make the Vietnamese Pho Bo. I bring the broth to a rolling boil. Put the stock put inside my Thermal Cooker, and shut it  for a few hours, open it up  and bring it to a boil again. Then I put it back in the Thermal cooker. I will repeat this once more and then leave it overnight to serve the next day over the bánh phở noodles, sliced beef and fresh herbs.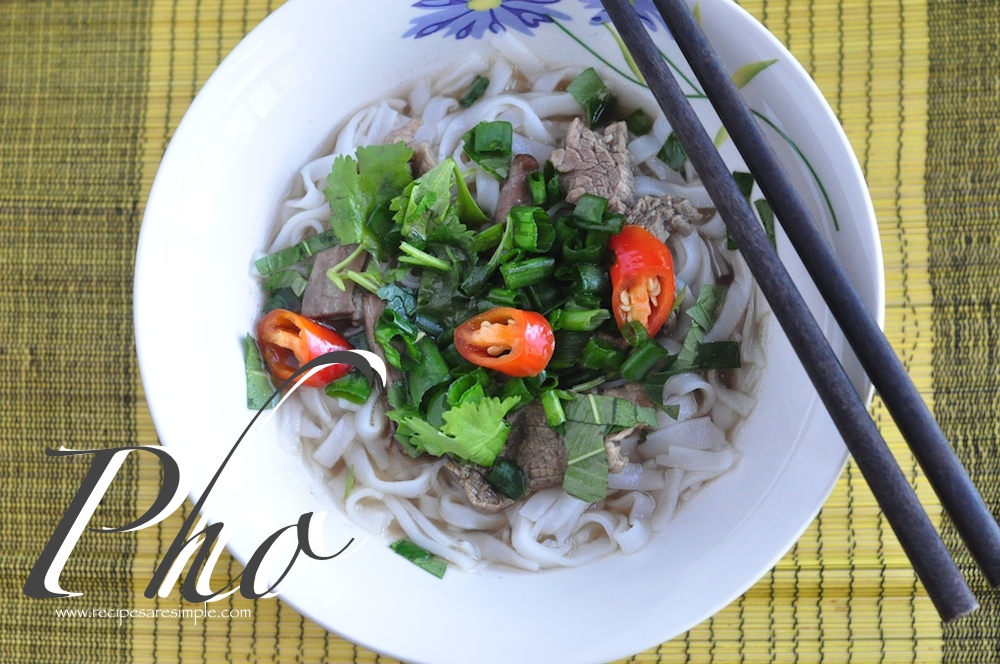 Vietnamese Pho Bo – Rice Noodles in Slow Cooked Beef Broth

 You are here: Home > Beef & Mutton Dishes > Pho Bo
 
Recipe Name: Vietnamese Pho Bo

Recipe Type: Main / Breakfast / Noodles / Vietnam

Author: Recipes 'R' Simple

Prep time: 10

Cook time: 8

Total time: Overnight  plus 30 minutes

Serves: 4
Ingredients:  Feel free to use various cuts of beef in the broth. For my home style broth I use ox tail and some tender pre sliced beef cuts without fat.
300 gms tender beef, partially frozen, then sliced into very thin pieces across the grain
300 gms ox tail
200 gms bánh phở rice noodles ( dried or fresh)
1 Tbsp Corriander seeds
½ Tbsp cloves
2 star anise
1 large stick of cinnamon
½ tsp white pepper powder
1 large white or vidalia onion, cut in half- unpeeled
1 large piece of ginger, sliced in half lengthways – skin intact
optional – 2 shallots, unpeeled
optional 2 cloves garlic, whole
1 stalk lemon grass ( the tender light portion), bruised
3 Tbsp rock sugar, yellow or white. You can substitute with brown sugar if you can not find this. (adjust to taste)
1 chicken bouillon cube – optional
2 Tbsp fish sauce
water as needed
GARNISH  for Vietnamese Pho Bo:
handful of vietnamese mint, finely chopped
handful of coriander / cilantro, finely chopped
handful of spring onion greens / scallions, finely chopped
sliced lime for final garnish
optional – bean sprouts
optional – sliced red chilli
optional – sliced white or vidalia onion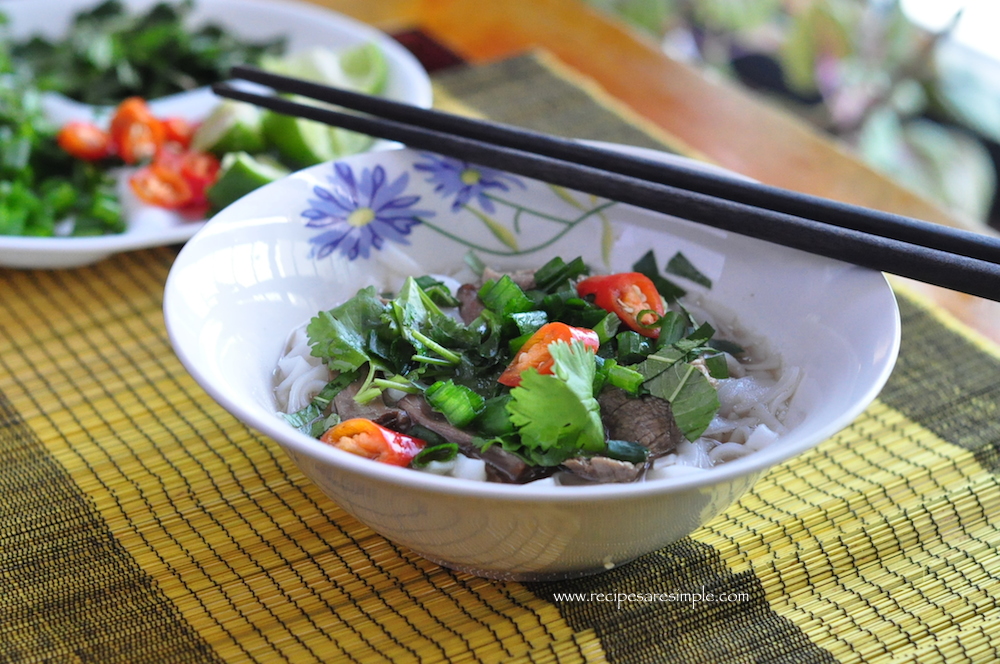 How to cook Vietnamese Pho Bo:
Rinse the oxtail well. Place in a stock pot covered with plenty of cool water (7 cups or so) and bring to a boil.
While the water is coming to a boil, slice the onion and ginger in half and place on a grill pan on medium heat till smoked. Peel. Remove any overly blacked portions.

You could also do this on an open flame or for best authentic on a charcoal grill. IF using shallots leave them whole while charring and peel afterwards         

Dry roast the coriander seeds and cloves  ( roast in dry pan) just till aromatic, do not allow to turn dark.
Add this to a small metal mesh tea ball Or a muslin cloth bundle.
Skim away any impurities and scummy foam over the broth.
Add the charred ingredients. as well as the dry roasted spice bundle to the broth.
Add cinnamon and star anise.
Add bruised portion of lemon grass and garlic ( if using).
Add rock sugar and fish sauce. Also add the chicken cube if using.
Once the broth has boiled briefly, cover and lower the stock pot into the thermal cooker and leave for a couple of hours closed.
Open. Put the stock pot back on the stove to bring to a boil again and return to the thermal cooker as before.
 Repeat this 1 or 2 times and then leave overnight.
When time to eat. Cook the rice noodles. If using  fresh noodles, blanch them briefly in boiling water just till tender. If dried, bring water to boil.  Add the noodles and cook for 4-5 minutes till tender. drain.
In the same pot of water used to cook the noodles. Add salt followed by the beef slices ( very thin slices) and cook to desired doneness. Traditionally the boiling stock is just poured over the beef slices and they are cooked this way. I, however would like a little bit more cooking.
Drain the beef from the pot.
 Bring the prepared stock to one last boil. Then use a metal strainer to strain the stock. Remove the ' oh so tender' meat from the bones and discard everything else.
Strain the stock a few times using a fine mesh strainer, to get it as clear as possible. Add some boiled water if it seems too thick and add a little sugar or fish sauce as needed.
Add the cooked noodles to individual serving bowls.
Add a few slices of cooked beef as well as some of the meat from the bone.
Don't add too much beef. Remember the stock is the star.
 Add 2 tsp each of the vietnamese mint, coriander and spring onion greens. Add more to taste if desired.
Add the optional red chili, sliced white onion, bean sprouts.
Add some more broth.
TASTE. Then squeeze just a little lime juice straight into bowl. TASTE again.
(Assembly of Pho is all about the TASTING).
Enjoy.
You can serve it along side the vietnamese chili sauce for Pho or Hoisin sauce. I just have it in its original glory. 🙂
Vietnamese Pho Bo – Rice Noodles in Slow Cooked Beef Broth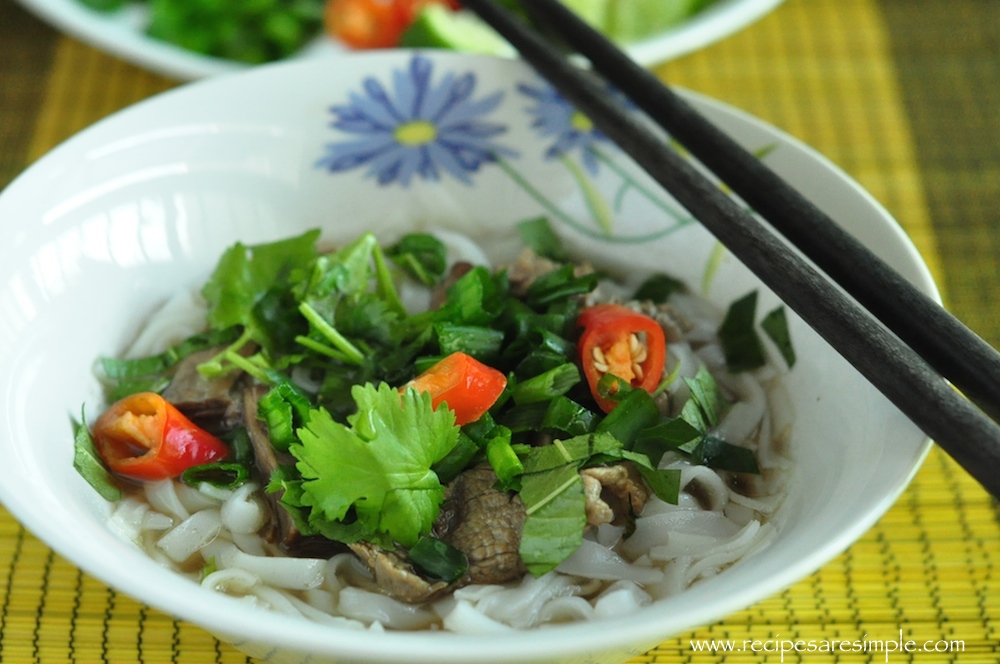 Try it and let us know – Vietnamese Pho Bo – Rice Noodles in Slow Cooked Beef Broth .
 If you can not find bánh phở noodles for Vietnamese Pho Bo, you may use kway trow rice noodles or flattened rice noodles. These noodles stay white when cooked. Rice vermicelli is not a good substitute.
Traditionally the onion and ginger as well as the spices are charred on a charcoal grill. This however may not be possible at home. If you can do this, char the onions whole, then peel the shared skin away. for the spices just a few seconds over the grill will do.
Read more about Pho.
Partially freezing the beef helps to slice the pieces very thinly.

RAS : The best way to learn about different cultures is to ask someone to teach you how to cook the dish they are most proud of.  What do you think?