28 April, 2014
Vietnamese Coffee Recipe – Iced Coffee (Cà phê sữa đá ) or Hot (Cà phê sữa nóng)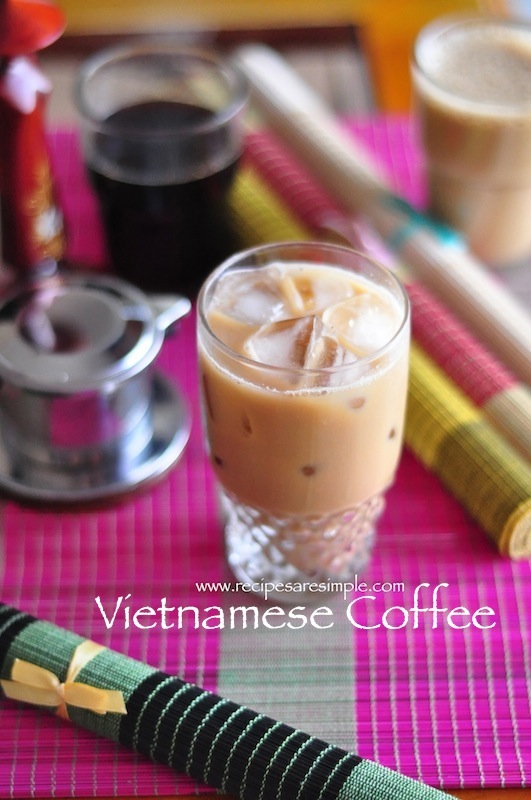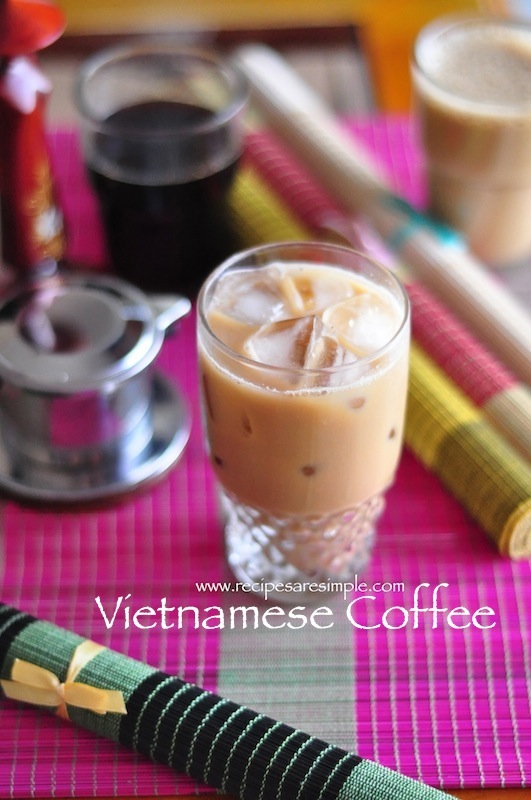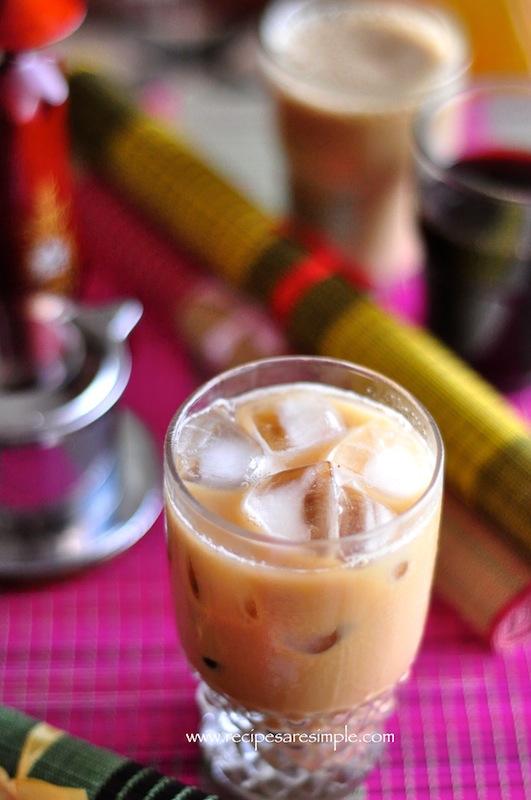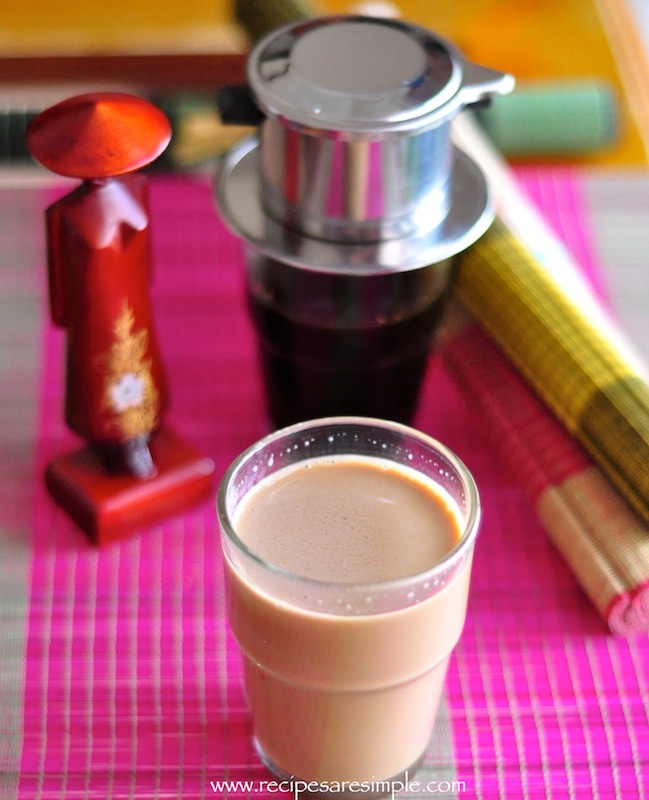 Vietnamese Coffee Recipe
Coffee was introduced to Vietnam in 1857 by the French and  the country slowly grew as a producer of coffee in Asia.
One of the best filtered coffee is made in Vietnam.  Trung Nguyen being one of the most widely sold brands. It is addictive aromatic dark roasted coffee to die for!
In the US , a brand called Cafe Du Monde French Roast Chicory coffee is used as a good substitute but it's not quite as splendid as the original. In Vietnam, a coffee filter is used to get a good quality coffee decoction and this is served black or with sweetened condensed milk. It can be served hot or cold. Often the small stainless steel coffee filter will be placed at your table and you can watch the coffee slowly drip into your cup as you enjoy the company of your friends/ loved ones. This waiting and anticipation of that lovely cup of coffee is a wonderful part of the Vietnamese Culture.

Vietnamese Coffee Recipe



Scroll down for video.
ORDERING VIETNAMESE COFFEE:
Hot Vietnamese Black Coffee
Cà phê đen  MEANING "Coffee Black" Pronounced : cah-FAY den
Cold Vientamese Black Coffee
Cà phê đen đá MEANING "Coffee Black Ice" Pronounced : cah-FAY den dah
Hot  Vietnamese Coffee with Sweetened Condensed milk
Cà phê sữa nóng  MEANING "coffee milk hot" Pronounced : cah-FAY soo-ah nowng
Iced Vietnamese coffee with condensed milk
Cà phê sữa đá  MEANING "coffee milk ice" Pronounced : cah-FAY soo-ah dah
Recipe Type: Beverages

Author: Recipes 'R' Simple

Prep time: 2

Filter time: 6

Total time: 8

Serves: 1
Ingredients: For 1 serving – recipe can be doubled as required using a larger coffee filter.
1

½ – 

2 Tbsp Trung Nguyen dark roast medium coarse ground coffee. Or use any dark roasted medium coarse ground coffee

( Fine ground coffee will go through the filter so must not be used)

2 Tbsp good quality sweetened condensed milk – or to taste

(omit if making black coffee) (replace with boiled milk and sugar to taste if needed- see notes)

 ½ cup + a couple of Tbsp Boiled Water

(add more if you require a more dilute coffee)

You will need a Vietnamese Stainless steel Coffee filter.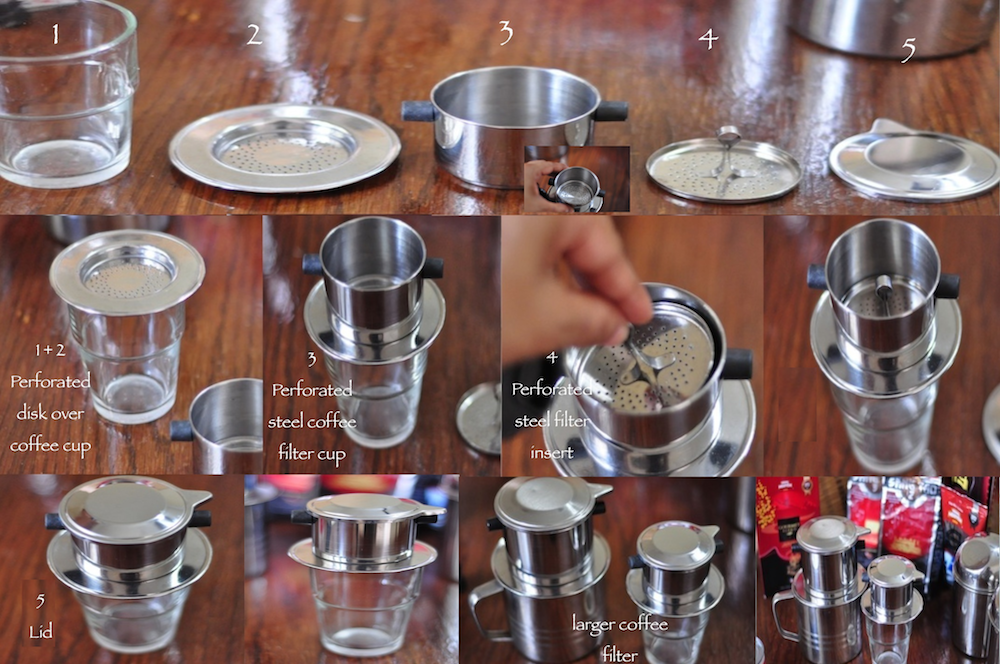 Method:
Boil water in a kettle.
Make sure the coffee filter parts are all washed in warm soapy water and sterilized after each use. Wipe dry with kitchen towel.
Place the perforated disk over the coffee cup.

(Using a clear cup allows  you to see the speed in which the coffee is dripping )

Place the steel coffee filter cup over the disk.
Add the course ground coffee.
Shake gently so that the coffee is evenly distributed.
Lower the steel filter 'insert' over the coffee.

(They come in two types: screw type or just  pressing type, like in the picture below)

. Press/Screw just tight enough without squeezing the coffee down too tightly. Leave some room for air, so that the water will be evenly distributed.
Pour in hot boiled water in two stages: First pour in 2-3 Tbsp. Just to allow the even  dampening of the coffee grains. This allows for a more even drip of coffee through the filter ( not too fast).
Cover with a lid and wait around 30 seconds till you see the coffee has started to drip.
Now pour in the remaining boiled water and cover again with lid.
In 4-5 minutes, the water will have dripped through completely. Once the water in the filtered cup has dripped through to create a 'coffee decoction' in the lower coffee cup, proceed to make coffee as desired.

For Hot black coffee

serve as it is. You can dilute with some more boiled water if needed. You can make

Cold black coffee

by adding ice.
For

Hot Coffee with Condensed milk

:
Pour the condensed milk into a cup and stir in the black filtered coffee.

(You could also add the condensed milk initially and allow the coffee to drip straight into this.) 

Stir thoroughly to completely mix the condensed milk from the bottom of the cup.
For

Iced Coffee

, fill a glass with ice and pour the sweetened condensed milk coffee into the glass with ice. SO REFRESHING!
Vietnamese Coffee Recipe Try it and let us know – Vietnamese Coffee Recipe .
If you do not wish to used sweetened condensed milk, you can follow the Indian Filter Coffee Method: Boil ½ cup of milk (I like low fat) and add to the hot coffee decoction. Add sugar as desired (around 2 -3 tsp).
To keep the coffee decoction hot as it drips, place in a basin/bowl of Boiled water.
If the coffee drips through too quickly, it means your steel insert is not pressed tightly enough. If it takes forever to drip, chances are you have pressed the insert too tightly. A good drippingis approximately 1 drip per second or 1 drip per 2 seconds.
This is especially good if making more coffee than one cup using a larger filter.
If you want a more dilute coffee you can use less coffee or better add some more boiling water to the decoction.
In Vietnam, brands such as Trung Nguyen brand comes in strengths of 1- 5 .
5 being the strongest coffee. It's very strong so if you are a moderate caffeine user, try No 1-2 to start out with.