8 April, 2015
Vendakka Theeyal – Authentic Kerala Okra in Roasted Coconut Gravy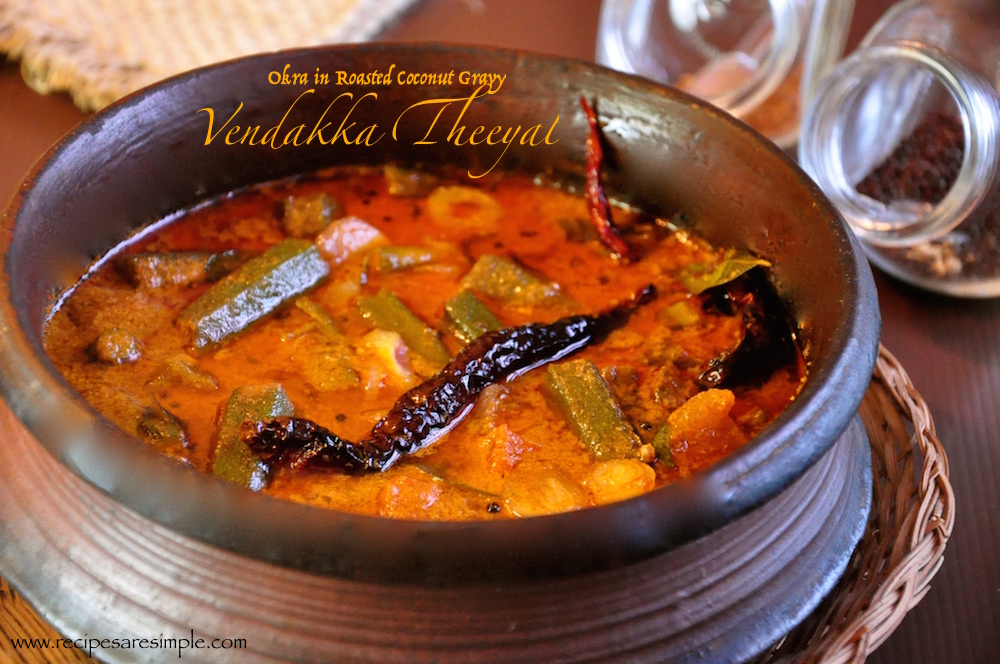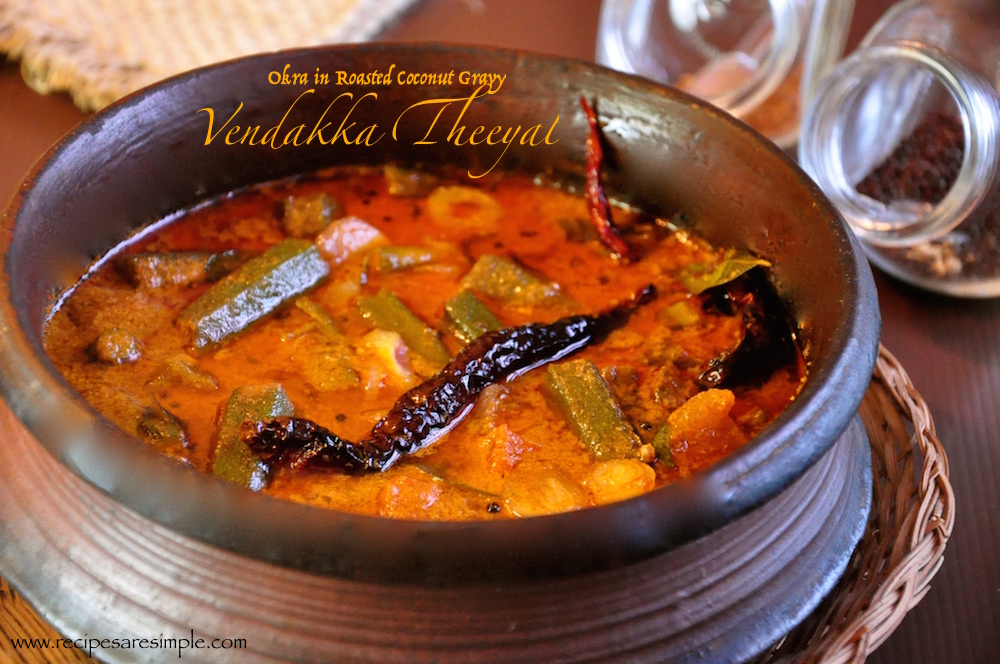 Vendakka Theeyal – Authentic Kerala Okra in Roasted Coconut Gravy
Vendakka Theeyal is a great vegetarian curried dish, made from a lip smacking spiced and roasted coconut paste. The flavors of coconut and spices along with a sour undertone make the gravy so tasty. To be served hot with rice.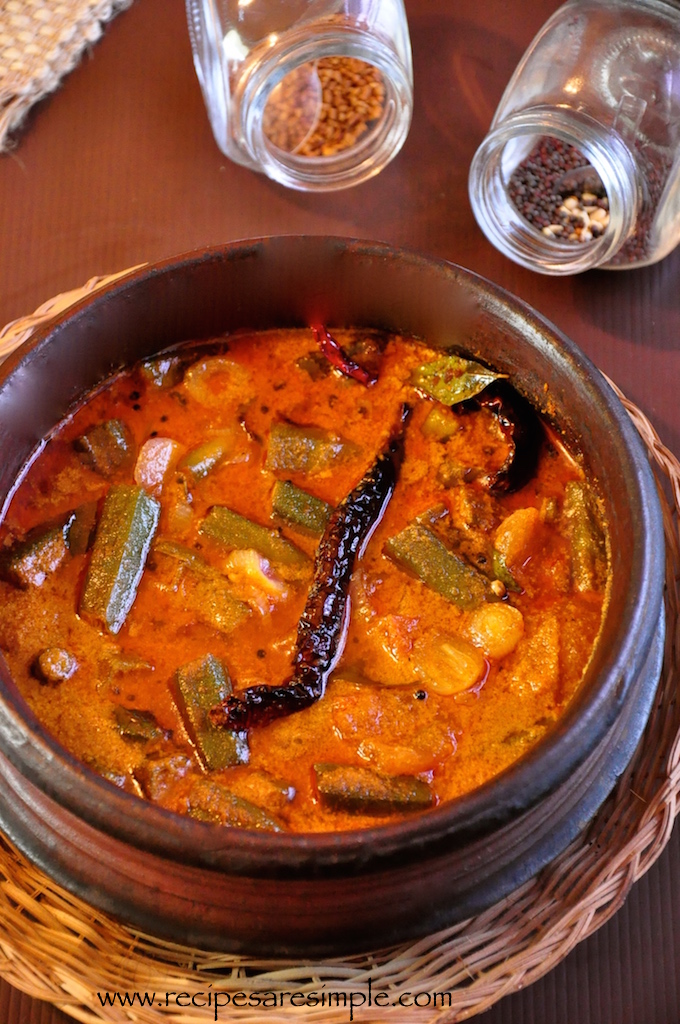 You are here: Home >  Vegetarian Dishes > Vendakka Theeyal
 

Recipe Name: Vendakka Theeyal 

Author: Shana c/o Recipes 'R' Simple
Vendakka Theeyal – Authentic Kerala Okra in Roasted Coconut Gravy
Ingredients:
2 cups, tender okra (ladies fingers), cut into 3-4 " pieces
2 Tbsp oil
¼ tsp turmeric
4 small green chillies, slit
2 tsp tamarind pulp
 A handful of curry leaves
2 tomatoes, chopped
 About 2 cups of water
 salt to taste
For the Coconut Paste:
1 cup grated fresh coconut
3 shallots, sliced
4 dried chillies, left whole
1 tsp coriander seeds
¹/8 tsp fenugreek
For Tempering:
¼ tsp mustard seeds
¹/8 tsp fenugreek seeds
2 whole dry chillies
2 -3 shallots, shallots
1 tsp oil of choice
Method:
(Use a wide, deep non stick pan/wok as well as an earthen /clay pot for this dish).

Add the tamarind pulp to a small boil with a few tablespoons of boiled water. Allow to soften.
Make the Roasted Coconut Paste:
To a large

dry

non stick pan, add the coconut and shallots. Fry, stirring continuously till the coconut turns golden brown.

(This takes patience. It can take 5-6 minutes on a medium flame. Do not allow the coconut to burn even in the slightest. If it does get burnt, do not use for this curry or the end result will be ruined with a bitter aftertaste)

Remove the golden roasted coconut from the pan.
To the same pan (wiped clean), add the coriander seeds, dry chilli and fenugreek.

Dry

roast till aromatic.

(Again, be careful with the frying of these spices. Over roasted spice will cause a butter taste to the curry).

Add this as well as the roasted coconut to a mixer/ grinder with ¼ -½ cup water. Just enough water to assist in grinding to a smooth paste.

(Try to get the paste as smooth as possible, using a spatula to wipe down the sides of the mixer to assist in doing so. Traditionally a stone grinder is used for the best and most authentic flavor). Set aside.
Prepare the Vendakka Theeyal
Rinse out the pan used earlier and return to heat. Add 2 Tbsp of oil.
When the oil is hot, add the turmeric and allow to sizzle.
Add the okra pieces and stir fry for about a minute till the okra turns nice and bright green. Set aside.
To an earthen pot, add the sautéed okra, the chillies, tomato, curry leaves and coconut paste.
Squeeze the tamarind pulp to get a thick black solution. Discard the pulp.

Add half of this solution first.

You can add the remaining solution later after doing a taste check to prevent the curry from turning too sour.

Add enough to water to cover the ingredients in the pot and bring to a simmer.
Add salt to taste and cook uncovered till the gravy thickens. Remove from heat.
Tempering:
Heat the oil in a small pan. Add the mustard seeds and wait for them to pop completely.
Next add the fenugreek seeds  and allow to turn golden.
Now add dried chillies  and shallots and stir till the shallots are light golden.
Pour over the curry. Cover the pot and allow to rest at least ten minutes.
Vendakka Theeyal – Authentic Kerala Okra in Roasted Coconut Gravy
If you find the curry has thickened a little too much after sitting a while, add some boiled water to loosen the consistency. It should not be too loose though.
Key Ingredients: Okra, Coconut, Spices, Shallots, Chillies, Curry Leaves, Tomato
Let us know if you tried it – Vendakka Theeyal  Comments from you provide motivation to keep up the driving force behind this blog, bringing you more delicious and perfected recipes regularly. Please do leave a comment. We love to hear from you.