3 July, 2015
Vegetable Chow Mein – Chinese Veg Noodle Stir-Fry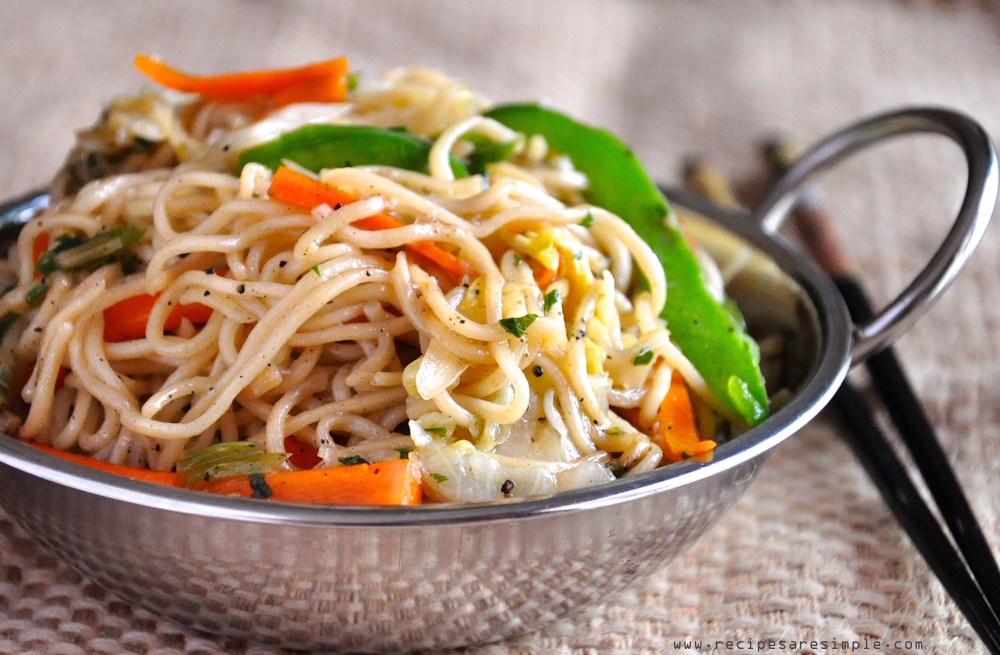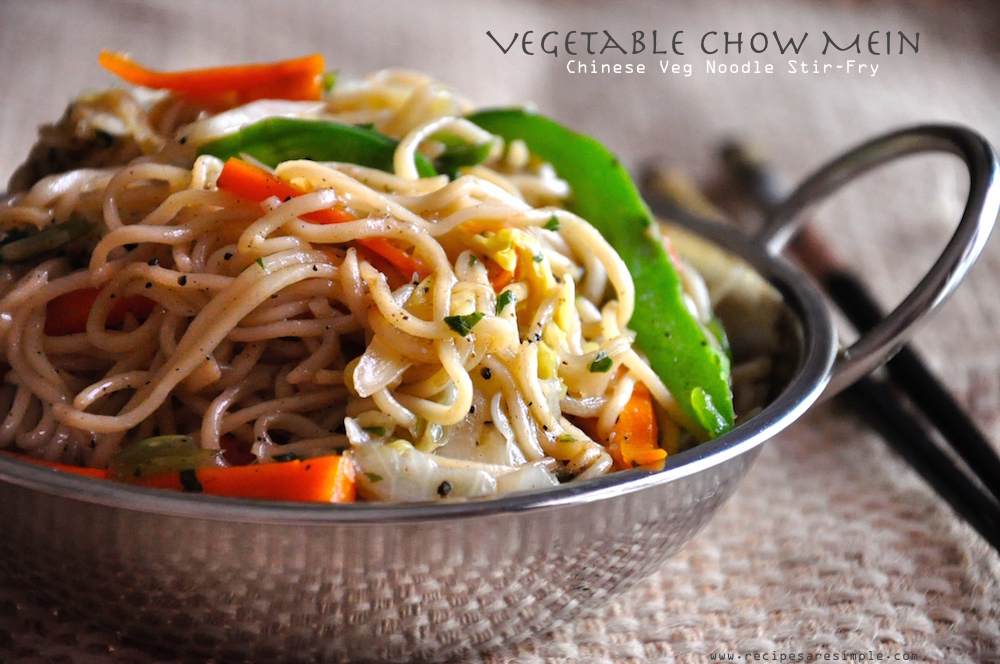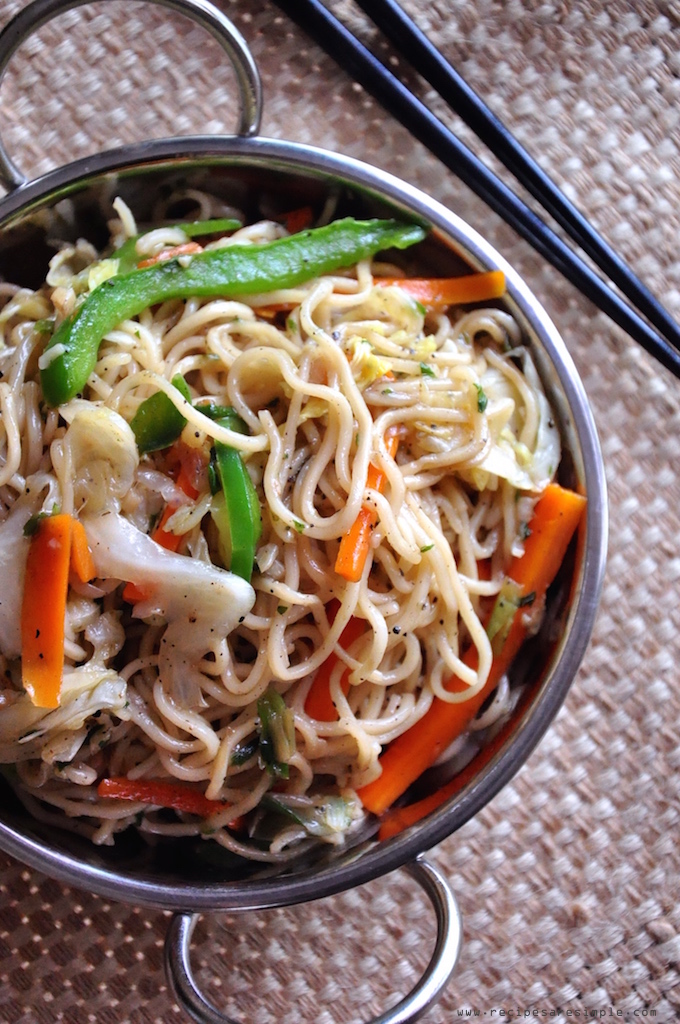 Vegetable Chow Mein
I love making Chinese stir fried dishes. They come together so quickly and are so satisfying. This Vegetable Chow Mein or Stir Fried Noodles with vegetables is one of the easiest Chinese Recipes. If you like, you can make an omelette with some chopped scallions and celery, cut into strips and either mix it in or serve on the side of these noodles.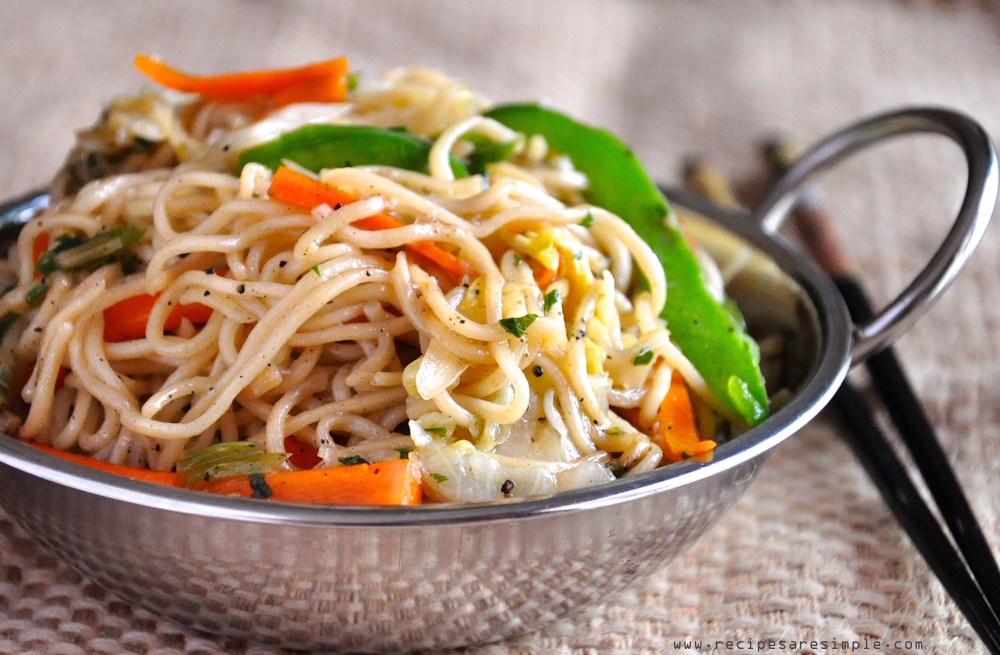 You are here: Home > Pasta&Noodles  > Vegetable Chow Mein
 

Recipe Name: Vegetable Chow Mein

Recipe Type: Noodles / Chinese

Author: Shana c/o Recipes 'R' Simple
Vegetable Chow Mein
Ingredients:
200 gms egg noodles

(Buy those that are wheat-ish or light yellow in color. The darker ones often have a very string smell about them).

1 large carrot, cut into long thin sticks

 – toothpick length

½ large capsicum (green bell pepper), cut into similar long pieces
2 cups cabbage, cut into large shreds – 

loosely packed

1 cup spring onion with shoots, 

bulb portion (white) separated from the greens  and chopped up

2 Tbsp garlic, finely chopped
1 ¼ Tbsp ginger, finely chopped
2  Tbsp celery leaves, finely chopped
1 Tbsp cornflour, mixed in 2 Tbsp of water
salt as needed
4 Tbsp plus 4 Tbsp oil
Optional- to serve with- omelette, cut into strips, bean sprouts.
For the sauce:
1 vegetable stock cube mixed in 1 cup warm water. (Or you could use one cup prepared , salted vegetable stock. Instead of vegetable bouillon, you can also use chicken stock cubes if you prefer the flavor)
1 tsp course grain pepper powder
2 Tbsp light soy sauce
1 Tbsp white sesame seeds,

dry roasted in a pan till golden and ground to a powder
Method:
Add all the ingredients for the sauce in a bowl. Stir and set aside.
Bring a pot of water to boil. Add the noodles without breaking.
Allow to cook 1 – 3 minutes without becoming too soft ( al- dente).
Quickly drain and  hold under running tap water to cool off the noodles completely.
Use 1 Tbsp oil to slightly oil the cooled noodles and spread in a plate so that they do not stick.
Heat 3 Tbsp oil in a wok till smoking. Swirl the wok to coat the entire surface.
Add the noodles and fry on all sides to change the color and texture to slightly crisp and gold.
Return the fried noodles to the plate.
Heat remaining oil in a large wok. Swirl around the pot to coat the entire surface. Get the oil very hot.
Add the chopped ginger, garlic and spring onion whites. Stir fry briefly for about 5 seconds, till softened. Do not allow to brown.
Add the spring onion greens and celery leaves next and toss briefly.
Stir the bowl of sauce ingredients and pour into the wok. Bring to a boil.
Add the carrots and cook till the carrots become tender. Add some water if needed.
Once the carrots are tender, add the shredded cabbage followed by the capsicum.  Cook for 15 seconds more. Just till the cabbage is slightly tender with some crunch left.
Stir the cornflour and water solution and pour into the wok.
Toss till the vegetables obtain a glossy coating.
Now add the fried noodles and toss continuously till the sauce and vegetables are mixed through thoroughly.
Garnish if desired with beansprouts or more spring onion.
Optional: Beat three eggs with a Tbsp each of finely chopped celery and spring onion greens. Make a thin omelette with this. Roll up the omelette and cut into strips. Garnish the noodles with this if you like.
Vegetable Chow Mein
This is my favorite combination of vegetables for a simple yummy chow mien. You can try adding other vegetables like broccoli, spinach or mushrooms if you like.
Key Ingredients: Egg Noodles, Carrot, Cabbage, Capsicum, Galric, Ginger, Spring Onion, Celery, Sesame Seeds, Stock, Soy Sauce, Pepper, Cornflour, Oil, Salt.
Let us know if you tried it – Vegetable Chow Mein . Comments from you provide motivation to keep up the driving force behind this blog, bringing you more delicious and perfected recipes regularly. Please do leave a comment. We love to hear from you.