2 September, 2014
Varutharacha Sambar – South Indian Vegetable and Lentil Potage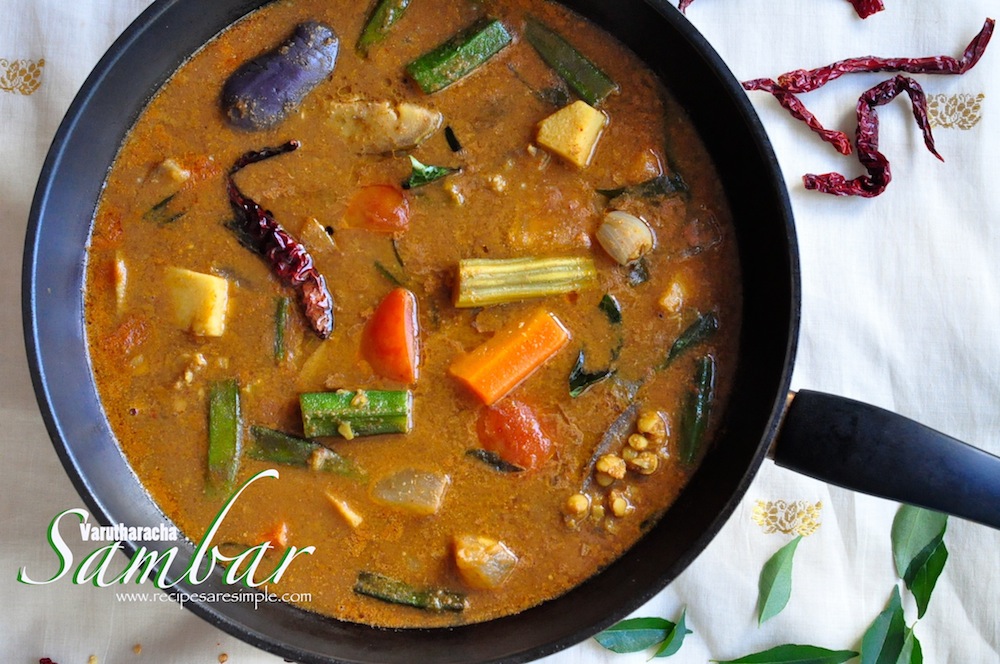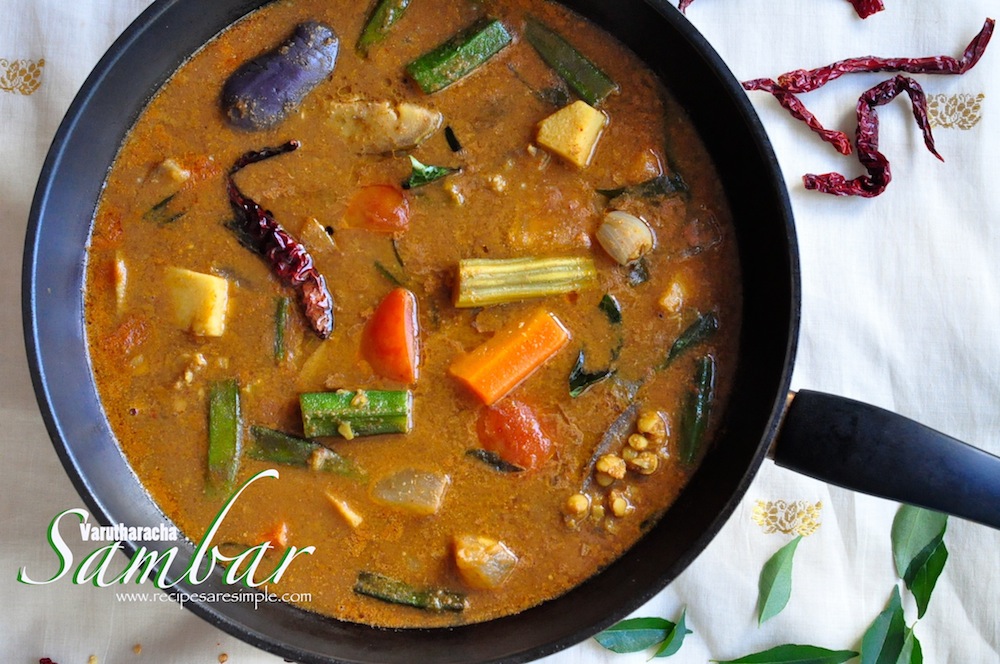 Varutharacha Sambar – South Indian Vegetable and Lentil Potage
  Sambar is a South Indian Lentil and Vegetable Potage of sorts. It is the quintessential every day accompaniment to idlis, vadas, dosas or rice. Pigeon peas (Tur Dhal) makes the base of this curry along side a medley of vegetables and tamarind pulp. A special 'Sambar Masala Spice Mixture', gives the dish its distinct aroma. This version ( Varutharacha Sambar)  also incorporates grated fresh coconut ( along with the spices) that has been  dry roasted till golden and then ground to a paste.
Varutharacha Sambar – South Indian Vegetable and Lentil Potage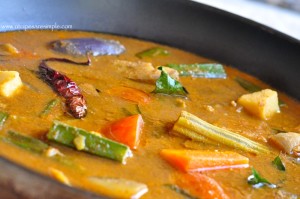 Recipe Type: Vegetarian / South Indian

Author: Recipes 'R' Simple

Prep time: 20

Cook time: 20

Total time: 40

Serves: 8 – 10
Ingredients:
½ cup tur dal ( pigeon peas)
½ tsp turmeric powder
1 large potato –

peeled, cut into 6 large  chunky pieces

1 small carrot,

peeled and cut  into  1½ "  thick slices 

2 small eggplants,

cut into four – vertically

¾ small plantain (raw) – 

skin scraped (not peeled), cut lengthwise and then into elongated semi circles

1 drumstick

( the vegetable folks 🙂 ),

scraped (not peeled)

½ cup of cubed elephant yam
½ cup of cubed winter melon (ash gourd)
6-7 shallots,

peeled left whole

4-5 ladies fingers (okra),

cut into 1½ " pieces

1 large tomato, chopped
3 – 5 small green chillies,

slit through the middle and seeds removed

a small handful of fresh curry leaves
1 lime sized ball of tamarind pulp soaked in hot water for 20 minutes
3 Tbsp coconut oil or oil of choice
salt to taste
fresh coriander leaves for garnish
For the special roasted Varutharacha Sambar Masala powder:
¾ cup loosely packed fresh grated coconut
1 ¾ Tbsp whole coriander seeds
1 Tbsp urudh dal (black gram dal)
1 Tbsp chana dal ( bengal gram dal)
5 long dried red chilli – the milder variety
¹/8 tsp fenugreek seeds
1 small piece Asafoetida ( crushed using mortar and pestle) 
For tempering:
1- 2 dried red chillies
¼ tsp fenugreek seeds
a few curry leaves
Method:
Leave the tamarind  pulp in hot water to soften before you start.
Peel, scrape and chop all the vegetables as specified

(see notes)

.
Add the vegetables to a bowl of water to prevent any discoloration.
Rinse the Pigeon peas ( tur dal ). Add to a large pressure cooker with turmeric powder and ½ tsp salt. Pressure cook for 1 steam whistle on medium heat. Turn off the heat. Leave the cooker to cool on its own.
Remove half the dal to a bowl. Leave the rest as well as the broth in which it was cooked in the pressure cooker.
To this add all vegetables except ladies fingers and tomatoes. Add another tsp of salt or so.
Pressure cook again on medium heat for a single steam whistle. However this time we will release the steam manually. (Place the cooker under running water, till you can open the cooker).

This

 

prevents overcooking the vegetables, causing them to get mashed

. Set  aside.
 To a dry pan or wok:  add the coriander seeds, dried red chilli, urud dal, chana dal, fenugreek seeds followed by the coconut. Roast, stirring continuously. Add the

Asafoetida. Roast

 

till the coconut is toasted and golden brown. Do not allow any blackening of the spices or coconut. If this occurs, throw it out and start again. Don't try to make it work. Trust me.
Add the roasted ingredients to a small heat proof grinder

( or wait till it cools down). 

Grind with just a little water to a paste.

(As smoothly as possible).

Add to the vegetables and bring to a simmer: allow the raw smells to dissipate. Also return the reserved cooked dal. Allow to simmer and thicken. Taste and add salt if needed.
In another wide mouthed  pan or wok, heat some of the oil. Add the ladies fingers and stir fry a bit till deep green in color.
Add the curry leaves and the chopped tomato. Cook down till the tomatoes are softened and the ladies fingers are cooked tender.
Add the entire cooked dal and vegetable mixture

(from pressure cooker)

to the pan.
Add the tamarind solution and allow to simmer shortly.

Temper: 

Heat the remaining oil in a small pan.  Add the fenugreek seeds allow to crackle. Add dried chilli and curry leaves. When  aromatic and fried,  add to the curry.
Add chopped fresh coriander leaves  over the Sambar and serve hot.
Varutharacha Sambar – South Indian Vegetable and Lentil Potage
Try it and let us know – Varutharacha Sambar – South Indian Vegetable and Lentil Potage
When chopping, cutting vegetables for the Sambar, it is important to rememeber that the different vegetables are cooked differently,   and that is why we keep the pieces on the larger side. Don't cop the vegetables too small. Traditionaly vegetables like carrot, ladies fingers, drumsticks, plantain are cut into finger length, thick pieces. Potatoes, eggplant, are cut into big chunks and winter melon, elephant yam are cut into  cubes . etc.

Half of the dal is removed in his recpe prior to cooking the vegetables withe rest of the dal. The reason for this is to keep some texture and bite to some of the dal while mashing up the rest in the final dish.
When grinding the roasted coconut mixture, traditionally a stone grinder is used. The taste is improved.
Fresh Asafoetida  always gives better flavor but if you only have powdered form, use that.

 Read more about the

origination of the Sambar dish

.