6 November, 2016
Vanpayar Ularthiyathu | Brown Bean and Shallots Mash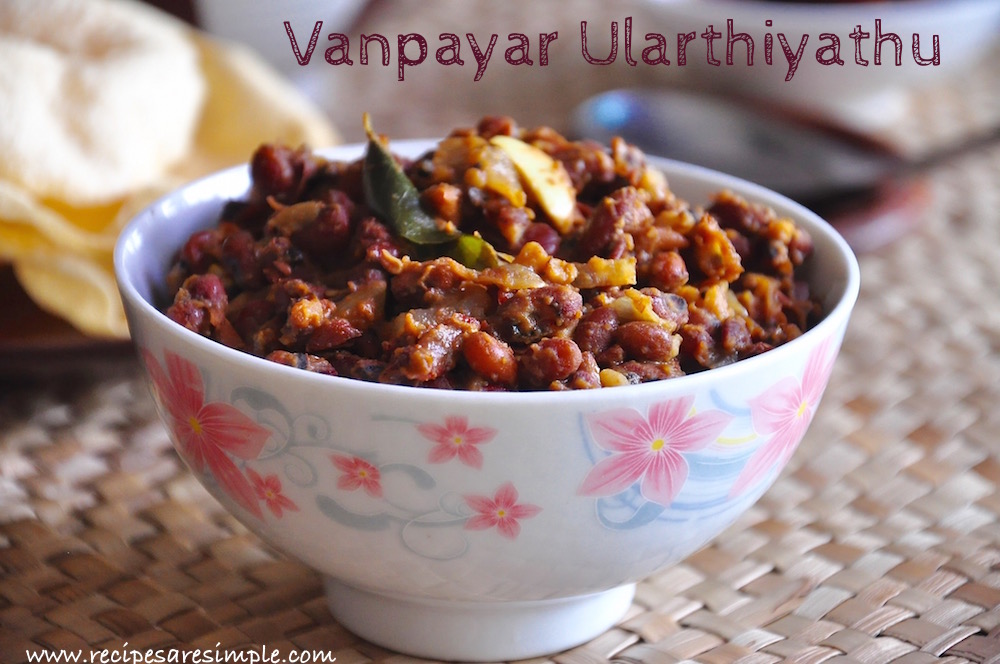 Vanpayar Ularthiyathu | Brown Bean and Shallots Mash
Vanpayar Ularthiyathu is the classic Kerala comfort food. The 'brown beans' (red cow peas / red gram / 'red chawli') are a brownish version of the 'green bean' or whole 'mung dal'. It also looks similar in shape to the 'black eyed bean', except it's smaller.
In Kerala, this dish is very often served with rice porridge, where the Kerala 'Rose Rice' is used: an indigenous variety of rice grown in Palakkad District of Kerala. It's a chubbier grain and is found throughout Kerala and parts of Sri Lanka.
The beans are cooked prior to stir frying with a delicious blend of shallots, garlic, pepper and dried red chilli and then mashed lightly to add a very-yummy-creamy quality.
This vegetarian item may be served with rice or even chapatis, but the classic combo will forever be Kanji and Payar ( Porridge and Beans). Poppadum's , pickle and shallot chutney are also often served on the side. 'Kanji and Payar' is also often served when you are under the weather or suffering from an upset stomach.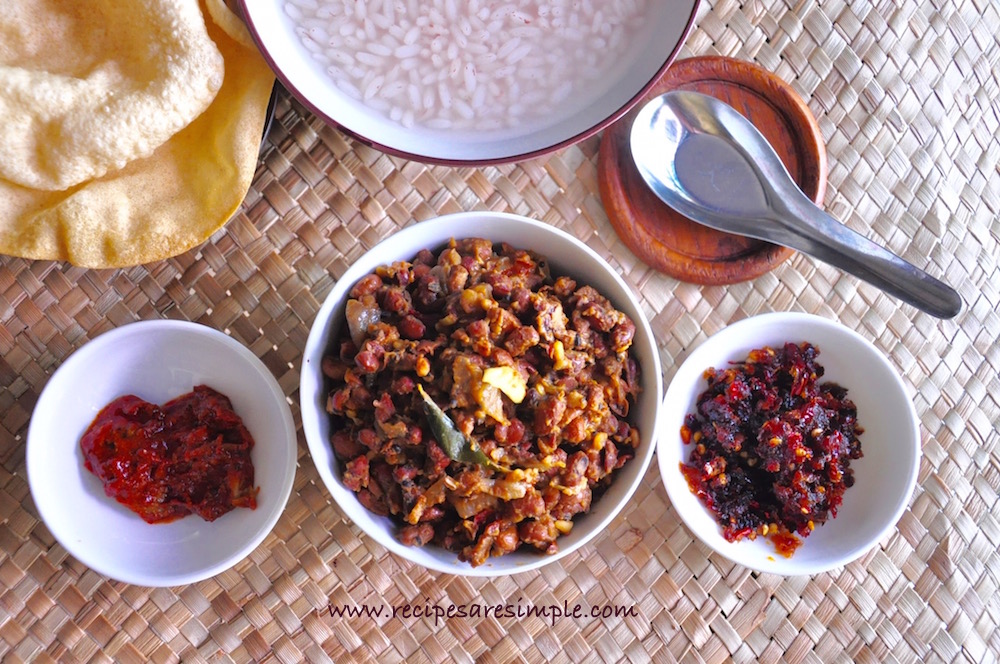 Vanpayar Ularthiyathu | Brown Bean and Shallots Mash
You are here: Home > Vegetarian  > Vanpayar Ularthiyathu
Recipe Name: Vanpayar Ularthiyathu | Brown Bean and Shallots Mash

Author: Shana c/o Recipes 'R' Simple
Ingredients:
1 cup brown beans /vanpayar
¹/3 cup plus 5 shallots
6 cloves garlic (smaller variety) – if unavailable use 3 of the larger garlic cloves
¼ tsp black peppercorns
3 mild dried red chillies
a hand full of curry leaves
4 Tbsp coconut oil, or oil of preference
salt to taste




Method:
I use a pressure cooker, so soaking time is only 20-30 minutes in warm water. If you are cooking without a pressure cooker, I suggest soaking in cool water for 2-3 hours.
Soak the rinsed beans in warm water till slightly bigger in size, 20 – 30 minutes.
Add to a small pressure cooker and cover with water. Add about 1 tsp salt and cook on high till steam escapes. Then lower heat and cook for 11 minutes.( If soaked for longer periods (3hrs-overnight), cooking for 3 steam whistles is sufficient).
Cool the cooker and open. Check that the beans are cooked tender, and can be mashed with applied pressure. Do not cook longer or the beans will be overly mashed.
Add 5 shallots, garlic, black pepper and dried chilli to a mortar and crush to a paste.
Slice the remaining shallots.
Heat the coconut oil in a heavy wok and add mustard seeds.
When the mustard seeds crackle, add the sliced shallots and curry leaves. Sauté till soft.
Add the crushed ingredients and cook, stirring till the raw smell of garlic dissipates.
Add the cooked and drained beans. Strain and Reserve the cooking liquid.
Stir on medium heat, adding a little salt to taste. Mash lightly in the sautéed ingredients.
Once the beans are uniformly seasoned and mashed lightly, return the cooking liquid.
Cover and cook on low heat till the liquid evaporates, but beans remain moist.
Remove from heat. Add a tsp of coconut and stir through the hot mixture.
Keep covered till served.
Vanpayar Ularthiyathu | Brown Bean and Shallots Mash
Key Ingredients: Red Beans, Shallots, Garlic, Oil,Curry Leaves, Mustard seeds, Salt, Pepper.
Leave a comment if you tried – Vanpayar Ularthiyathu | Brown Bean and Shallots Mash .