14 April, 2016
Uzhunnu Vada | Ulundu Vadai | Medu Vada | Urad Dal Fritters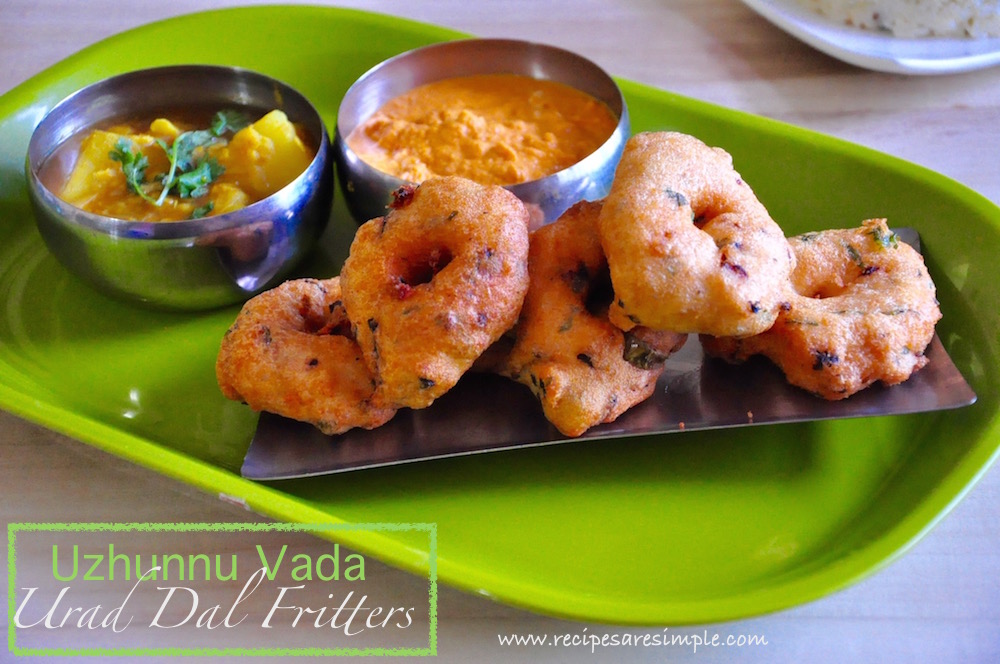 Uzhunnu Vada | Ulundu Vadai | Medu Vada | Urad Dal Fritters (with slideshow)
Uzhunnu Vada  is my husbands favorite Indian Snack. Made of ground black gram dal (urad), it is very tasty. Crisp on the outside, soft and hot centre. So delicious served with chutney or sambar!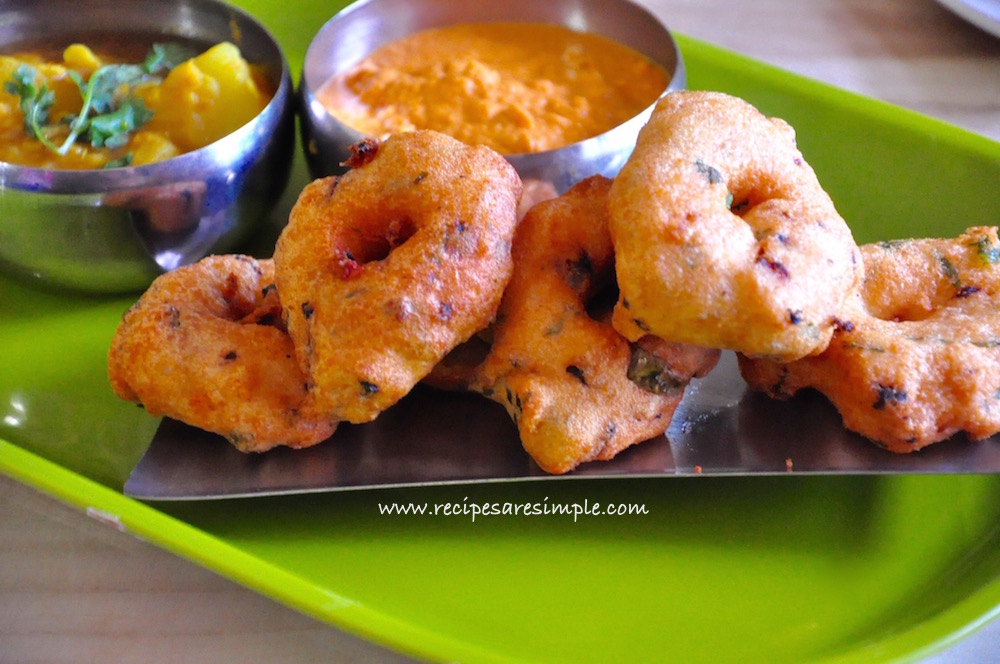 Uzhunnu Vada | Ulundu Vadai | Medu Vada | Urad Dal Fritters
You are here: Home > Snacks  > Uzhunnu Vada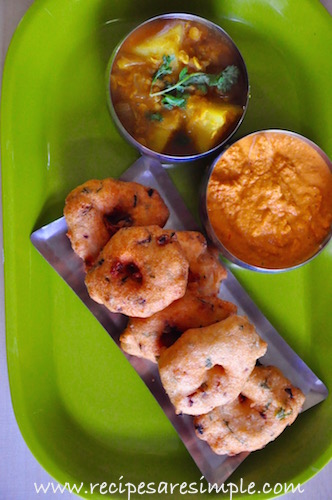 Recipe Name: Uzhunnu Vada

Author: Shana c/o Recipes 'R' Simple

Soaking: 2 hours

Yield: (15 small sized vada)
Ingredients:
1 cup urad dal
4 generous Tbsp onion, finely chopped
1 long mild green chili chopped ( about 2 Tbsp)
1 Tbsp ginger, lightly crushed and then chopped finely
¼ cup fresh coriander, finely chopped ( optional)
½-¾ tsp salt (to taste)
Oil for deep frying
Method:
Wash the dal several times and drain.
Soak in cool water for 2 hours.
Drain the dal. Reserve ¼ cup of the soaking liquid.
Add the drained dal to the blender along with the reserved liquid.
Grind to make a thick, slightly course batter.
Move to a bowl and add in the chopped onion, ginger, green chili, coriander and salt.
Use a spatula to mix the ingredients in uniformly.
Heat the oil for deep frying in a small wok / quad.
Place a bowl of water nearby to wet hands.
When the oil is MEDIUM  hot (NOT SMOKING) we can fry the fritters.
Do so by wetting you hand and scooping out a small portion of the batter from the side of the bowl. Once scooped do not mix the batter. With the small disc of batter scooped on to your wet fingers, use your (Wet) thumb to make a hole in the centre.
Quickly and gently drop the shaped vada into the oil from the side of the KADAI.
Only add 2-3 vada at a time, to allow for enough space to slide in the next.
Once in the oil, wait for 20 seconds or so and then lightly lift the vada if it is sticking anywhere in the wok.
Fry one side on medium heat till golden brown.
Gently flip over and fry the other side the same way.
Drain on kitchen paper.
Serve hot and crispy with chutney or sambar.
Uzhunnu Vada | Ulundu Vadai | Medu Vada | Urad Dal Fritters
Do not make the batter thin or smooth. It will drink too much oil in the frying process. Also it will be impossible to shape.
You can adjust the quantity of chopped ingredients to suit individual tastes.
Wetting the hands in the bowl of water prevents the batter from sticking to your hand. However once you scoop up the batter, do not mix it with your hands, simply make the hole with your thumb and slide into oil.
Key Ingredients: Urud dal, Salt, Ginger, Onion, Green Chilli, Coriander,
Leave a comment if you tried – Uzhunnu Vada | Ulundu Vadai |Medu Vada|Urad Dal Fritters