13 September, 2013
Unniyappam Recipe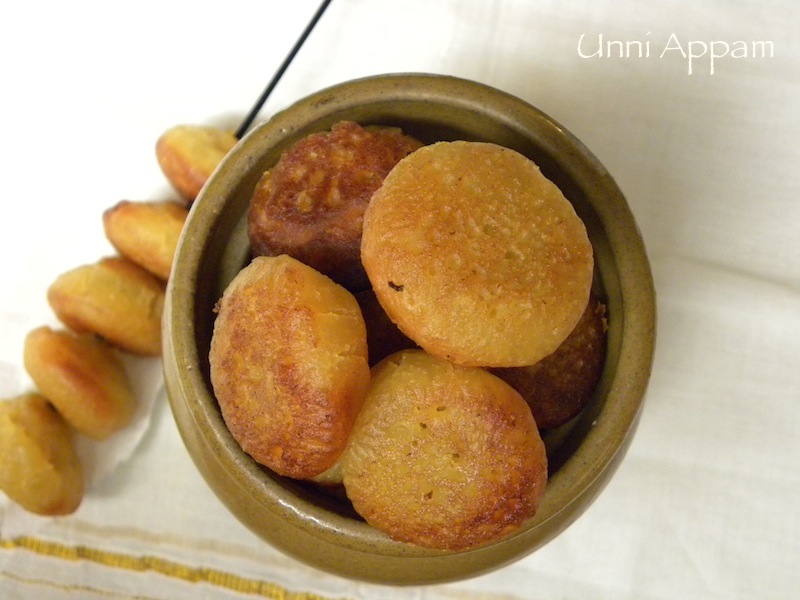 Unniyappam Recipe
By Aparna Prakash
Onam and an exciting start to a long weekend! This is a favorite  Kerala style Sweet snacking speciality! Try this Unni appam Recipe this Onam.

Unniyappam Recipe
This was the Winning Recipe of the 'RAS' Onam 2013 Contest.

Winner Receives:
Ingredients:
2 cups Rice flour
1 cup Melted jaggery,

unrefined cane sugar/palm sugar

 

(honey like consistency) 

4 Tbsp Mashed bananas
1 tsp Cardamom powder
2 Tbsp Grated/Chopped coconut
1 tsp Ginger powder

(optional for extra flavor)

Ghee
Water – as required to loosen the batter and melt the jaggery
You will need an appam or Danish Æbleskiver pan : See info
In a bowl, add the  coconut, cardamom powder,  

ginger powder (if using)

and bananas. Melt the jaggery, with  water, to honey-like consistency and pour into the flour mixture. Mix well and add water to make a batter that resembles idli batter.
Heat the appam/Æbleskiver pan, pour oil to fill ¼ of each cavity.
When hot, pour about a tablespoon of batter into each cavity and let it cook well

(about 2 minutes or until it turns brown)

. Turn it over and let the other side cook too.
Remove onto a paper towel and let the oil drain. Once it cools down, refrigerate in an air-tight container.
The varied coloring seen in the photographs is because of my experiments with different heat levels.
Did you enjoy our Unni appam Recipe?
You May Also Like: