26 October, 2013
Kerala Egg Roast with Tomatoes and Onions – Traditional Style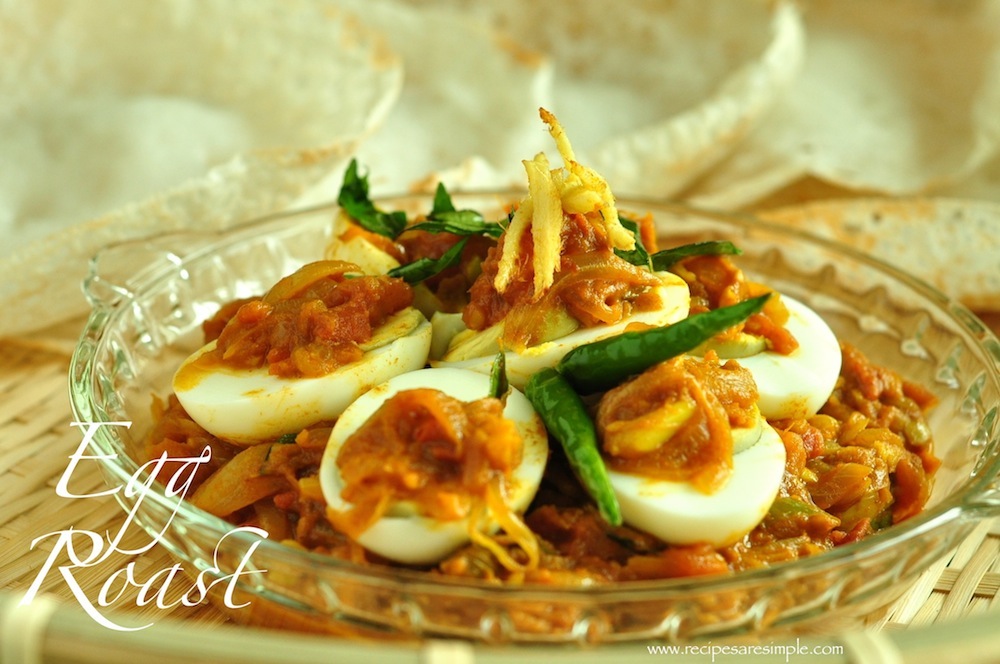 Kerala Egg Roast with Tomatoes and Onions – Traditional Style
If you are from Kerala you have had Appam and Egg Roast at least once in your lifetime, I'm sure. If you haven't? Where have you been????  It was my favorite Kerala breakfast for so many years! Then I got married and my husband is not a fan of Appam, so I don't often make it. However now that the kids enjoy it, I have an excuse to cook my Egg Roast with it. Egg roast, for me is the perfect better half in the 'Appam – Egg Roast' Duo! I don't know what else it goes with so perfectly.
A match made in heaven? Unless your  Vegan, then I recommend 'Appam and Kadala Curry' (Black Chick Peas Curry) instead. 🙂  

Kerala Egg Roast with Tomatoes and Onions 
Author: 
Prep time: 
Cook time: 
Total time: 
Ingredients:
8- 10 eggs boiled
4 onions, sliced thinly
1 bulb garlic (or 10 large cloves), crushed
2 Tbsp Ginger, finely diced and then gently crushed
5 green chilies  or to taste
4 small-medium tomatoes, diced
6 tsp chilli powder
4 tsp coriander powder
1 ¾ tsp turmeric
pinch pepper
a handfull of curry leaves
3- 4 Tbsp COCONUT oil – coconut oil is a must for the authenticity of this recipe
Method:
Slice the onions finely,  cut the chillies as desired, chop the tomatoe, crush the garlic  and prepare the

ginger by finely dicing first and then gently crushing.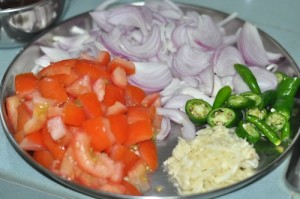 Add eggs to a pot of cool water. Heat and bring to a rolling boil. Cover and let sit for 10 minutes.
Remove the hot water, shake the pot to crack the eggs, then pour cool water over the hot eggs. Peel when ready to add to the curry.This makes a perfect boiled egg without the grayish layer around the outside of the yolk.
Roll each egg on the counter top and peel under running water for the shell to come off smoothly.
In a wide ,non stick wok – heat the coconut oil.
Add the onion. Stir.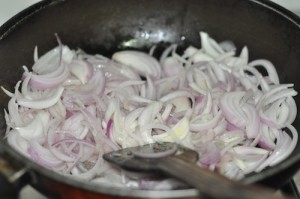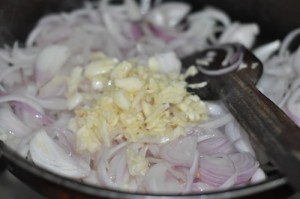 Stir and add the green chillies.
Stir and Saute till  the onion mixture is softened and light golden.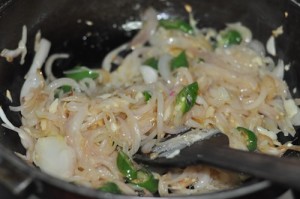 Add the coriander powder, chili powder and turmeric now.
Turn down the heat and stir well, to cook the spices, adding a splash of water so that the spices to no stick to the pan.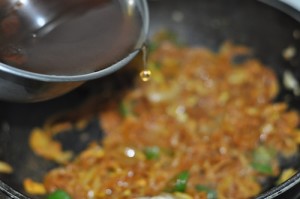 Saute till the spices are aromatic.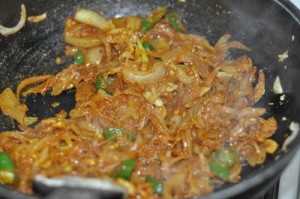 Now add the tomatoes.
Add salt to taste  (about 1 tsp) and stir continuously till the tomatoes are cooked and well incorporated into the masala.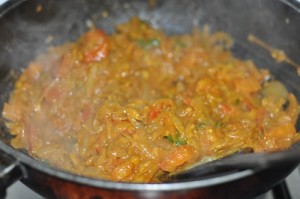 You must keep  the heat at medium, maintaining a constant sizzle noise in the pan

Now add the crushed, diced ginger.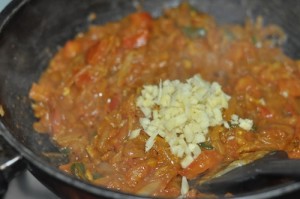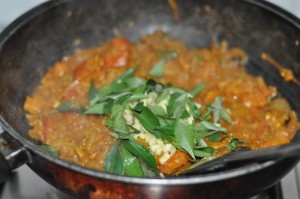 Stir. Cover the wok and cook on low heat for 2 minutes till a good steam  develops inside the wok.
Open. Add the eggs, cut leangthways – yolk side up into the masala. Cover the wok again and cook till steam developes once more. Tasty, Hot Egg Roast –  is ready!
Kerala Egg Roast with Tomatoes and Onions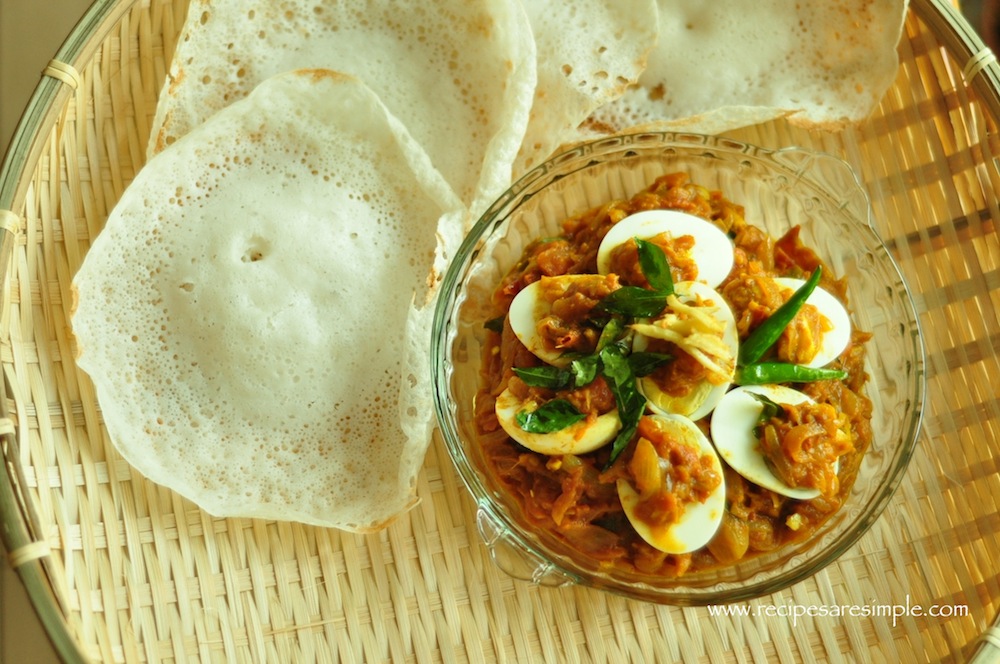 Try and let us know – Kerala Egg Roast with Tomatoes and Onions