23 October, 2014
Tomato Curry with Coconut Milk – Simple Kerala Style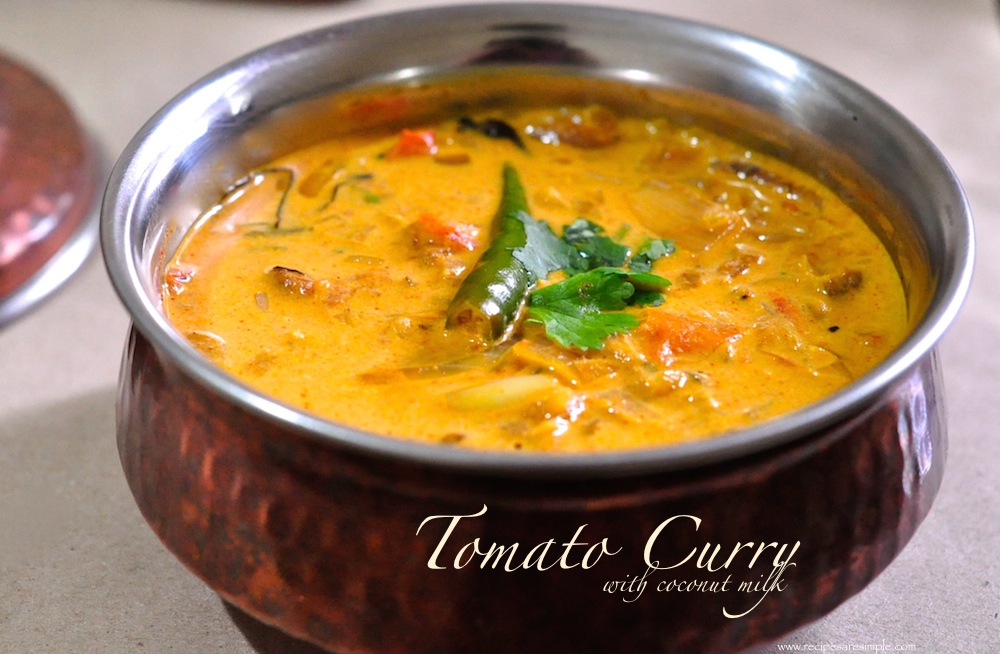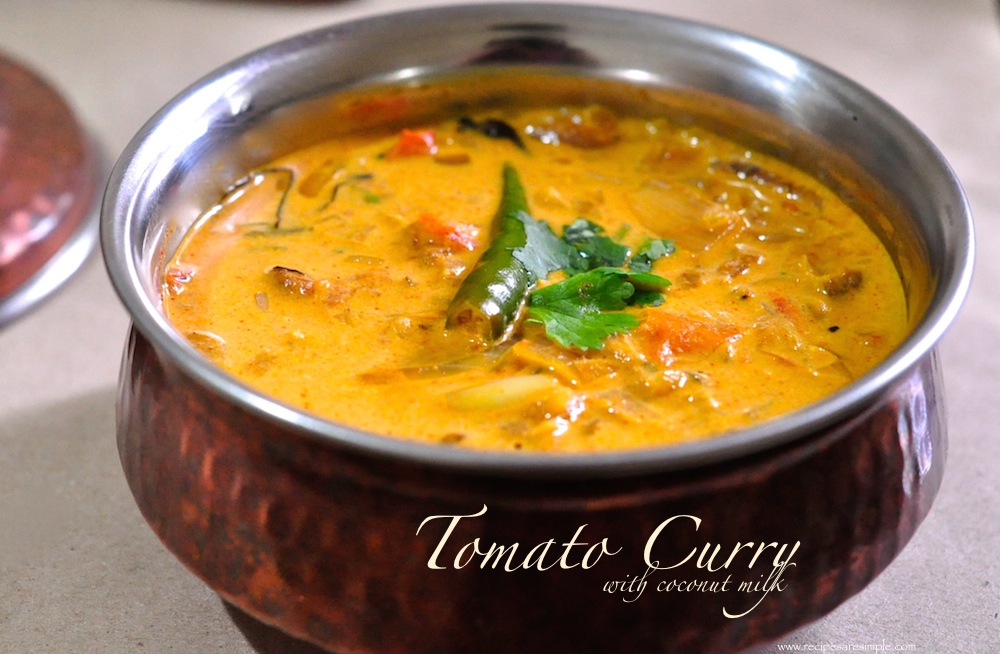 Tomato Curry with Coconut Milk – Simple Kerala Style
God knows the troubles we face everyday deciding what to cook for our families. I usually take more time to decide what to cook than I actually take to cook it! Who knows this feeling? Some days I will get side tracked with 'other stuff'. Yes… Kids, Husband, Outings, Cleaning. And then I still need to get dinner ready.
What are my go to recipes? Well, for the kids I might opt for the Tuna Curry and Tuna Fry that can be done in 10 minutes. (Recipe for Tuna Fry and Tuna curry ). If I have some flatbread on hand, I would go for the easy (Paneer Butter Masala Recipe).
Sometimes, I find that my pantry is running low on supplies. Quick glance in the fridge: I  almost always have tomatoes and of course what would my kitchen be without onions? Coconut milk is another thing that I always have handy.. So my simple and satisfying Tomato curry with coconut milk is the answer! Honestly nothing could be more simple. And it goes well with  more than just rice. Try it with Upma or Kai Pathiri.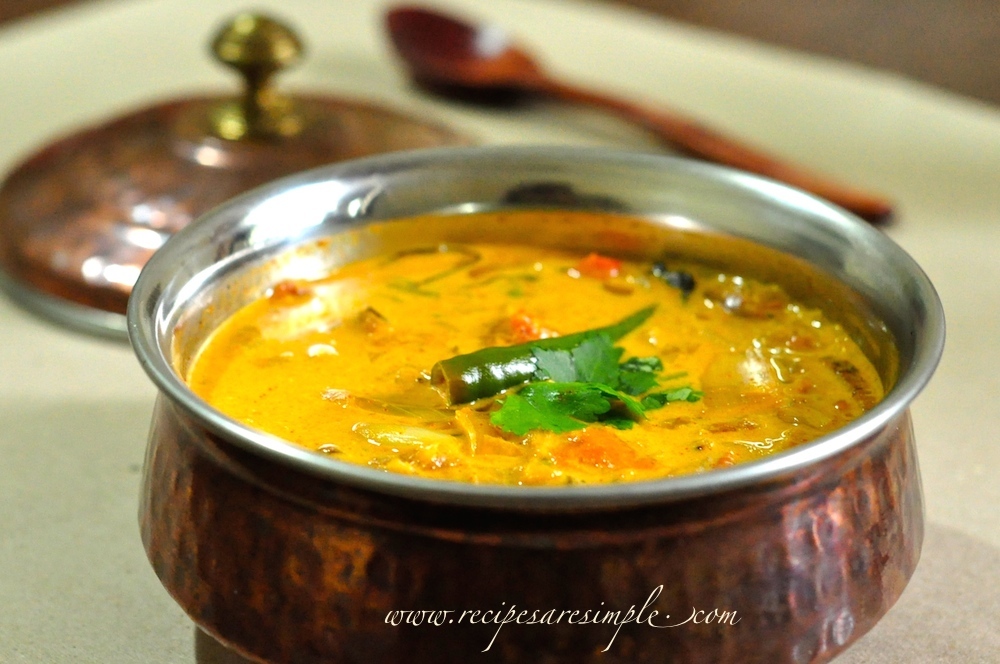 Tomato Curry with Coconut Milk – Simple Kerala Style
Recipe Type: Vegetarian / Curry

Author: Recipes 'R' Simple

Prep time: 5

Cook time: 5

Total time: 10

Serves: 3-4
Ingredients:
3 Tbsp oil – for authenticity I use Coconut oil
¹⁄8 tsp mustard seeds
2 Tbsp curry leaves
1 large onion, sliced
2 large tomatoes, chopped
1 small green chili left whole
¼ tsp turmeric powder
1 tsp kashmiri chilli powder
1 tsp coriander powder
1 ½ cups medium coconut milk
salt to taste- about ½ tsp
1 Tbsp finely chopped coriander leaves
Method:
Heat the oil in a wok / kadai.
Add the mustard seeds and allow to splutter.
Next add the curry leaves, followed by the onion and green chili.
Saute, stirring till the onions are softened and just changing color.
Now add the tomatoes and continue to cook down, stirring on medium heat till the tomatoes are mushy and reduced to a thickened saucy texture.
Add the spice powders ( turmeric, chili and coriander) now. Stir and cook till aromatic ( without burning).
Stir the coconut milk and add to the curry. Also add salt.
Bring to gentle simmer and stir for 1 minute. Remove from heat.
Sprinkle over the finely chopped fresh coriander.
Tasty AND SIMPLE  Tomato Curry is ready!
Tomato Curry with Coconut Milk – Simple Kerala Style
Try it and let us know – Tomato Curry with Coconut Milk – Simple Kerala Style .
The coconut milk should should not be too thin nor should you use coconut cream. Stir continuously after adding the coconut milk and keep the flame on medium.
Add the coconut milk ONLY after you get the nice aroma of the cooked spices.
This curry reheats perfectly in the Microwave.