10 November, 2013
Tom Yum Fried Rice – with Chicken or Seafood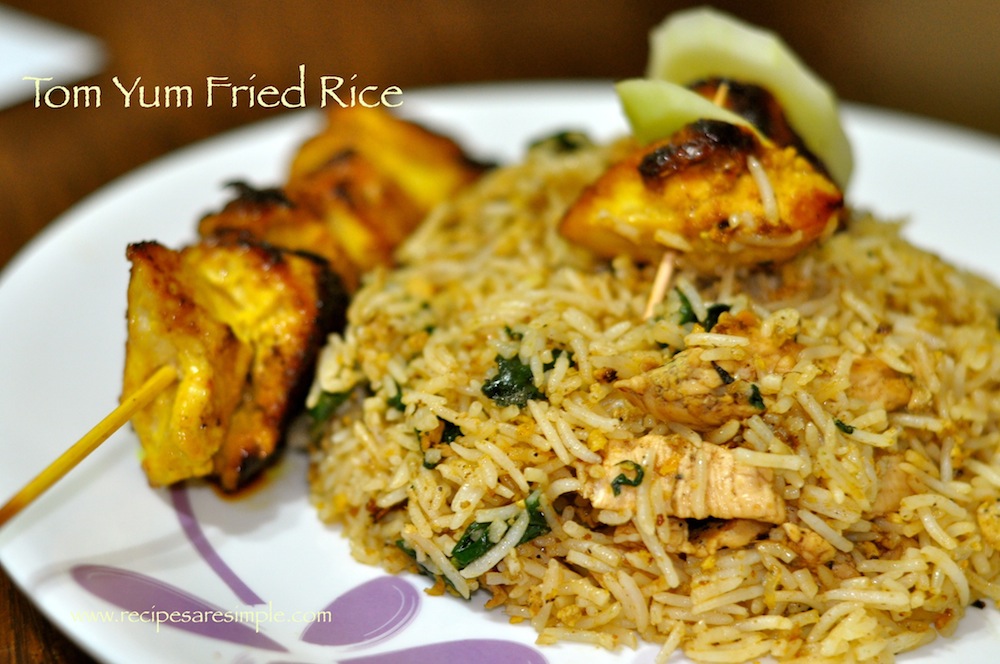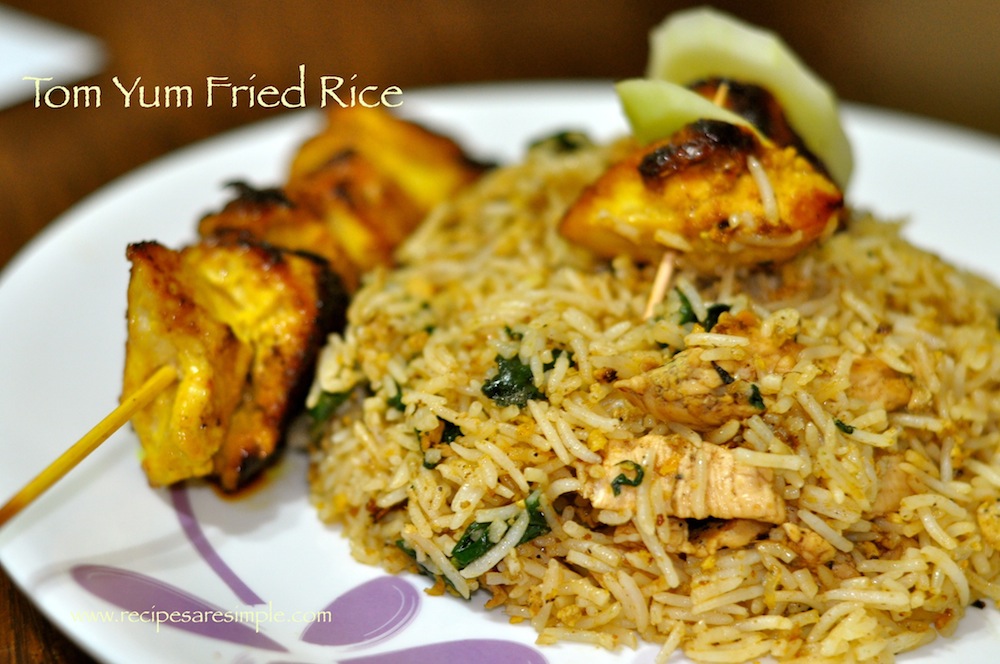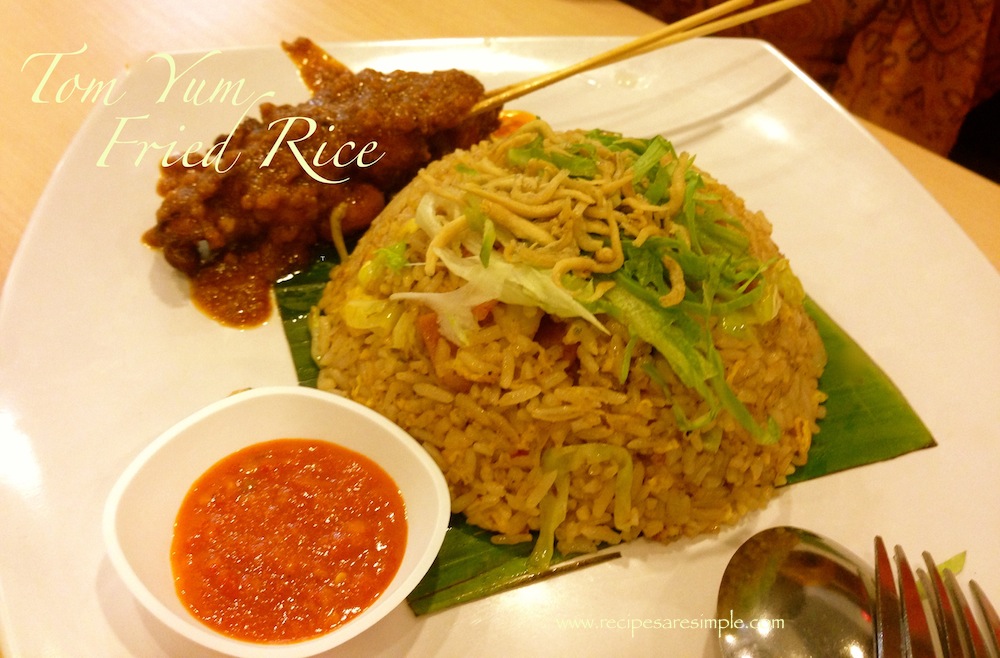 Tom Yum Fried Rice
Tom Yum or Tom Yam refers to the spicy, hot and sour soup made in Thailand, the main components of which are: galangal, shallots, garlic, lemon grass, kaffir lime leaf, tamarind, palm sugar and red chillies. The ingredients are crushed and fried to a paste. Tom Yum Fried Rice uses this paste to give the rice its distinct flavor.
Tom Yum is popular in Thailand, Laos, Malaysia, Singapore and Indonesia but is recognized world over.I like to make Tom Yum Fried Rice with Chicken and also with seafood such as shrimp and calamari.

Tom Yum Fried Rice
Author:
Prep time:
Cook time:
Total time:
Ingredients:
2 cups Jasmine rice or Basmati – cooked in 2 ¼ cups water and cooled – day old rice is good
1 ½ cups chicken breast (or for seafood fried rice use shrimp/calamari combined) cut into bite size pieces
1 ½ cups baby spinach, loosely packed
2 eggs
½ cup Peanut or sunflower oil  for frying the paste ingredients
1 small lime
handful of basil leaves
2-3 kaffir lime leaves, vein removed, rolled and sliced
2 tsp salt
 For the Tom Yum Paste:
5 shallots
5 large cloves garlic
1 knob of galangal
5 mild long dry red chillies
1 finger length  lemon grass – Don't know which part of lemon grass to use?
2 Tbsp Tamarind Paste ( Soak A lime sized piece of tamarind in 3 Tbsp of Hot water,  for 10 minutes then mash to a pulpy paste)
1 Tbsp good quality fish sauce or light soy sauce
1 Tbsp Palm Sugar / brown sugar
Method:
 For the Tom Yum Paste: (You can also make this paste to add to various vegetables, chicken or seafood dishes as well as Tom Yum Soup)
Chop the shallots, garlic, galangal, lemon grass and dry chillies.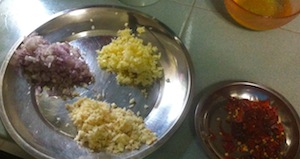 Heat the oil in a small wok.
 Add and fry the dried chillies first, till fried but not darkened. Remove with a slotted spoon.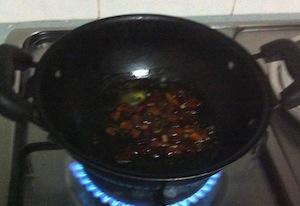 Similarly fry  and remove the shallots, garlic, galangal and lemon grass each separately till aromatic and golden.
Add all these fried items to a small grinder and blend into a paste as smooth as you can.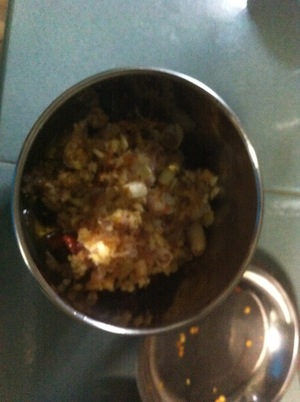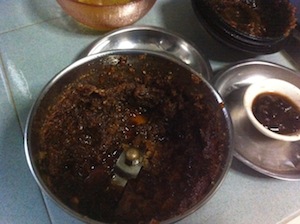 Also add the tamarind paste, fish sauce and palm sugar to the mix and blend once more.
Take 2-3 Tbsp of the oil in which we fried the ingredients for the paste.
Add it to a wok and heat. Add 4 Tbsp  of the paste to the oil and allow to sizzle.
Add the chicken /or seafood and toss well in this mixture adding ½ tsp of the salt.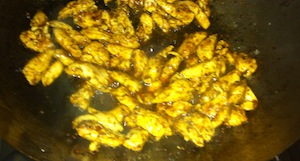 Toss on high heat till chicken is cooked through.
Beat the eggs, add a pinch of salt and pepper and add to the centre of the wok. Allow to set for  minute and then scramble.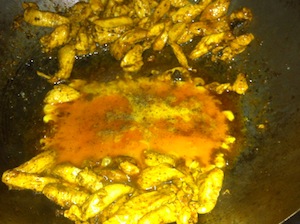 Now add the rice, 'which has been fluffed up' to the wok.
Toss well adding the remaining salt and coat evenly with the spice mixture to give the rice a glossy and colored finish.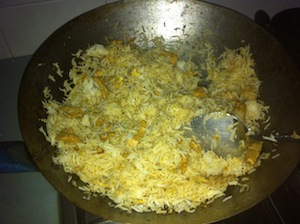 Add the spinach and toss till the leaves wilt tenderly into the rice mixture.
Add the basil leaves and lime leaves last and toss well.
You can add more of the paste if you like.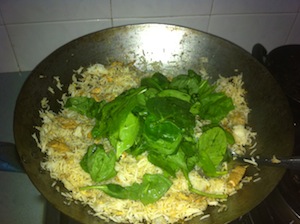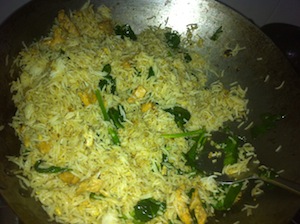 Tom Yum Fried Rice
Did you enjoy our Tom Yum Fried Rice ?
Seafood Tom Yum Fried Rice can be topped with crispy fried anchovies/ikan bilis
Allow the rice to sit 10 minutes in the wok before serving.