2 March, 2015
Tiramisu – Italian Dessert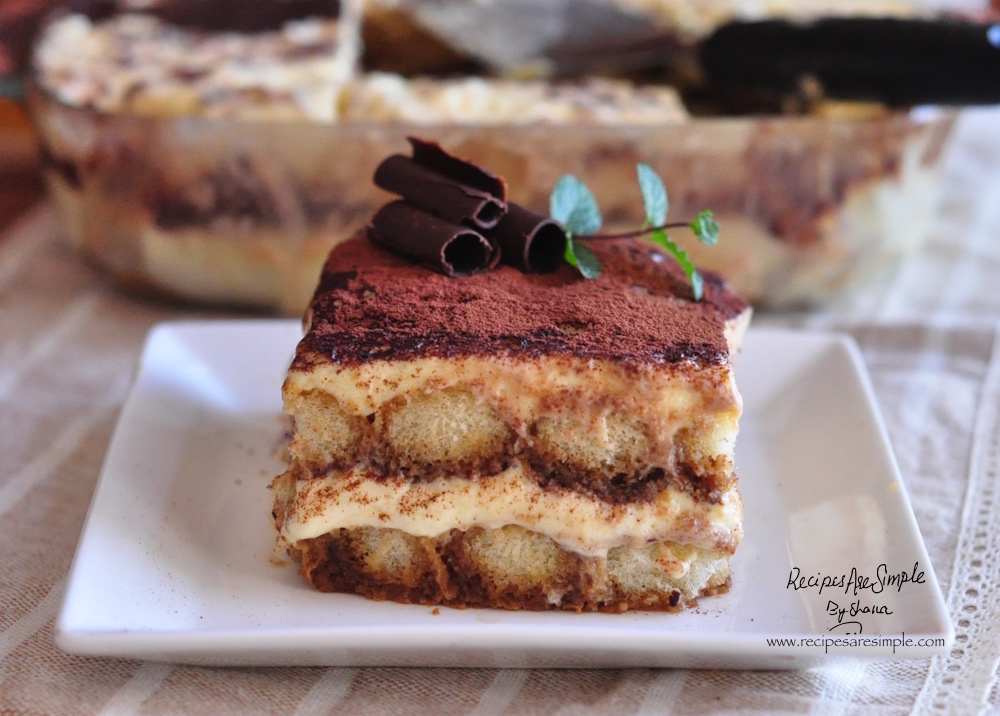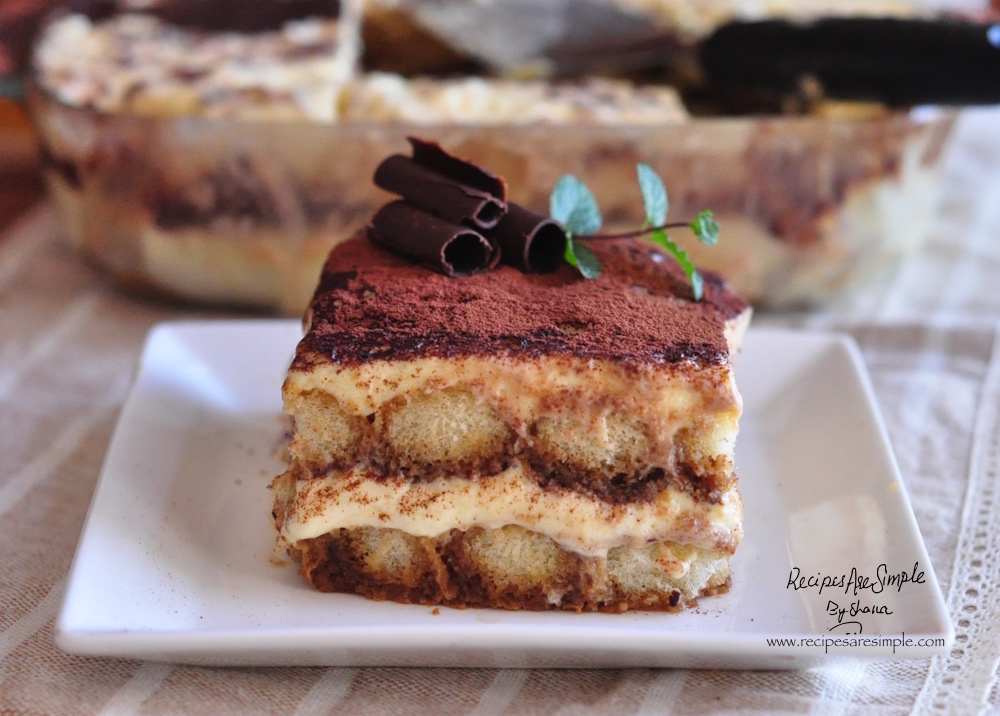 Tiramisu – Italian Dessert
The relatively new 'feather in the cap' as far as Italian cuisine goes. 'Tiramisu', which means  'Pick Me Up' or 'Lift me up' because of its tendency to elate you and lift your spirits – due to the use of caffeine (coffee) that has been slightly spiked. This is the alcohol free version. The fluffy rich Mascarpone Mousse blankets a light layer or Saviordi (Italian Ladies Finger Biscuits) which are lightly soaked in sweetened strong Coffee or Espresso.
Its amazing how light this dessert feels, for something that is quite rich! After the Gelato, this is my favorite Italian dessert.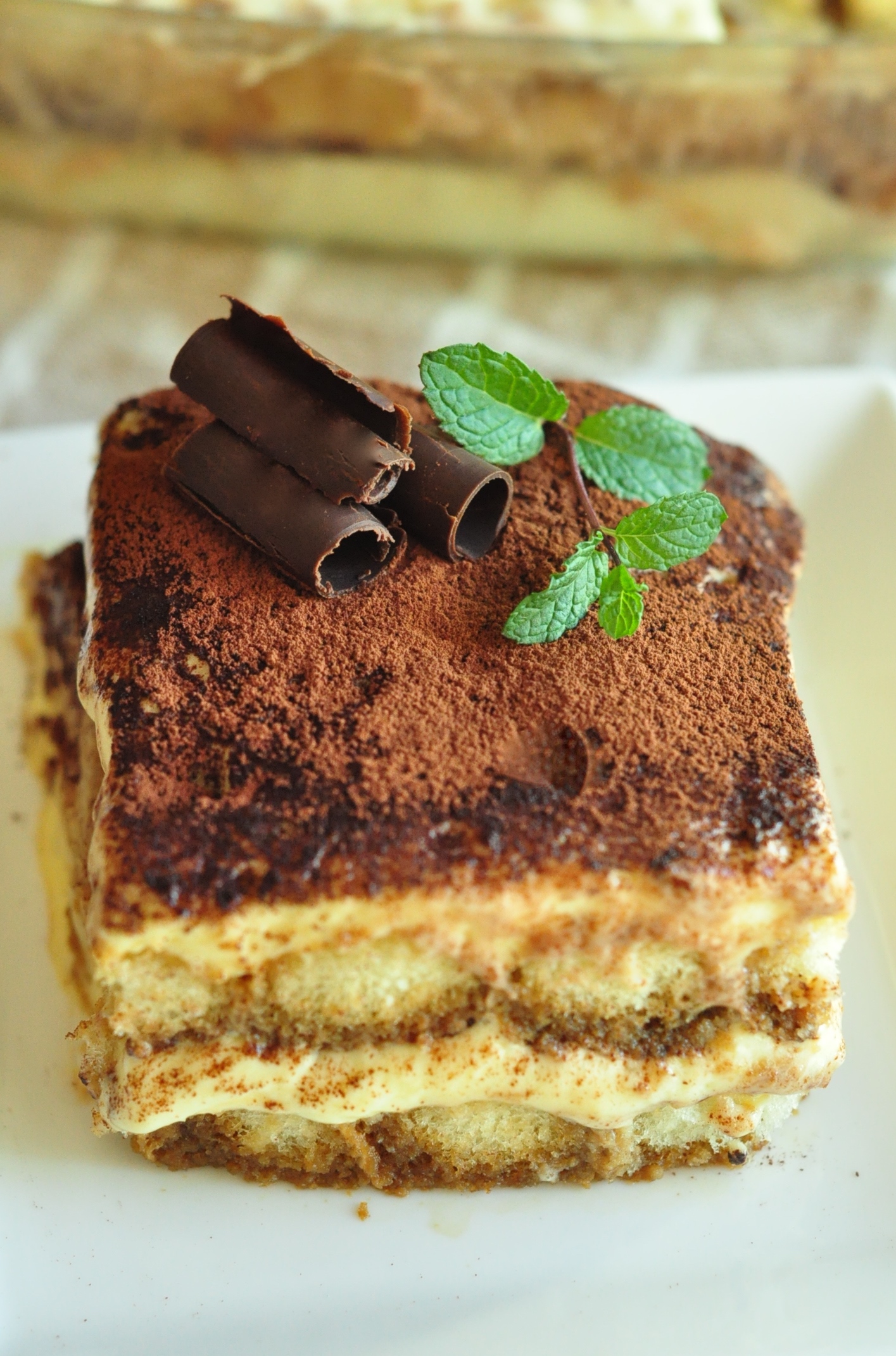 You are here: Home > Desserts  > Tiramisu
 

Recipe Name: Tiramisu – Italian Dessert

Author: Shana @ Recipes 'R' Simple

Chill Time : Overnight
Tiramisu – Italian Dessert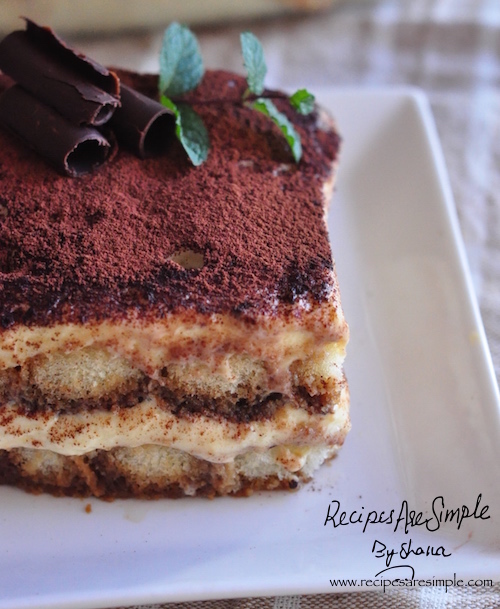 Ingredients:   * all ingredients must be at room temperature
1 cup dark coffee / espresso / filter coffee , sweetened slightly.
250 gm tub of Mascarpone Cheese

OPTIONAL – 100 gm heavy whipping cream – If you want a purer, richer taste of Mascarpone, replace this whipped cream with additional mascarpone. So that would be 350 gm mascarpone total.

4 large egg yolks
½ cup  plus 2 Tbsp sugar
2 large egg whites
1 pack (200 gm) Savoiardi (Italian Ladies Finger Sponge  Biscuits)
Optional : Paste of one vanilla bean OR ½ tsp pure vanilla extract
2 Tbsp cocoa powder for dusting.
Method:
Prepare 1 cup strong coffee (espresso) or prepare filter coffee if you do not have a coffee maker. Sweeten it slightly with sugar. Set aside.
Add the egg yolks and ½ cup sugar to a heat proof bowl. Use to hand whisk to whisk till well combined and  becomes smooth and pale in color.
Place on top of a double boiler (bain marie),  –

above  simmering water and not touching.

Keep whisking by hand till the mixture forms thick ribbons.

This should take about 4-5 minutes over simmering water.

Set aside to cool.
Using mixer with whisk attachment, whisk the egg whites till they form stiff peaks.
 In a separate bowl, add the mascarpone  and also the cream and vanilla extract if using. Whisk till slightly fluffy  and incorporated together.
By now, the egg yolk mixture has cooled down. (The bottom of bowl should still be slightly warm) . Fold in the whipped  mascarpone mixture.
Now, fold in the stiff egg whites a little at first. Stir till smooth. Then add the rest and just fold in till incorporated without over mixing / beating.
Now we will arrange the layers of the Tiramisu, in a casserole dish.
Lightly, dampen each lady finger ( savoiardi) in the prepared sweetened coffee.   (Do not Soak).
Arrange a single layer of these moistened sponge fingers on the bottom of the dish.
Then add half the whipped mousse mixture over the top.
Dust the top with cocoa powder using a sieve.
Dampen another layer of sponge fingers like before and place gently over the cream layer.
Top with the remaining Mascarpone Mousse. Cover and chill overnight. The sponge fingers and mousse need this time to set properly.
Sprinkle the top with cocoa powder, before serving. Cut into large squares and serve.

 I decorated the tiramisu with some grated chocolate  that look like cinnamon bark and mint leaf.
Tiramisu – Italian Dessert
Mascarpone is an Italian Cream Cheese made by curdling milk cream with acetic or citric acid. The taste is a cross between triple cream and cream cheese. The flavor is more that of a cream while its texture is more that of a thick cream cheese. Essential in many Italian desserts like Tiramisu , Trifles and certain Cheesecakes. I use mascarpone cheese in my Mushroom Soup as well
Savoiardi is Italian Ladyfinger Sponge Biscuits. These are light, crumbly, biscuits with a light sugar coating. They are shaped like long and fat fingers. On its own they are not anything special but make a very light and fluffy base for many desserts.
Some Tiramisu recipes replace the Lady fingers with sponge base (Fatless Sponge). This would however, not give you the 'light as air' factor contributed by the savoiardi.
Sometimes I use only Mascarpone to the Mousse, sometimes I add a little Whipped Cream. This is depending on my mood or how much mascarpone I have on hand. If you add the whipped cream the flavor will be slightly less intense. When you want richer, purer flavor – use only Mascarpone. Both are good!
Key Ingredients: Egg, Mascarpone Cheese, Cream, Sugar, Vanilla Extract, Coffee, Sponge Biscuits
Let us know if you tried it – Tiramisu – Italian Dessert . Comments from you provide motivation to keep up the driving force behind this blog, bringing you more delicious and perfected recipes regularly. Please do leave a comment. We love to hear from you.