18 April, 2014
Thenga Aracha Meen Curry | Kerala Style Fish Curry with Ground Coconut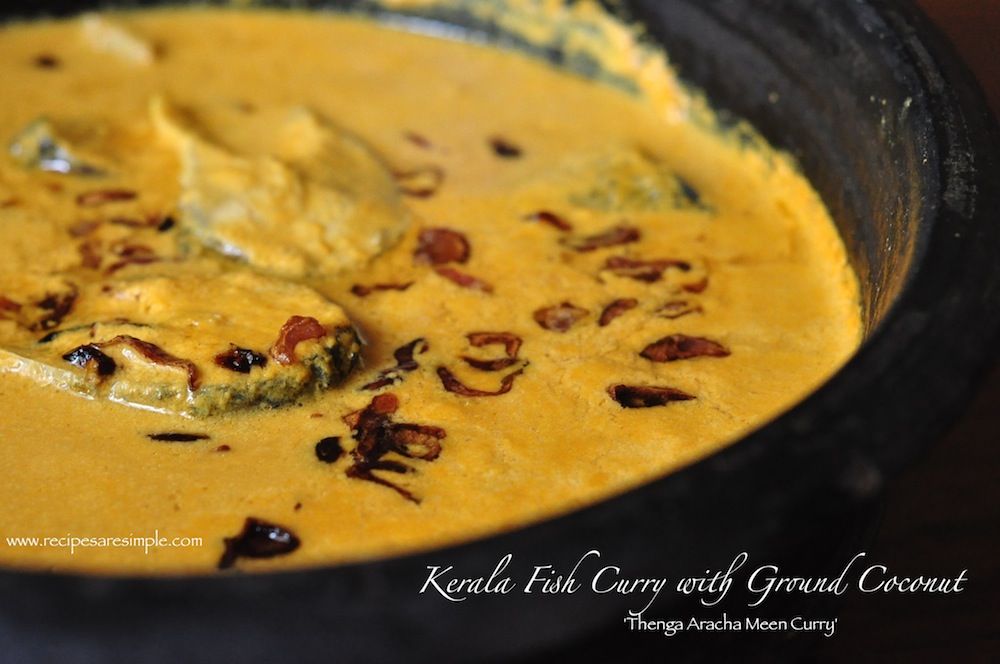 The Signature dish in many a Kerala home. This is my home style Kerala Fish Curry. 'Thenga Aracha Meen Curry', translates to Ground Coconut Fish Curry'. Thenga (Coconut) is ground to a smooth paste along with shallots, green chillies and spices. This paste is then diluted with water to make the curry base. The fish is simmered in this mixture till thickened. A little bit of fresh coconut milk can also be added.
Fish tamarind 'Kudampuli'  is our souring agent. Ginger adds a hint of aromatic spice  and this yummy curry is finished off by tempering with some fried shallots and curry leaves in the irreplaceable Coconut Oil. ( the  fried ingredients as well as the scented oil is poured over the curry and allowed to rest). 
This is the perfect lunchtime curry served with hot rice!  A typical day in a Keralite home: Mother is preparing breakfast , when the local fish monger makes his customary call, informing residents that he is passing through. Father or Mother step out to ask,  "What's the catch of the day?" Every day it's something different, with the staples included as well. When you make a purchase, he will often throw in a couple of extra small fish.  Now its back to the kitchen to clean the fresh fish, still smelling of the sea and  grind our coconut paste..
Scroll down for video.
Thenga Aracha Meen Curry | Kerala Style Fish Curry with Ground Coconut


You are here: Quick Browse > Fish & Seafood > Thenga Aracha Meen Curry (Introduction)
 

Recipe Name: Thenga Aracha Meen Curry | Kerala Style Fish Curry with Ground Coconut

Recipe Type: Fish / Curry / Kerala

Author: Shana c/o Recipes 'R' Simple
 Key Ingredients: Fish, Coconut, Gambooge(Fish Tamarind), Shallots, Ginger, Green Chilli, Curry Leaves, Coconut Oil, Spices, Salt.
Let us know if you tried – Thenga Aracha Meen Curry | Kerala Style Fish Curry with Ground Coconut


Back to Quick Browse. Thanks for visiting www.recipesaresimple.com