6 July, 2013
Chilli Beef Recipe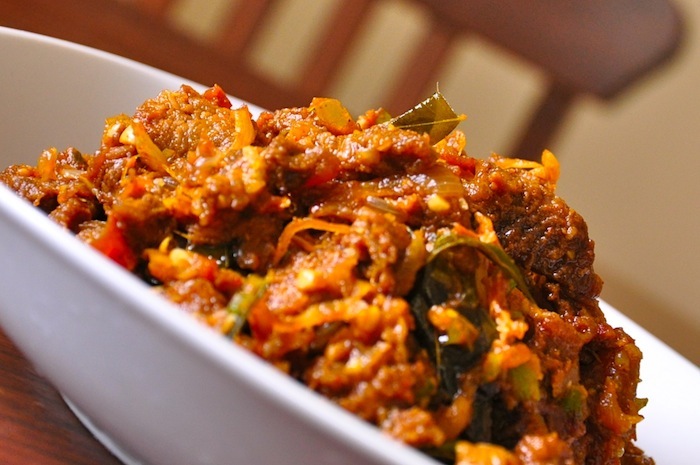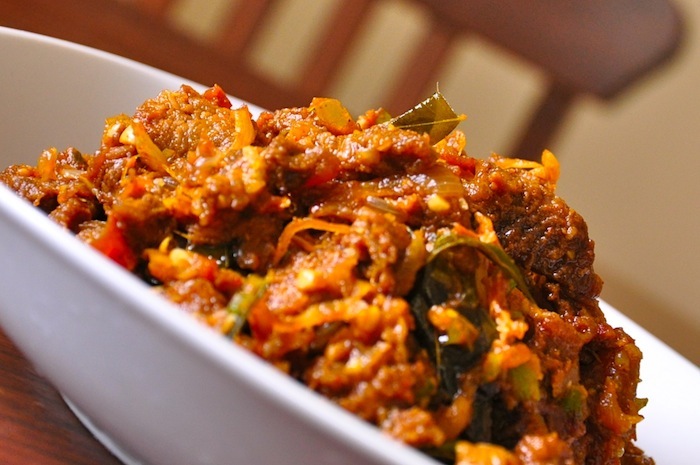 Chilli Beef Recipe 
A Thattukada or 'Street Vending Stall' Style preparation of beef from Kerala. Served with Malabar Porotta, Chapathi or Rice; this is  Comfort Food at  its best. As with most of our recipes , Chilli Beef too is moderately spiced, To kick it up a notch, the amount of chilly powder may increased to suit your 'fire-buds'.
Chilli Beef Recipe 
Cuisine: Indian
Author: Recipes 'R' Simple
Prep time: 
Cook time: 
Total time: 
Serves: 5
 1 kg beef (rib-eye steak is good), cut into small pieces, washed well and rinsed with 2 Tbsp Vinegar.
For the Marinade:
Juice of 2 Tbsp of minced shallots :

extract simply by squeezing; may choose to wear disposable gloves

Juice of 1 Tbsp of minced garlic : extract simply by squeezing; may choose to wear disposable gloves
Juice of 1 tsp of minced ginger :

extract the juice by squeezing and leave in a small container for upto an hour. The sediment(if any) will settle at the bottom. Pour out the top clear juice carefully ;we will only use this as the sediment may turn bitter

1 Tbsp light soy sauce
1 Tbsp freshly squeezed lemon juice
2 Tbsp good brand meat masala powder –

we recommend eastern meat masala

½ Tbsp garam masala powder
½ Tbsp Red Chilli Beef  Powder – you may opt to use  either kashmiri chilly powder or cayenne
½ tsp Fennel/Aniseed Powder
Other ingredients:
1 cup of onions, finely sliced
½ cup garlic- smaller variety is best, chopped
1 Tbsp ginger, copped finely
1-2 green chillies, sliced
1 Tbsp green bell pepper/capsicum, minced finely
2 tomatoes, chopped
2 handfulls or more  of curry leaves
1 Tbsp Meat Masala Powder
1 Tbsp + a sprinkle of Chilly Powder
Coconut oil- preferred or oil to your taste




Method:
Prepare the ginger juice first as it is required to settle.
Wash the beef  thoroughly. Rub with vinegar to remove any meaty smell. Rinse out well and drain.
Prepare all the other marinade ingredients and marinate the beef for 1 hour.
Pressure cook for 10 steam whistles  or cook beef till tender.
Continue cooking to allow the moisture from the beef to evaporate without dying out the meat.
Set aside.
In a large wok, heat enough oil to saute all our ingredients.
Add the garlic and ginger and saute well till softened.
Add onions and saute.
Add the green chillies and curry leaves and saute well Add the green chillies and curry leaves and saute well  for 5 minutes.
Add the tomatoes and keep cooking till the tomatoes cook down into a thick mixture. About 3 minutes.
Now add the meat masala and chilly powder and stir till aromatic.
Add the cooked meat and stir fry for a while till nicely coated.
Add a little water if needed to loosen the mixture and cook shortly.
Add the minced bell pepper/capsicum and stir once. Turn off heat and cover.
Heat 1 Tbsp oil separately and sprinkle some chilly powder in it. Allow to sizzle and then pour over our cooked meat. Allow to rest for 10 minutes, Then serve!
Did you enjoy our Chilli Beef Recipe?
You May Also Like: