27 August, 2014
Thalassery Biriyani – Chicken Dum Biryani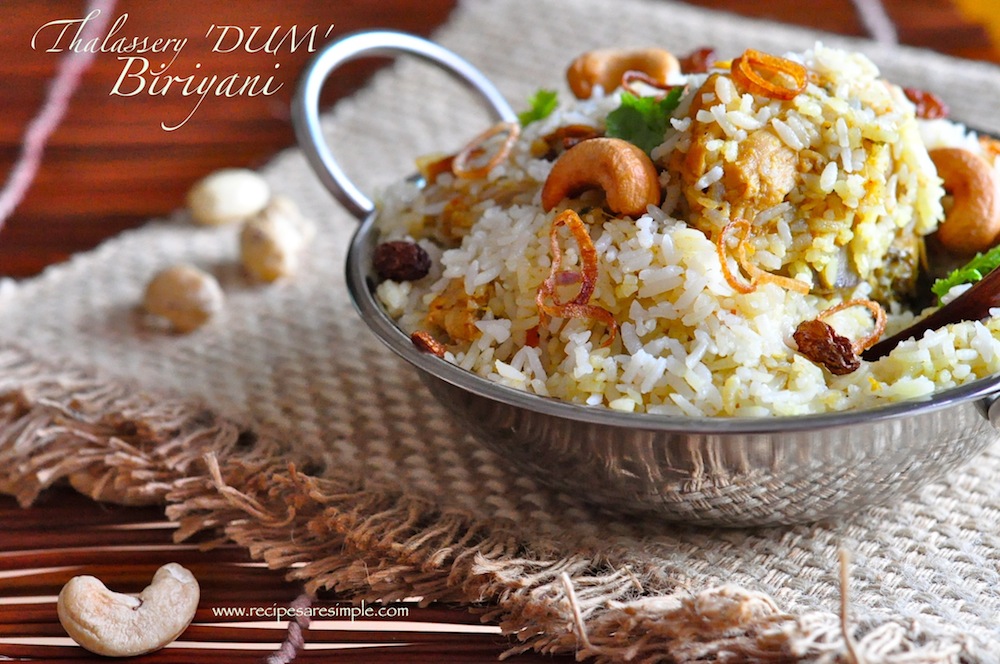 Thalassery Biriyani – for my readers with love.
This post for Thalassery Biriyani has been in my drafts for a long while now. I make it so often but shooting the photographs, video and getting it all together, in the final cut – for some reason took a looooong time.  I hope you will try this recipe and give me feedback. To my loyal readers and recipe testers. This one's for you folks!  Scroll down for the video.
Thalaserry, a Coastal Town in the Malabar Region of Kerala is home to the origination of many a mouth-watering delicacy. The people love their food and love to serve even more.  Thalassery Biriyani is one of my favorites (I have tested a LOT of Biriyanis).
This Biriyani is made traditionally with a shorter grain rice known as 'Kaima'. The scent offered by this variety of rice might be one of the key factors. When I can't find 'Kaima' Rice also known as 'Jeerakasala' Rice, however, good quality basmati can be used with the same great taste.
Unlike some Biriyani Rice preparations, the rice for Thalassery Biriyani is not cooked in excessive water and drained when 75 % cooked. It is cooked with ghee and spices with a specific amount of water till it is cooked but not overcooked. Then this rice is layered in the'DUM' – Sealed method of cooking that allows no steam to escape during the cooking process.
Green Chillies is also an essential ingredient to this Biriyani. However, the amount of green chillies can be reduced to suit your taste. Try out different varieties of green chillies to give the dish some notable difference each time.
Another key ingredient is the fried crispy onions, that are crushed and added to the chicken masala. This is known as 'Bista' and the flavors permeate throughout the dish – such a pleasing taste.
Edit (October 2017) – This recipe has turned out to be quite the hit here on RAS. I have received so many messages from you telling me how you have loved it. Thank you so much. The special Biriyani Masala that you see in this recipe was developed by me over many years and it really is another reason for the success of this dish.
I was alerted about a youtube channel in the Malayalam language that has practically copied my whole recipe. I know my recipe back to front and since it was developed by me, it was disheartening to see such a blatant act of plagiarism. But hey, only the best recipes are copied like that right? As a hard working blogger, however, I really believe we should not pass off someones recipe as our own.. This is why I prefer to ask friends for recipes and develop recipes from taste testing, instead of reading other blogs or copying recipes from videos. Ah well let's leave that for what it is.
Thalassery Biriyani – Chicken Dum Biryani


You are here: Quick Browse > RICE > Thalassery Biriyani - Chicken Dum Biryani (Introduction)
 

Recipe Name: Thalassery Biriyani – Chicken Dum Biryani

Author: Shana c/o Recipes 'R' Simple
Key Ingredients: Chicken, Rice, Onion, Garlic, Ginger, Green Chili, Yoghurt,  Mint, Coriander, Vanaspati, Ghee, Oil, Cashewnuts, Raisins, Spices, Salt.
The video of this recipe is available in the Malayalam language. Click to watch the Malayalam Video.
Let us know if you tried –  Thalassery Biriyani – Chicken Dum Biryani .


Back to Quick Browse. Thanks for visiting www.recipesaresimple.com




SaveSave