23 July, 2013
Thai Vegetable Spring Rolls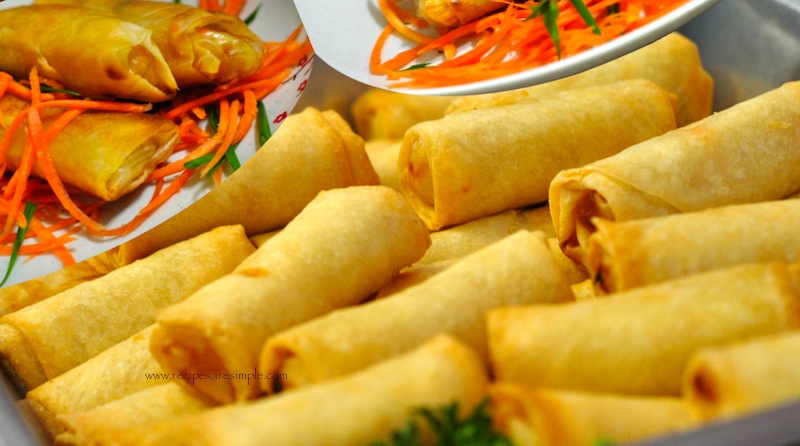 Thai Vegetable Spring Rolls
Fresh AND Tasty. Use freshest veggies to boost flavor of this tasty treat! A crisp starter or snack that promises not to disspoint. Serve Thai Vegetable Spring Rolls hot!
Thai Vegetable Spring Rolls

 Ingredients:



3 cloves garlic, minced
1 " piece  ginger OR galangal , minced
2 green onions, sliced julienne
1 red chili, minced (omit if you prefer very mild spring rolls)
½ cup  julienne sliced carrot
½ cup thinly shredded cabbage

4-6 shiitake mushrooms-optional

¾ cup loosely packed bean sprouts
1 small packet -bean noodles/cellophane/glass noodles, soaked in hot water for 10 minutes, drained and cut to make shorter

(substituting these for rice vermicelli is not recommended)

½ cup fresh coriander, roughly chopped

½ cup fresh basil, roughly chopped -optional

2 Tbsp. oil, plus more for deep-frying
1 pkg. spring roll wrappers (thawed if frozen)
2 Tbsp light soy sauce
2 Tbsp   vegetarian stir-fry sauce (We like Lee Kum Kee brand)  OR fish sauce
2 Tbsp. lime juice
¼ tsp. sugar
To Serve: Thai sweet chili sauce (available in most supermarkets,asian section-We like Kimbal Brand)




Method:
Heat 2 Tbsp oil in a wok or large frying pan over medium to high heat. Add garlic, ginger, green onion, and chili. Stir-fry until fragrant (about 1 minute). 

Add a little water to the wok/pan when it gets too dry instead of more oil.

Add carrot,cabbage,

mushrooms.

As you stir-fry, add the sauce. Stir-fry 1-2 minutes, until vegetables have just softened but must still remain crisp. Remove from heat and 'toss in' bean sprouts.
Do a taste test and season with salt, soy,fish sauce, etc as necessary.
To assemble rolls, lay thawed spring roll wrappers on a clean working surface.
Place a damp kitchen cloth over them. Peel off one wrapper at a time carefully and keep the rest covered with the damp cloth while you are stuffing each roll.
Place one or two Tbsp. of filling on each wrapper

(depending on size of wrapper)

. Spread filling along the width of the spring roll wrapper – you'll want to do this 2/3 of the way down, closer to bottom to you so you have room to roll it.

Try not to include too much of the liquid left from the wok/pan (a slotted spoon works well for this).

Sprinkle some of the fresh coriander and basil over the filling. Then fold the left and right sides of wrapper over filling. Now roll the spring roll shut, tucking filling inwards as you do so. Roll upwards. Secure by dipping your fingers in some water and wetting the end, "pasting" it shut.

To fry spring rolls, heat some oil (about 1 inch deep) in a wok or deep-sided frying pan over medium-high heat

. Oil will start to form small ripples on bottom when hot,To test it, dip one corner of a spring roll into the oil. If it begins to sizzle and cook, the oil is ready.
Gently place spring rolls in oil, allowing them to fry about 1 minute on each side. Spring rolls are done when they turn light to medium golden-brown

(see photo)

. Drain on kitchen paper towels till served.
Serve spring rolls while still hot with Thai Sweet Chili Sauce.
Thai Vegetable Spring Rolls
Did you enjoy our Best Fried Chicken Recipe ?
Notes:
The veggies must stay crisp. Do not add too much sauce to the filling  and risk it going soggy.
Other optional vegies are capsicum,celery etc.
Adding some szechuan chilly oil gives a great tasting kick!