19 October, 2016
Thai Spicy Chicken with Cashew Nuts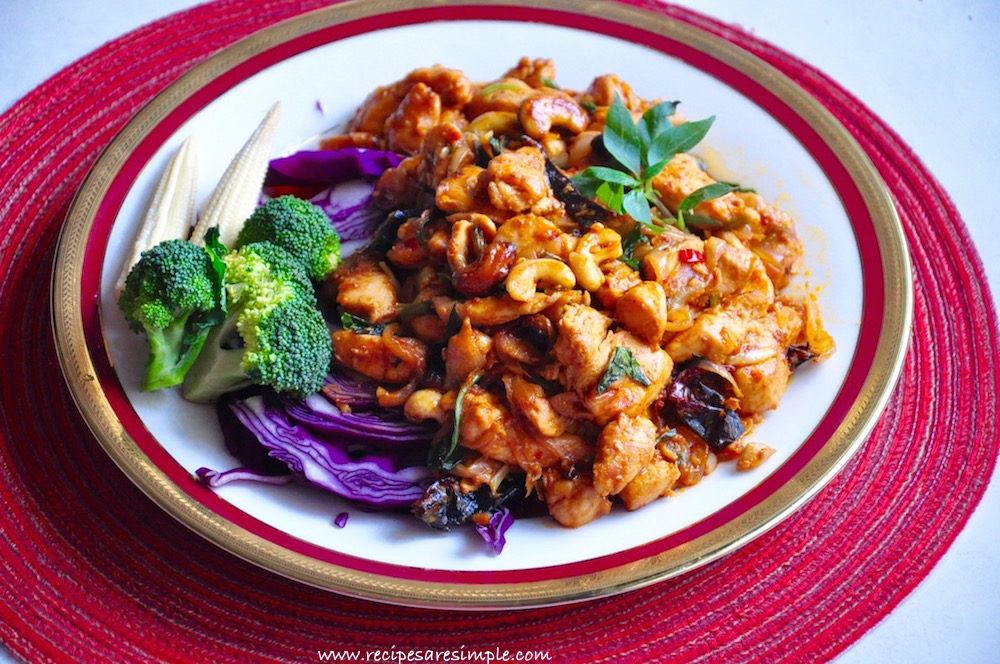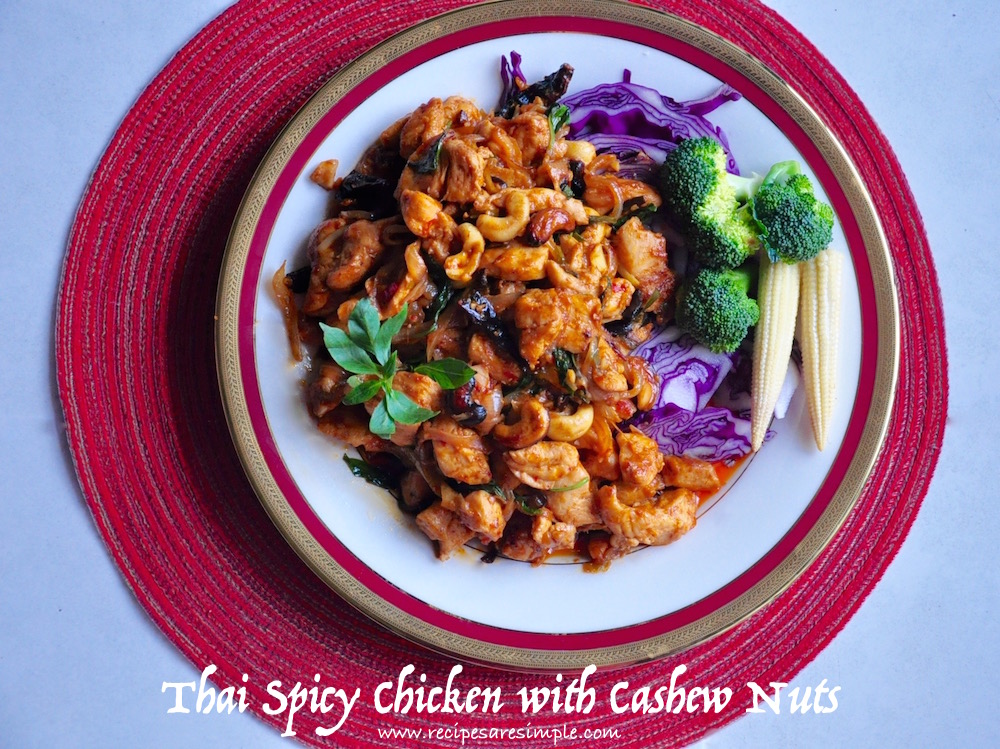 Thai Spicy Chicken with Cashew Nuts
This Thai Spicy Chicken with Cashew Nuts, is an identical recipe of the Thai Beef Recipe, that I recently posted.  I usually never post a recipe so identical but so many of you messaged me to ask if the recipe would be suitable for Chicken.  Thanks, cause it made me realize that the Spicy Chicken with Cashew Nuts, would be well received too.  It's practically the same recipe, with the typical flavors of Thailand, except the seasoning will be slightly milder for the chicken.  Made the video for you 'special people' who requested it 😉 I am also realizing that a lot of you can't get enough chicken recipes 🙂 Lol, I am only too pleased to deliver more and more chicken recipes! Do let me know, what you'd like to see here.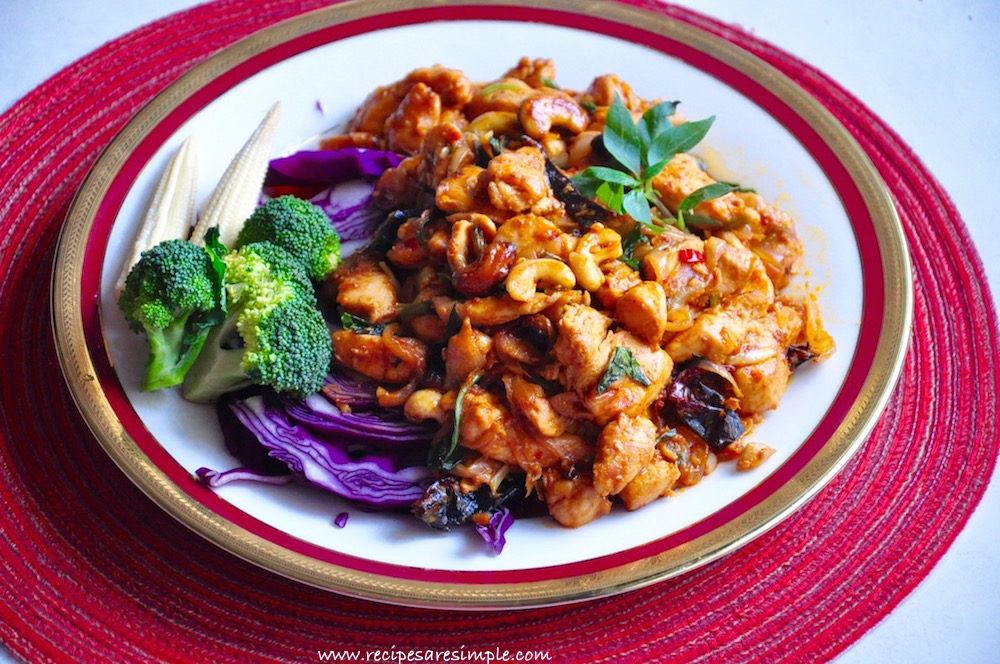 Thai Spicy Chicken with Cashew Nuts
You are here: Home > Chicken  > Thai Spicy Chicken with Cashew Nuts
 

Recipe Name: Thai Spicy Chicken with Cashew Nuts

Recipe Type: Chicken / Thai

Author: Shana c/o Recipes 'R' Simple
Ingredients:
650 gms chicken breast, sliced into thin strips for stir-fry
1 ½ Tbsp light soy sauce
1 ½ Tbsp thai fish sauce
½ cup raw cashew nuts
2 white or yellow onions, sliced thinly
8 long, dried chillies (mild)
3 thai red chilli padi (small chillies), sliced
2 stalks of spring onion, white and green portion, chopped
6 large cloves garlic, finely chopped
¼ tsp galangal, finely chopped
2 kaffir lime leaves, mid vein removed and cut into strips
1 ½ Tbsp chilli paste (see notes)
2 tsp chilli oil
2 Tbsp light soy sauce
2 Tbsp oyster sauce
¹/3 tsp white pepper powder
3 Tbsp carnation evaporated milk
3 handfuls of thai basil
¼ cup vegetable oil
Method:
Place the sliced chicken strips in a bowl along with 1½ Tbsp light soya sauce and the fish sauce.  Set aside while other ingredients are prepared / chopped.
Heat ¼ cup oil in a wok to smoking. Add the dried chillies, followed immediately by the chicken.
Fry on high heat for 5 minutes. Chicken should turn uniformly white, with no signs of pink. Remove the chicken and chillies from the wok.
Wipe clean the wok and add 2 Tbsp of oil and heat again.
 Add the cashew nuts. Stir fry till light golden.
Add onion, spring onion, garlic, galangal, small red chilli and kaffir lime leaf. Sauté till the onions are soft.
Next, add the chili paste as well as the chilli oil and stir till it becomes deep red and the oil separates.
Add the fried chicken and chillies and toss well in the ingredients, on high heat.
Add soy sauce, oyster sauce and white pepper powder. Stir well till chicken is coated uniformly.
Add the evaporated milk and toss to coat – cook for 1 minute, stirring.
Lastly add the basil leaves and after 30 seconds, remove from heat.
Serve immediately over a bed of vegetables / lettuce, with rice.
Thai Spicy Chicken with Cashew Nuts
Chilli paste is easily available at Asian supermarkets To make your own, simply boil dried red chillies (seeds removed, if needed) for a good 5 minutes in a saucepan. Cover and allow to rest for 30 minutes. Remove the chillies from the water. Squeeze gently to remove excess water. Grind (without water) -to a paste. Once cool, keep refrigerated in an airtight jar, covered with a layer of oil.
Chilli oil can be made by heating cut-up, dried red chillies, and garlic in oil  and leaving the chillies and garlic in the oil overnight. Strain before using.
Key Ingredients: Chicken, Cashew, Onion, Garlic, Galangal, Kaffir Lime, Chilli, Oil, Soy sauce, Oyster Sause, Fish Sauce, White Pepper.
Leave a comment if you tried – Thai Spicy Chicken with Cashew Nuts.