12 November, 2014
Thai Red Ruby Dessert – ' Tub Tim Krob '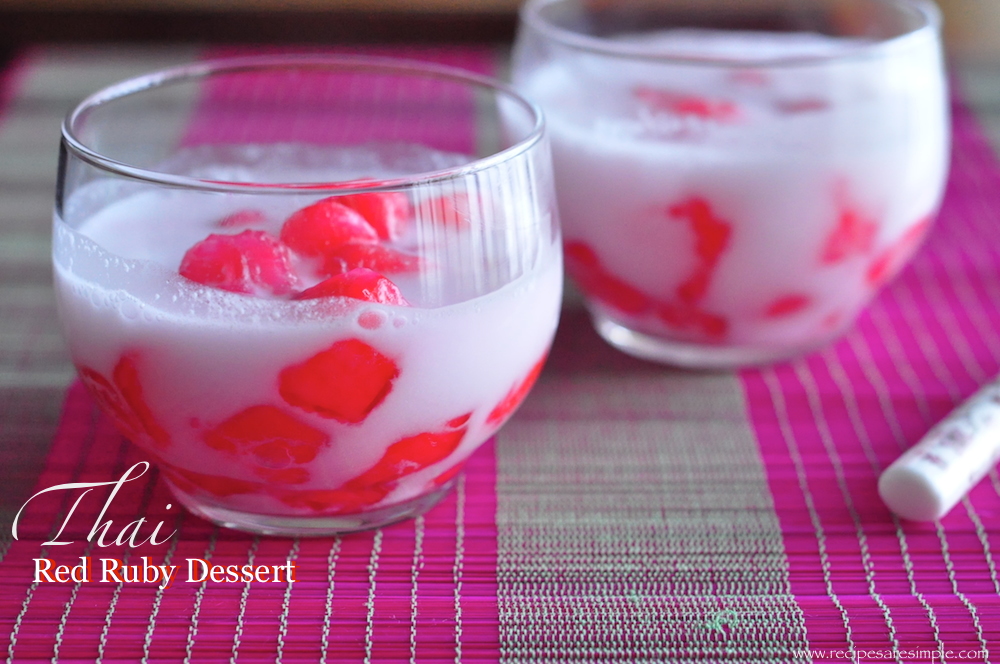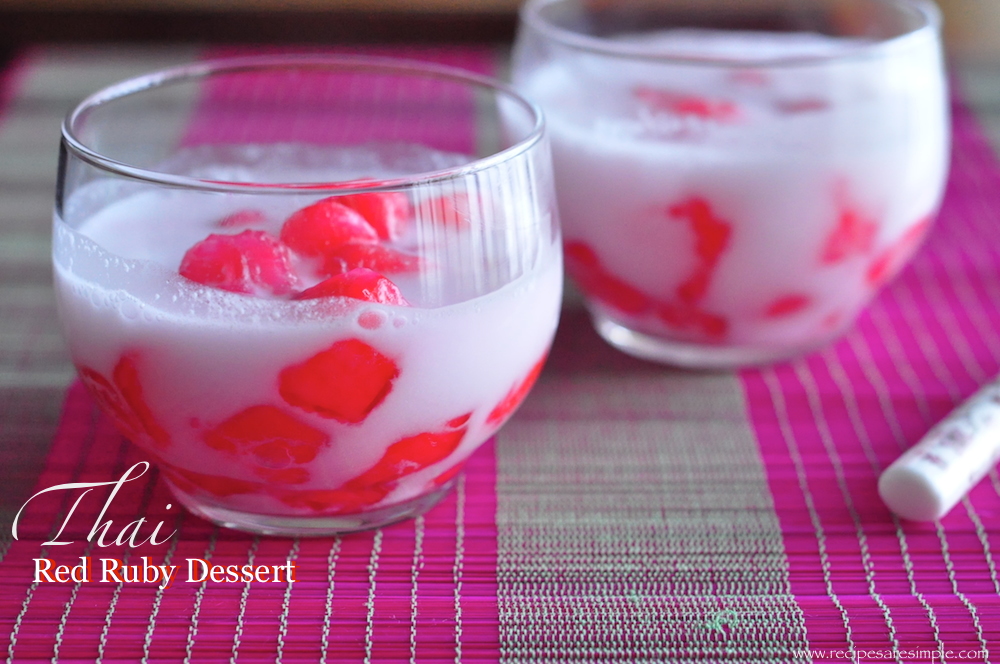 Thai Red Ruby Dessert – ' Tub Tim Krob ' – Water Chestnut Rubies in Flavored Coconut Milk
This Thai Red Ruby Dessert  is lovely to look at  as well as refreshingly tasty! The crunch of the cooked water chestnut in Pandan scented, Sweetened  Coconut Milk is different and exotic! Very easy to prepare. Do not confuse water chestnuts with regular chestnuts, they are quite different.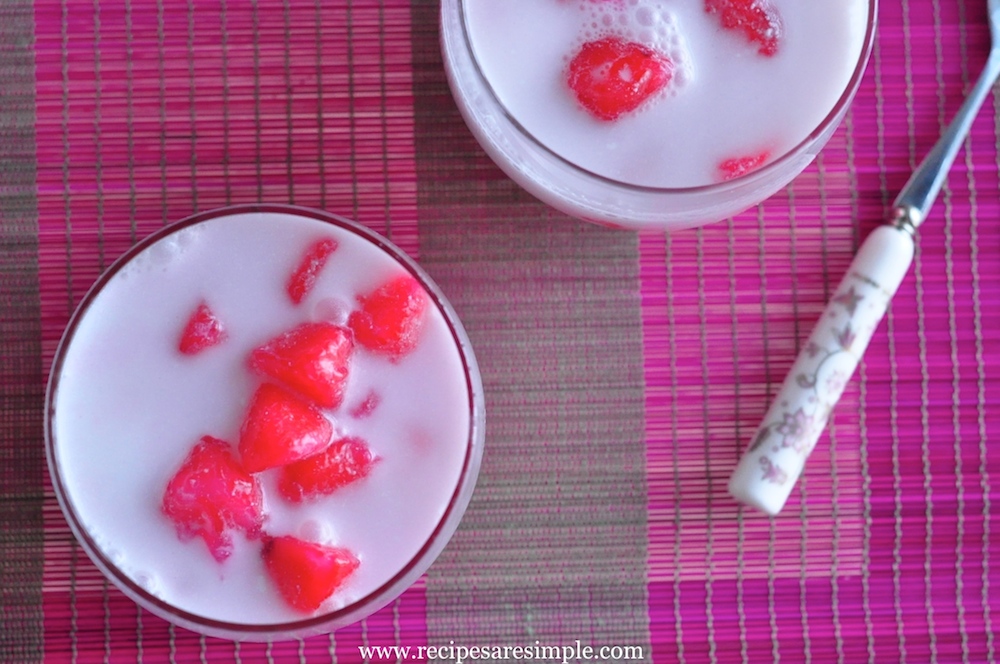 Thai Red Ruby Dessert – ' Tub Tim Krob ' – Water Chestnut Rubies in Flavored Coconut Milk
Recipe Type: Dessert

Author: Recipes 'R' Simple

Prep time: 10

Cook time: 10

Chill time:   20 mins

Total time: 4

Serves: 4
Ingredients:
15 water chestnuts
3 cups fresh coconut milk
2-3 pandan leaves (screw pine)
¼ cup or more sugar ( to taste)
¹⁄8 tsp salt
¾ cup tapioca flour
water for cooking the water chestnut
½ tsp liquid red food color
Method:
Wash and scrub the water chestnut thoroughly.
Slice off the top and bottom of the water chestnut.
Peel the remaining skin with a small knife. Dice into bite size pieces. Rinse again.
Mix ¼ cup water with the food coloring.
Add the color to the water chestnut. Mix well and all to sit for 10 minutes.
Meanwhile, add the coconut milk, sugar and salt to a saucepan and heat on medium flame.
Add the knotted pandan leaf.
Do not allow to boil Stir till  the coconut milk just foams up and begins to simmer.
Place in the fridge to chill.
Drain the colored red 'water chestnut rubies' now.
Add to a wide bowl of tapioca flour and toss to coat.
Use a wire mesh or sieve to shake off the excess flour.
If any two pieces are stuck together, separate with hands and coat again.
Make sure all rubies are coated thoroughly. Shake off excess flour carefully.
Bring water to boil in saucepan.
When the water is boiling (never before), add the red rubies.
Cover with a lid and allow to cook for a minute or so.
The rubies should float to the top when ready.
Check doneness, by lifting a few rubies using a slotted spoon or strainer. The color of the coating flour should be a clear red and no longer white when removed from the water and cooled slightly.

( while boiling, the coating flour will still look whitish).

Add the cooked rubies into iced water. and allow to cool off completely.
Drain the rubies from the water and put into serving bowls / glasses.
Top with chilled coconut milk. ( Remove the Pandan Leaf).
Serve chilled.
Thai Red Ruby Dessert – ' Tub Tim Krob ' – Water Chestnut Rubies in Flavored Coconut Milk
Try it and let us know – Thai Red Ruby Dessert – ' Tub Tim Krob ' – Water Chestnut Rubies in Flavored Coconut Milk .
 It is very important that the coconut milk does not boil. This will cause the milk to 'break'.
When coating the rubies, make sure they are coated thoroughly, or it will cause the color to leak when added to the boiling water. This will result in less beautiful red rubies in the final dessert. The milk might also get tinted.
Add the rubies only to boiling water, or the flour coating might come off upon hitting the water.
Again, add the cooked rubies only to chilled water and not room temperature water to prevent the cooked flour layer from coming off. It also helps the water chestnut to stay more crisp.
If you like, you can also add some cooked sago along with the red rubies to the coconut milk – Red rubies and pearls!
If you don't like coconut milk, you can try full cream fresh milk as well.