18 February, 2013
Thai Pineapple Fried Rice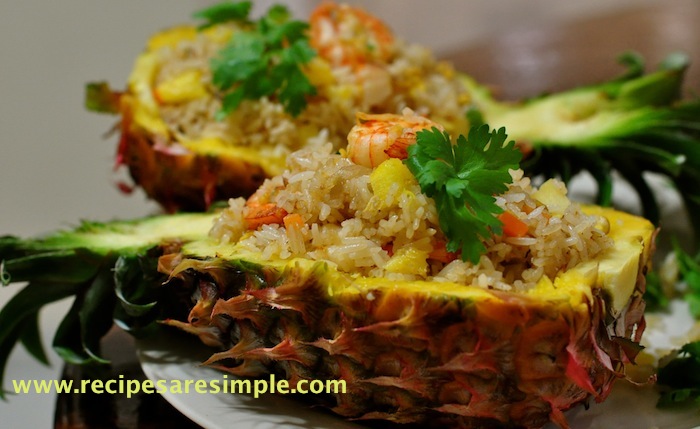 Thai Pineapple Fried Rice  the famous Thai fried rice that produces a refreshing twist on the regular old fried rice. The slight tangy and sweet charm is an enticing flavor. And here we stimulate the senses further by presenting it as such visual treat!  Served up in carved pineapple boats, this makes an excellent dinner to prepare for guests.
Thai Pineapple Fried Rice

You are here: Quick Browse > Rice > Thai Pineapple Fried Rice (Introduction)
 

Recipe Name: Thai Pineapple Fried Rice

Recipe Type:  Rice dished

Author: Shana c/o Recipes 'R' Simple
Day old rice is best for this recipe. Cook two cups of Thai or Jasmine Rice and keep refrigerated overnight.
When choosing pineapples, look for a fruit that looks very healthy to begin with. It should be slightly yellow at the base and go greener towards to top. It should smell sweet and fresh. Avoid pineapples without any scent or those that have a fermenting sweet smell. Compared to other pineapples of the same size, the pineapple should be heavy. It should be very firm without any cracks or soft spots  but should give ever so slightly when pressed. If the leaves are coming out too easily, they are likely rotten. Th leaves should be nice an green.
Key Ingredients: Rice, Pineapple, Shallots, Shrimp, Eggs, Garlic, Chili, Carrot, Spring Onion, Coriander, Nuts, Sultanas, Soy sauce, Fish Sauce,  Stock,  Sugar, Oil.
Let us know if you tried –  Thai Pineapple Fried Rice.

Back to Quick Browse. Thanks for visiting www.recipesaresimple.com