10 April, 2013
Thai Pandan Chicken Recipe – Gai Hor Bai Toey [ไก่ห่อใบเตย]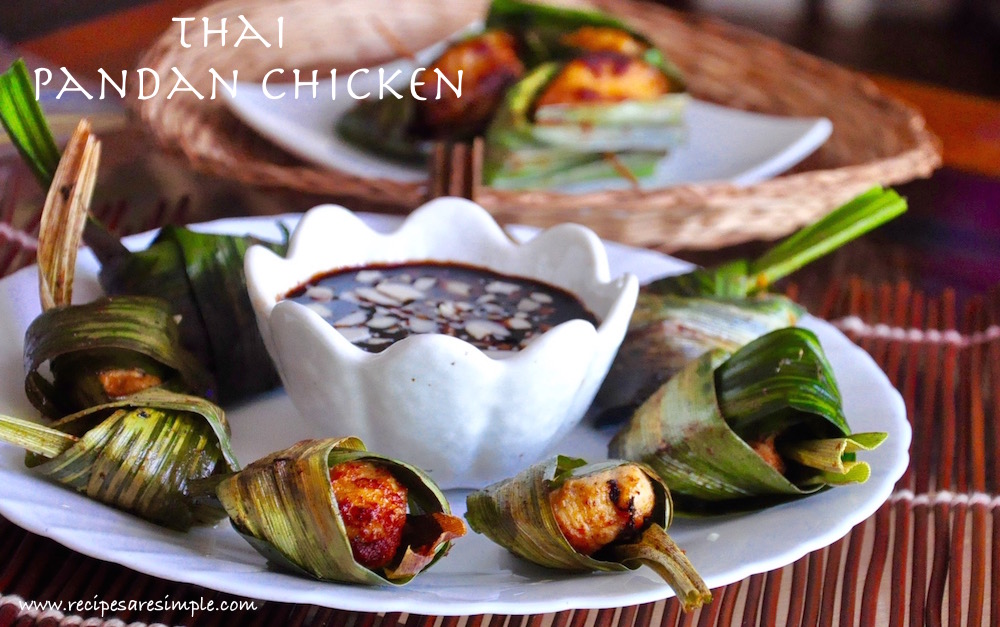 Thai Pandan Chicken Recipe – Artful, Aromatic Cooking.
Thai chicken wrapped in (Pandanus) leaves is a frequently ordered item at Thai Restaurants.  They make great hors-d'oeuvres and can also be served as a side dish.  The pandan leaf /screw-pine leaf is an integral ingredient in a lot of South East Asian cooking, from sweets  to savories.  The aroma is distinct and hard to describe. Somewhat nutty, reminiscent of fresh hay and definitely pleasant. The scent of  pandanus leaves develops only on withering. The fresh, intact plants hardly have any odour.   Also known as the 'Vanilla of the East', it is widely used as a natural food colouring agent.  Pandanus leaves are a popular flavoring in tropical Asia, from South India to New Guinea. They are used for rather different purposes,  in connection with rice, since rice can profit most from the hay-like odour of pandanus leaves.  In sweet desserts, they are used to impart color as well as aroma. In chicken dishes either as wrappers or as aromatic enhancers  for curries.
Dried Pandan leaves can not impart flavor for the most part. If you can not find pandan leaves you might try the essence :Indonesian Pandan essence/ Thai Toey essence/Indian Kewra essence. Please try and let me know how you like this Thai Pandan Chicken Recipe.
Check out the Video. Also check out the second video is you only want to see how the Pandan Chicken is wrapped.
Thai Pandan Chicken Recipe – Gai Hor Bai Toey [ไก่ห่อใบเตย]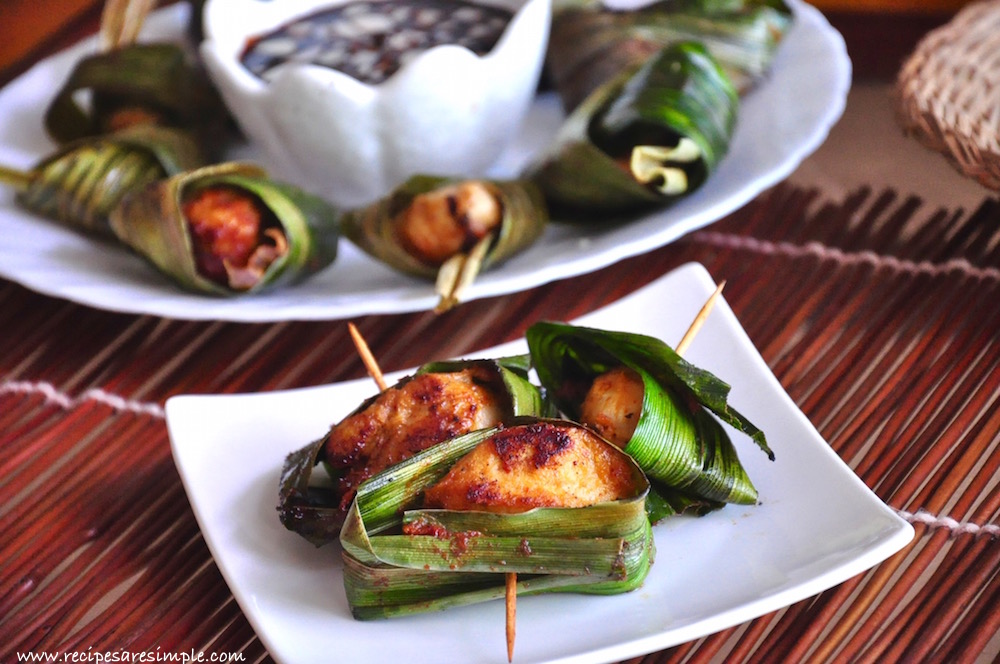 Thai Pandan Chicken Recipe – Gai Hor Bai Toey [ไก่ห่อใบเตย]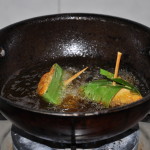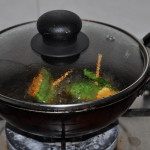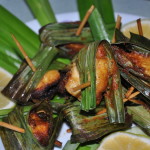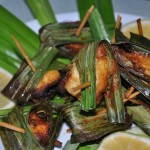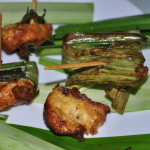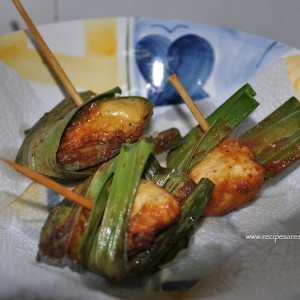 You are here: Quick Browse >Chicken>Thai Pandan Chicken Recipe(Introduction).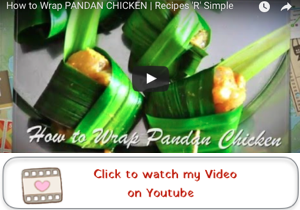 Recipe Name: Thai Pandan Chicken Recipe – Gai Hor Bai Toey [ไก่ห่อใบเตย]

Recipe Type: Chicken/ Thai

Author: Shana c/o Recipes 'R' Simple

Refrigeration: 3 hours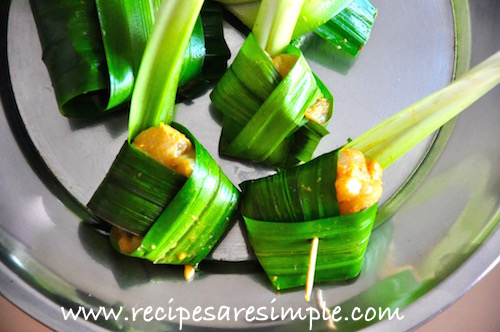 Key Ingredients: Chicken, Pandan Leaves. Dried Chili, Ginger, Garlic, Shallots, Lemongrass, Turmeric, Coconut Milk Powder, Coriander Root, Soy Sauce, Fish Sauce, Worcester Sauce, Sugar, White Pepper Powder, Cornflour, Sesame Oil, Oil.
Let us know if you tried –  Thai Pandan Chicken Recipe – Gai Hor Bai Toey [ไก่ห่อใบเตย].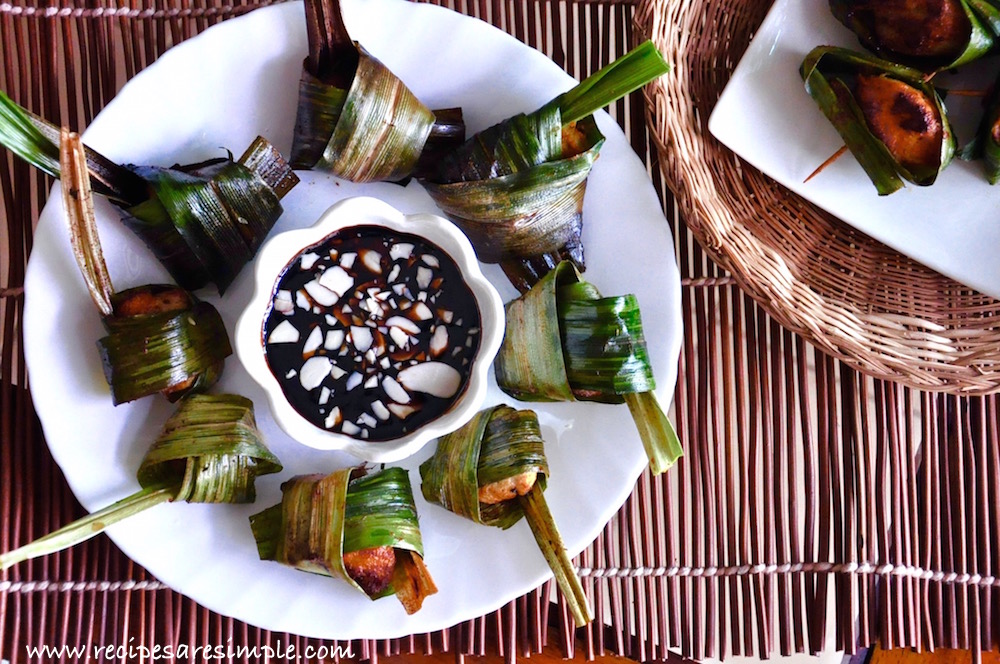 Back to Quick Browse. Thanks for visiting www.recipesaresimple.com.