14 August, 2013
Thai Mango Salad – Fusion Recipe with Paneer/Cottage Cheese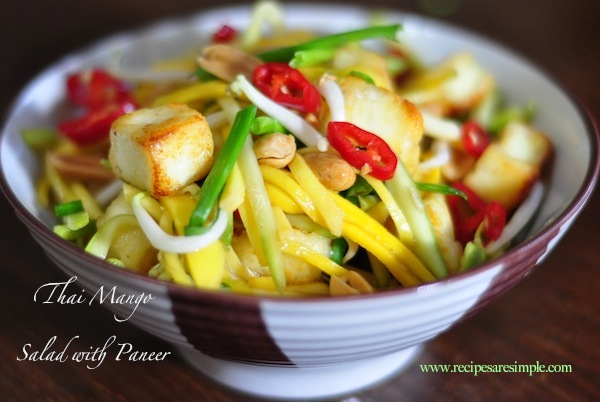 Thai Mango Salad – Fusion Recipe with Paneer/Cottage Cheese
Thai Mango Salad! This lovely Sweet and tangy salad gets a twist with some gorgeous golden paneer (or cottage cheese) that absorbs the tangy sauce to provide a sublime sensation. It's our take on the classic!
Thai Mango Salad – Fusion Recipe with Paneer/Cottage Cheese
Ingredients:
For the sauce
1 – 2 Tbsp light soy sauce
2 – 3 Tbsp

good quality

thai fish sauce
1 – 2 tsp Chilly sauce
2 Tbsp light brown sugar
Juice of 1 small yellow lime
optional: 1 tsp ginger juice( juice from crushed ginger)
Other:
2 green mangoes or use 1 green mango and 1 semi ripe mango for added flavor – 'Julienne cut'
½ cup beansprout
¼ cup spring onion greens julienned
¹ cup Paneer/Cottage cheese cubes
½ cup salted peanuts or cashews
Thai red chillies, chopped to taste
3 Tbsp Olive oil




Method:
Stir together all the ingredients for the sauce. Do a taste test. It should be a good balance of sweet, sour and spiciness.
Pan fry the paneer/cottage cheese in olive oil till golden and set aside.
Toss together all the ingredients and add sauce little at  time, testing the flavor.
The paneer/ cheese should absorb just the desired amount of tanginess from the sauce.
Thai Mango Salad – Fusion Recipe with Paneer/Cottage Cheese
Notes:
Another simple variation:
Use diced cucumber and green capsicum instead of beansprouts and cut the mango into larger bits. Add chopped cabbage.
Or use ripened mango only, diced carrots , cashew and shredded lettuce.
You May Also Like: