14 October, 2015
Thai Green Curry Paste for Authentic Thai Curries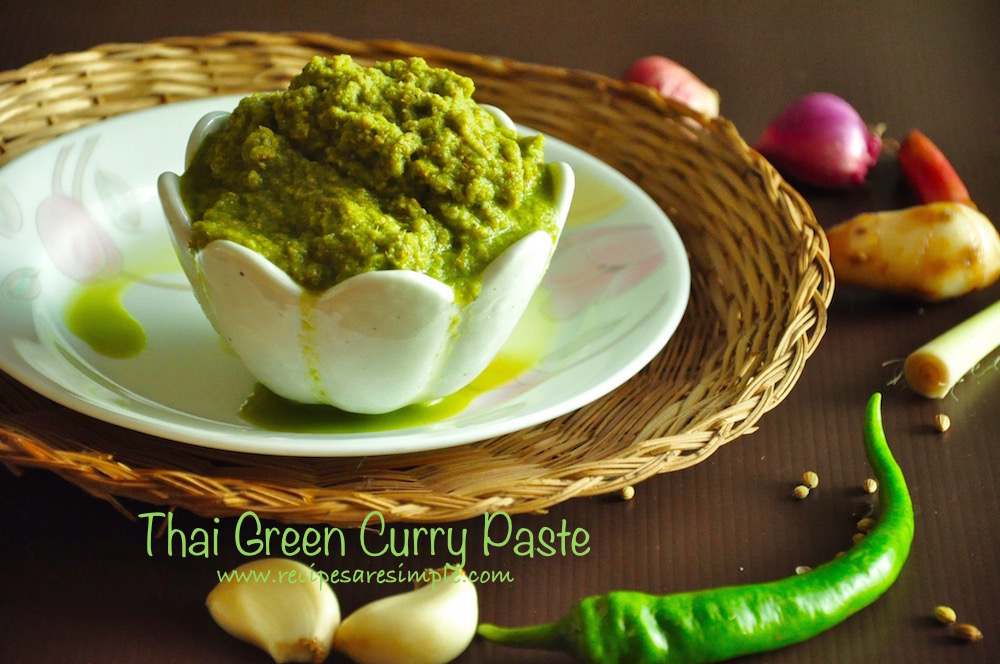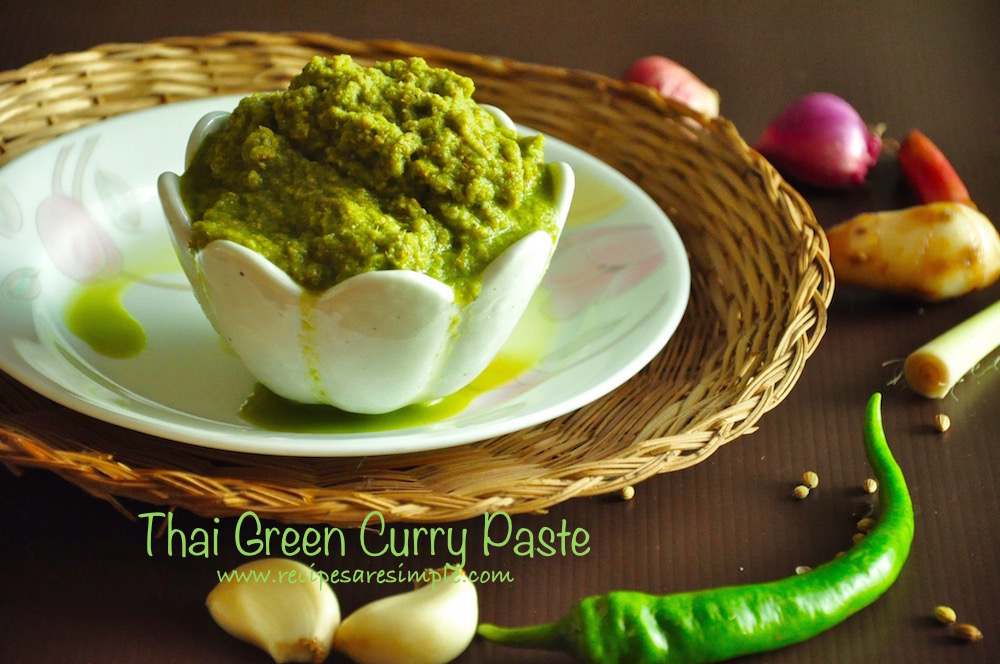 Thai Green Curry Paste for Authentic Thai Curries
Thai Green Curry Paste is the base for all Thai Green Curries, be it Seafood, Meat, Poultry or Vegetarian. A lovely aromatic, fresh herb and spice blend makes for a perfect and authentic Thai Green Curry. This quantity makes enough for one large bowl that serves four.  Double the quantity to store in airtight jars  and use as needed for smaller or larger quantitiies. Check out the Thai Green Curry Chicken Recipe too.
Thai Green Curry Paste for Authentic Thai Curries
Recipe Type: Condiments / Sauces

Cuisine : Thai Authentic

Author: Shana for Recipes 'R' Simple

Prep time: 5

Cook time: 5

Total time: 10

Yield: For one Curry, serving 4
Ingredients:
For Authentic Thai green curry paste: 
10 green goat peppers or similar long green chillies, deseeded

( Leave the seeds in if you want a very spicy curry)

7 shallots
6 large cloves garlic
2 Tbsp galangal  (

a subtle, mustard-scented rhizome similar to ginger also known as lengkuas, laos or blue ginger) 

¼ tsp Thai shrimp paste

(If you can not find this, Vegemite ca be used as substitute)

2 Tbsp lemon grass sliced thinly
3 Tbsp coriander

seeds

¼ – ½ tsp cumin
¼ tsp nutmeg
1 tsp kaffer lime zest –

Try not to peel the white skin which is bitter – we want only the green peel

1 tsp corriander

root

( the white root and not the stem, scrubbed well)
Other seasonings/ spices / garnish for Thai curry :
2 tsp coconut palm sugar
2 tsp thai fish sauce
¾ tsp rock salt
½ tsp white pepper powder
thick and thin extractions of coconut milk
basil leaves, chopped kaffir lime leaves and red chili for garnish






 Method:
Chop, seed and slice all the fresh ingredients for the paste.
Dry roast the coriander seeds, cumin and nutmeg together till nicely aromatic without any browning. Add to a small spice grinder and process to a powder.
Add all the other ingredients in batches and grind as smoothly as possible.
No water is added. You will get a textured green paste.
This is the basic, authentic  Thai Green Curry Paste.
To use this paste in Thai Green Curries:
Add the thick extraction of coconut milk to Non Stick Pan or Wok.
As the coconut milk heats up, add the green curry paste and stir well. Bring just to boil, then lower heat.
As the paste simmers in the coconut milk, keep stirring.
Cover and allow to cook gently for 3-5 minutes, opening and stirring occasionally.
If the paste seems too dry, add a little more thinner coconut milk.
You will see a

layer of coconut oil

developing on the top with a green hue. Once this oil has separated, you can add your seafood, poultry, meat or vegetables.
Adjust the quantity of thin coconut milk added, according to what you are cooking. More for cooking meat than for fish, chicken or vegetables.
If adding vegetables along with fish or poultry, you can add them at a later stage.
Once all components are cooked, add seasonings.
Add the Coconut Palm Sugar and Rock Salt and allow to melt into the mixture.
When the curry is ready, add some fresh garnish as desired.
Ingredients for the Green Curry Paste:

Thai Green Curry Paste for Authentic Thai Curries
Leave a comment if you tried- Thai Green Curry Paste for Authentic Thai Curries.
To ease the process of grinding the green curry paste, I add a few ingredients at a time and grind till smooth, then add the next couple of ingredients and so on till a smooth paste is achieved. Traditionally the paste is ground using a pestle and mortar. However if you have a good spice grinder, it is sufficient.