1 November, 2014
Thai Green Curry Chicken – แกงเขียวหวานไก่ – Green Curry Paste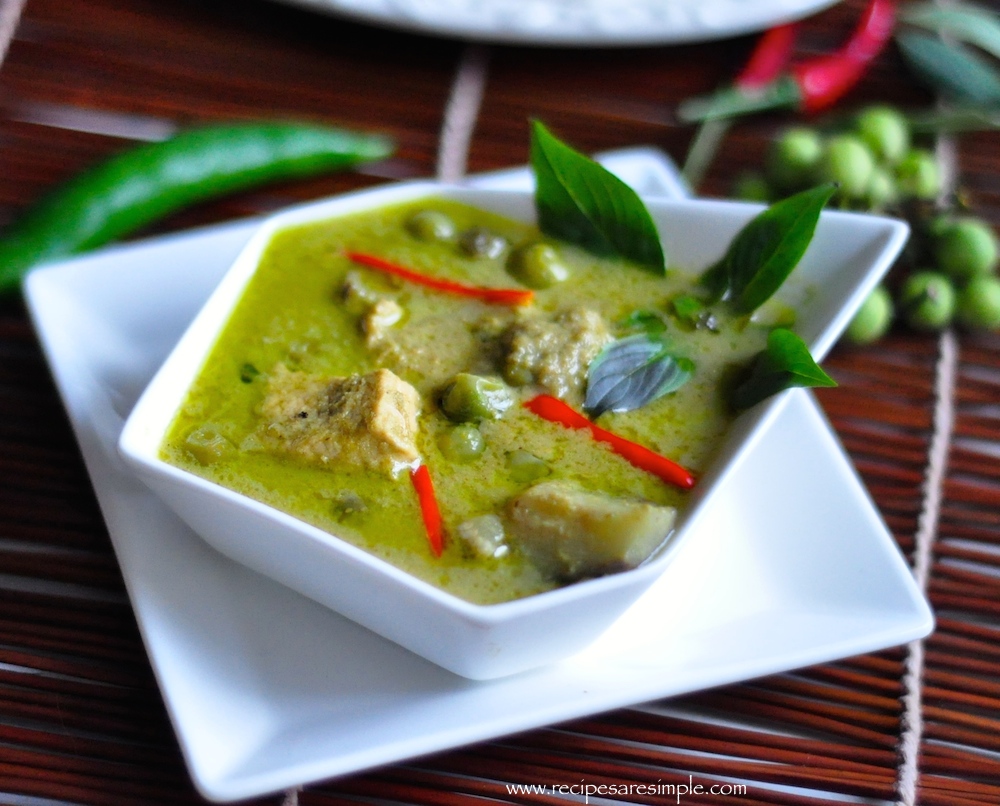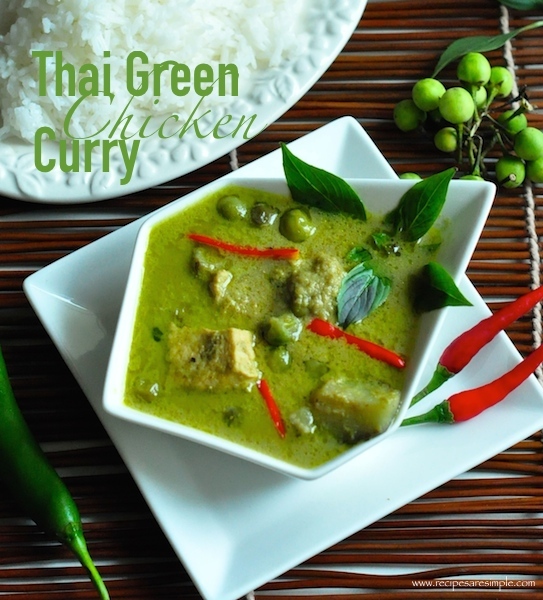 Thai Green Curry Chicken & Homemade Green Curry Paste
Thai Green Curry Chicken – definitely one the most popular dishes in Thai Cuisine offers a unique and romantic blend of spices and fresh ingredients to make a rich and delicious curry like no other. This authentic recipe for Thai Green Curry Paste and Thai Green Curry is extremely sought after .       แกงเขียวหวานไก่ (Gaeng Kiew Wan Gai). Gaeng Kiew Wan , literally means 'Sweet Green Curry' and Gai means Chicken. This curry is however not a sweet one, although it has a hint of sweetness blended in with a 'hot' and aromatic blend.
The heat in the curry comes from fresh green chillies. If you like it extremely spicy, leave the seeds in. I like it moderately spicy so I deseed my chillies. This retains the flavor while reducing the heat. Try my recipe. You will be delighted. Love Thai Food? Also try the Thai Basil Chicken Recipe. SCROLL DOWN FOR VIDEO.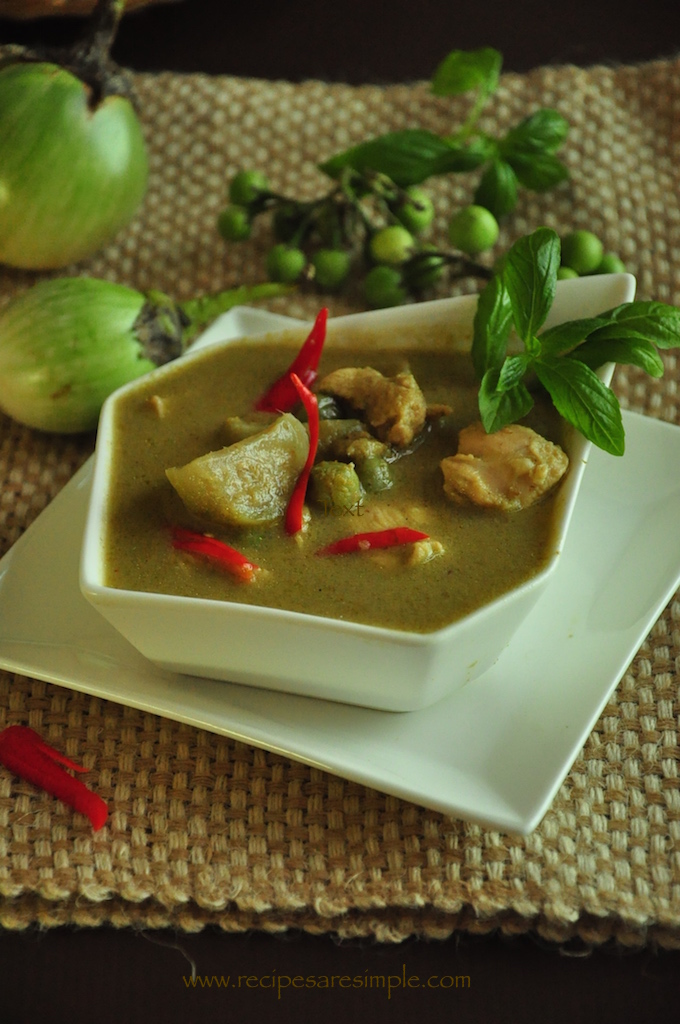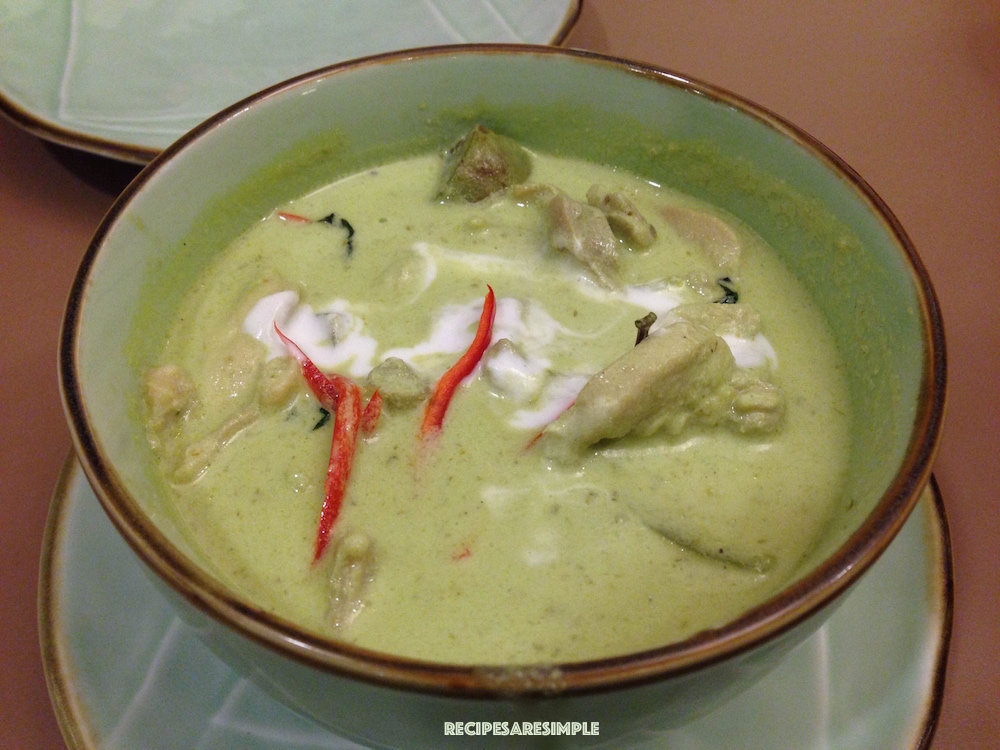 Thai Green Curry Chicken & Thai Green Curry Paste
Recipe Type: Chicken / Curry

Cuisine : Thai Authentic

Author: Recipes 'R' Simple

Prep time: 

Cook time: 15

Total time: 45

Serves: 4
Ingredients:
For Thai Green Curry Chicken
2 chicken breast, rinsed, cut into thin 'squarish' slices
250 gms,  grated fresh coconut – to make the fresh coconut milk

OR use Tetra Pak – Coconut Milk (2 ½ cups)

2 tsp coconut palm sugar

OR use brown sugar if you can not find it

2 tsp Thai fish sauce
½ cup pea eggplant, rinsed and drained
½ cup thai eggplant, quartered

Or use small eggplants if you can not find Thai Eggplant.

½ tsp white pepper powder
¾ tsp rock salt or to taste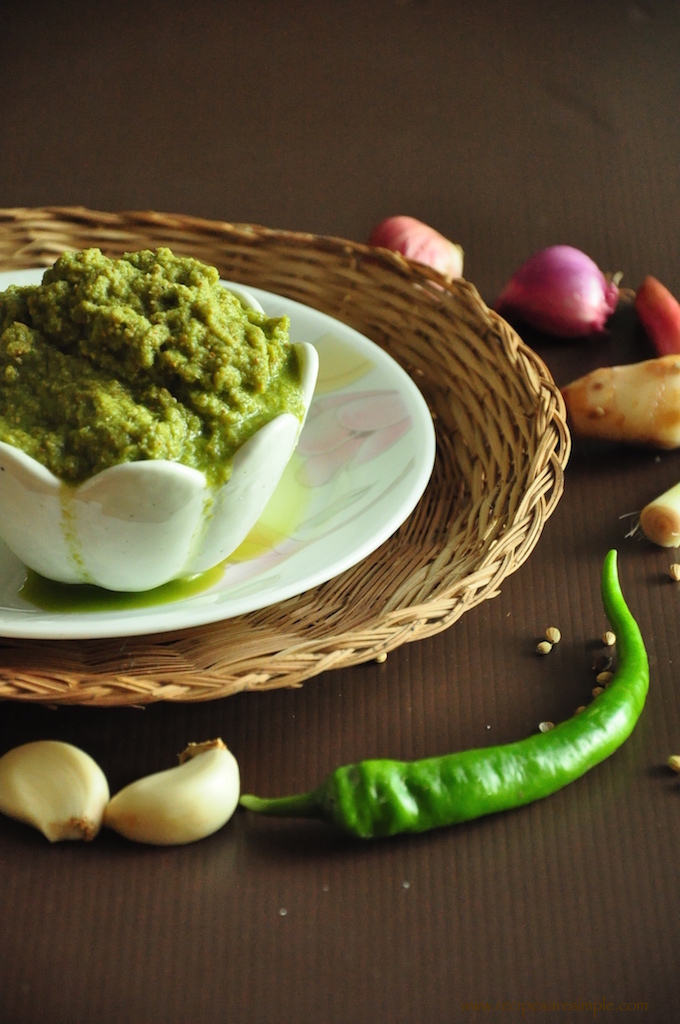 For Authentic Thai green curry paste: Scroll down for pictures of ingredients.
10 green goat peppers or similar long green chillies, deseeded

( Leave the seeds in if you want a very spicy curry)

7 shallots
6 large cloves garlic
2 Tbsp galangal  (

a subtle, mustard-scented rhizome similar to ginger also known as lengkuas, laos or blue ginger) 

¼ tsp Thai shrimp paste

(If you can not find this, Vegemite ca be used as substitute)

2 Tbsp lemon grass sliced thinly
3 Tbsp coriander

seeds

¼ – ½ tsp cumin
¼ tsp nutmeg
 1 tsp kaffer lime zest –

Try not to peel the white skin which is bitter – we want only the green peel

1 tsp corriander

root

( the white root and not the stem, scrubbed well)
For garnish:
red chilli padi, sliced julienne, seeded
few  thai sweet basil leaves (tulsi)
2 kaffr lime leaves, rolled tightly together and sliced into fine strips



 Method:
 Slice the chicken breast and leave to drain.
Pick the pea eggplants off the stems and rinse well. keep aside.
Cut the small eggplant or thai eggplant into quarters and keep in a bowl of water to prevent discoloration.

Make the coconut milk

Or Use Ready to Use Coconut Milk

 

:

To the fresh grated coconut, add 1 cup of water. Add to a strong blender and blend/grind for 5 minutes till a nice paste is formed. Squeeze this through a cloth strainer to extract the 'First Press' or ' First Milk'. Squeeze till no more milk can be extracted. Set this First Milk aside. Return the ground squeezed coconut to the blender with another 1 ½ cup water and grind well for 5 more minutes.  Squeeze out the milk again to extract the  ' Second Press' or 'Second Milk'. Set aside separately.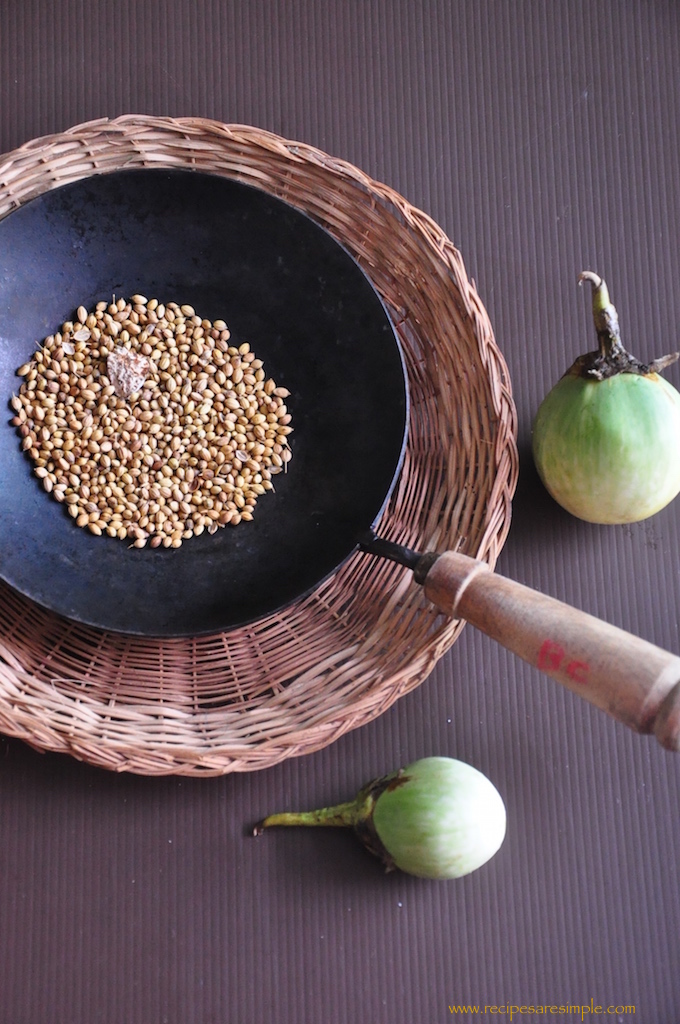 Make the Thai Green Curry Paste: Chop, seed and slice all the ingredients for the paste.
Dry roast the coriander seeds, cumin and nutmeg till nicely aromatic without any browning. Add to a small spice grinder Add all the other ingredients and grind to a smooth paste.

No water is added.

Make the Thai Green Curry with Chicken:  Once the coconut milk has rested a while, you will see the thicker milk has floated to the top and the thinner liquid remains on the bottom of the cup. Scoop out the thick portion carefully into a bowl. We will use this to cook our Green Curry Paste.
Add the thick milk that we scooped out into a wide Non Stick Pan or Wok.
As the milk heats up, add the green curry paste and stir well. Bring to boil, then lower heat. As the paste simmers in the coconut milk, keep stirring. Cover and allow to cook gently for 3-5 minutes, opening and stirring occasionally. If the paste seems too dry, add a little of the remaining coconut milk.
You will see a layer of coconut oil developing on the top with a green hue. Once this oil has separated, add the chicken pieces and stir into the paste.
Cook the chicken, while stirring for 1 or 2 minutes till all the chicken turns opaque.
Add the Coconut Palm Sugar and Rock Salt and allow to melt into the Chicken and Paste.
Now add all the remaining coconut milk ( thick and thin).
Bring to a simmer and add the white pepper powder and fish sauce
Cover and allow to cook for 3 minutes.
Add the quartered eggplant now. Cover again and cook for 2- 3 minutes.
Then add the pea eggplants. Cook again cockered for 5 more minutes.
When the curry is ready, add some fresh basil leaves, chopped kaffir lime leaves to taste and a few slices of red chili.
 Serve hot over Thai Fragrant or Jasmine Rice. YUMMY!
Ingredients for the Green Curry Paste:
Ingredients for Thai Green Curry Garnish :
Thai Green Curry Chicken & Thai Green Curry Paste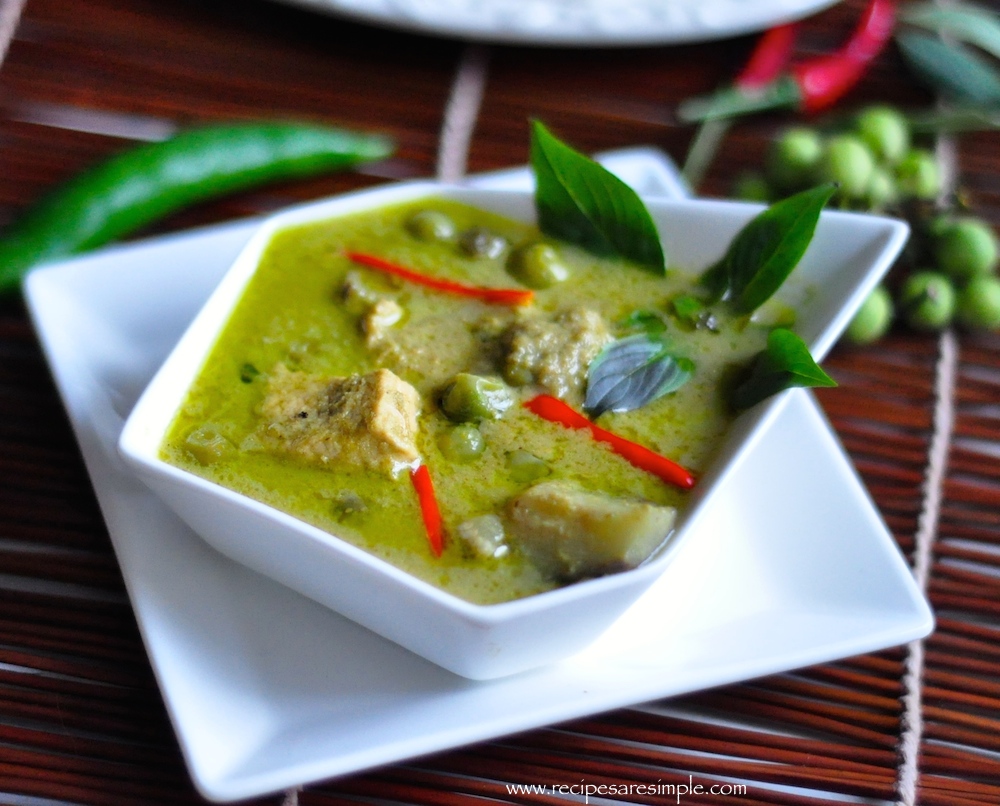 Try it and let us know – Thai Green Curry Chicken  & Thai Green Curry Paste .
To ease the process of grinding the green curry paste, I add a few ingredients at a time and grind till smooth, then add the next couple of ingredients and so on till a smooth paste is achieved. Traditionally the paste is ground using a pestle and mortar. However if you have a good spice grinder, it is sufficient.
Thai Pea Eggplants, must be extremely fresh or they will start turning bitter.