14 November, 2013
Thai Chicken Satay Made Simple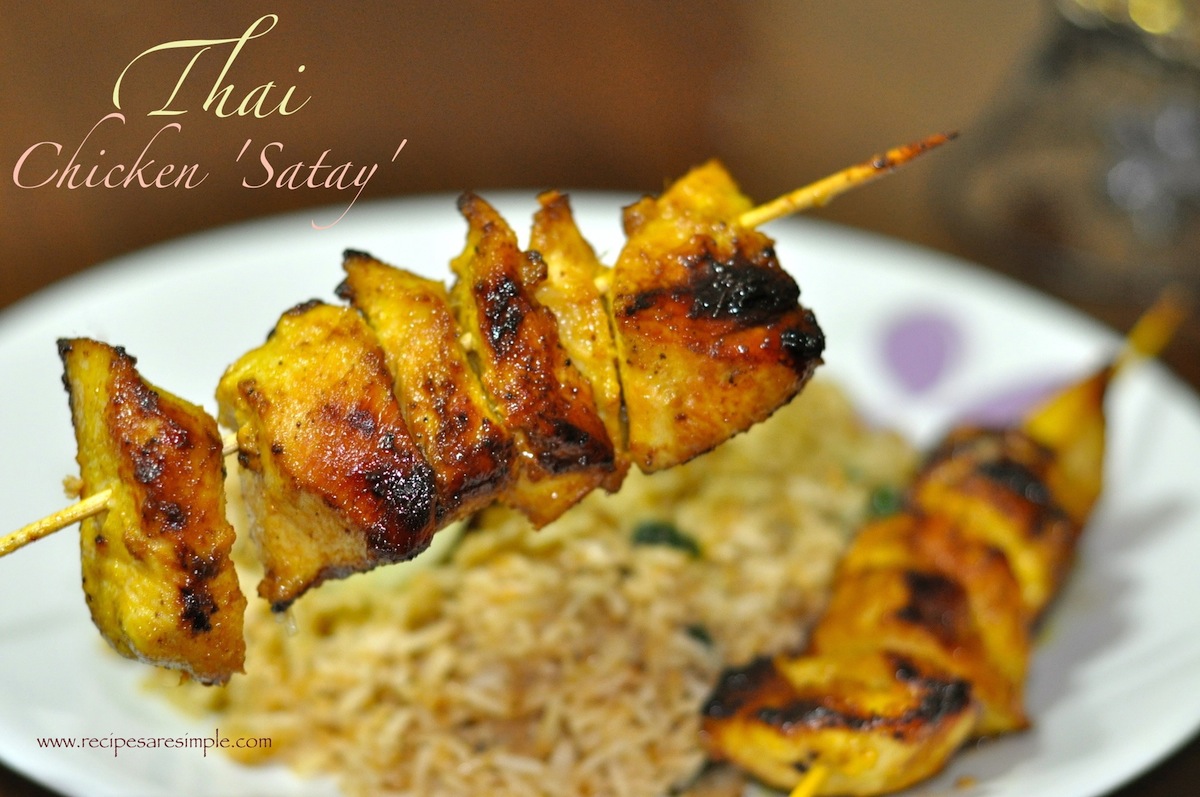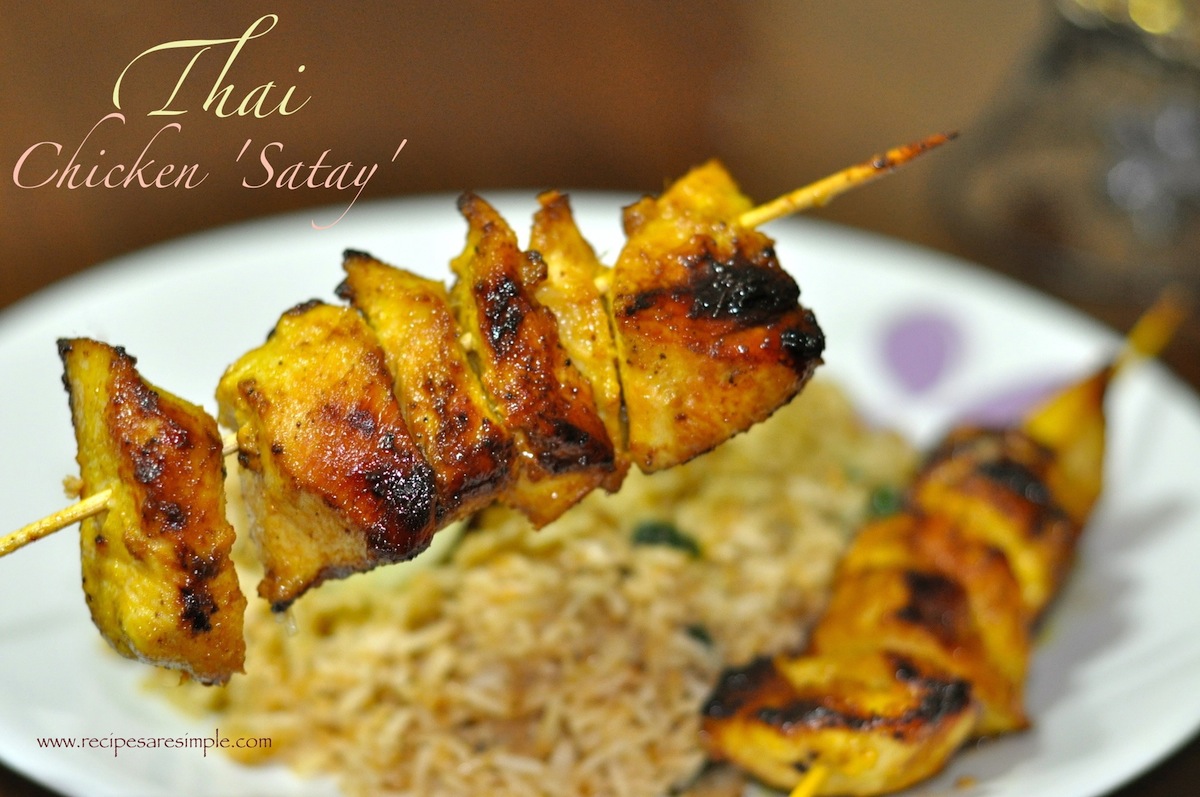 Thai Chicken Satay
These favorite Thai style satay sticks are so easy to make. Blend a few ingredients to a paste. Marinate the chicken pieces, skewer them and then grill or bbq  till done. That simple. And the street side dish dissappears before you can get them to the dinner table. Must be served warm. Traditionally served with a peanut dipping sauce. I like them just as they are. You can't resist them!
Thai Chicken Satay
Author: 
Prep time: 
Cook time: 
Total time: 
Ingredients:
1 lb/450 g Chicken Breast, cut to make bite size pieces.
1 tsp garlic
1 ½ Tbsp Tender lemongrass.
1 Tbsp Thai or light soy sauce.
2 Tbsp vegetable oil.
1 Tbsp butter.
1 Tbsp coconut cream/or coconut milk powder.
1 Tbsp sweetened condensed milk.
1 ½ Tbsp brown sugar.
1 tsp salt.
1 tsp turmeric powder.
¹⁄3 tsp white pepper powder.
For optional peanut dipping sauce:
1 shallot,sliced
1 cloves garlic, sliced,
1 dried chilli, cut
1 thin slice galangal or ginger
1 small slice lemon grass
2 tsp Tamarind paste
1 tsp  fish sauce/soy sauce
2 tsp  Palm sugar/Brown sugar
Oil for frying.
1 fresh red chili – mild
¹⁄8 tsp turmeric
¹⁄3 cup coconut milk
2 Tbsp smooth peanut butter
¼ cup chicken stock
¼ tsp chili oil
palm sugar and salt to taste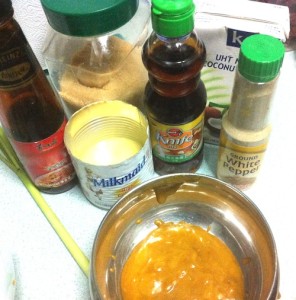 Method:
Cut the chicken into approximately 1″ wide and 2″ long pieces.
Combine all other ingredients in a blender. Process/Grind till smooth.
Taste and adjust seasoning to taste.
Marinate the chicken for 4 hours or overnight in the fridge.
Thread onto bamboo skewers, separating each piece slightly.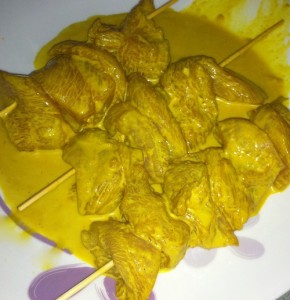 Grill or Bbq each side for 2-3 minutes till dark golden on each side.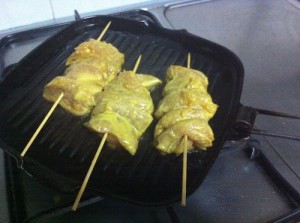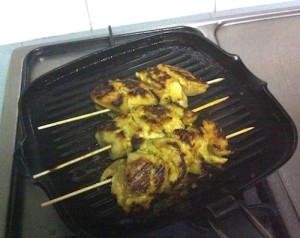 Serve with lemon wedges and peanut dipping sauce.
For optional peanut dipping sauce:
In a small wok heat a small amount of oil to deep fry  the shallots.
Deep fry till golden and remove.
Do the same with the dry chili- Dont allow to turn black.
Fry the garlic as well – till golden, remove.
Add these fried ingredients  as well as the  galangal, lemon grass, tamarind paste,  fish sauce/soy sauce , palm sugar/brown sugar, fresh red chili and turmeric and grind to a smooth paste. (For authenticity pound with a pestle and mortar till smooth).
Heat half the coconut milk in a small non stick sauce pan, stirring till oil is seperated.
Add the ground paste and stir on medium heat for 2 minutes.
Add the peanut butter, remaining coconut milk, chili oil and chicken stock and stir till thickened.
Adjust seasoning as desired.
Thai Chicken Satay
Did you enjoy our Thai Chicken Satay ? Let us know.
 I prefer the Thai Chicken Satay with my Tom Yum Fried Rice. I make the dipping sauce when serving the satay sticks alone.
Malaysian Satay is slightly different as is the special peanut dipping sauce. Do check out the recipes for

Malaysian Chicken Satay

and

Malaysian Peanut Satay Sauce

.