25 September, 2015
Thai Beef and Cucumber Canapés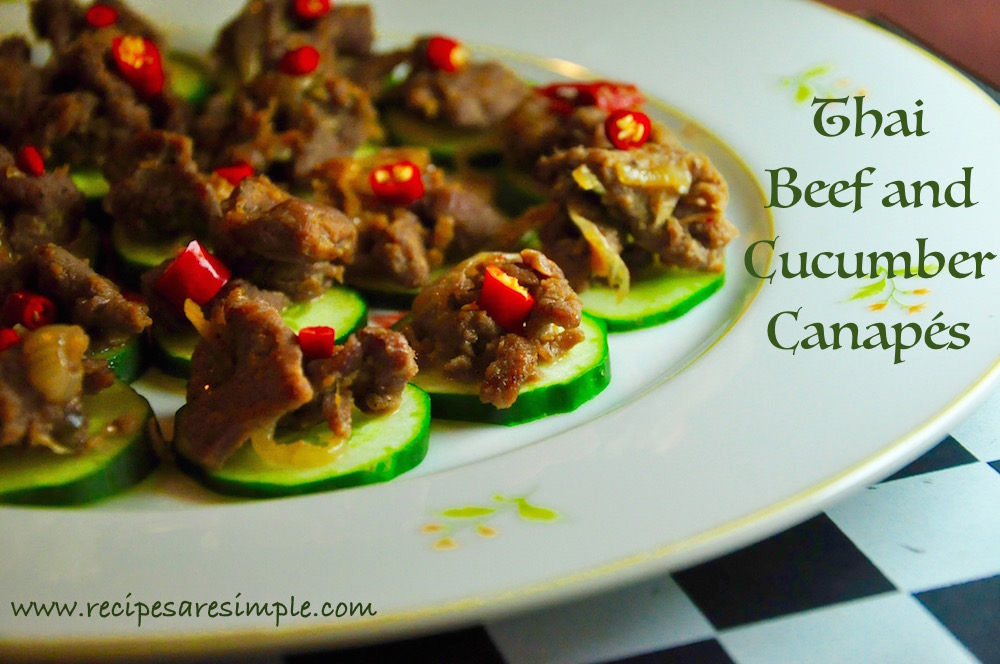 Thai Beef and Cucumber Canapés
What's not to love about these party canapés? These bite size hors d'oeuvres, make for a cute decorative food that can be neatly picked up with your fingers and popped into your mouth. These Thai Beef and Cucumber Canapés are very simple to make. With some marination time, the beef cooks so fast in a cast iron wok or skillet.
I love the addition of tiny bits of thai red chili. There's something about taking that bite and waiting for the chilli to hit you – that's exciting! Leave the chillies off if you can't take the heat and garnish with scallions or carrot – julienne.
Thai Beef and Cucumber Canapés
You are here: Home > Snacks  > Thai Beef and Cucumber Canapés
 

Recipe Name: Thai Beef and Cucumber Canapés

Recipe Type:  Thai / Canapés

Author: Shana c/o Recipes 'R' Simple

Marination time: 3 hours
Ingredients:
1 kg beef, cut across the grain into thin, flat strips
2 Vidalia //Yellow Onions, sliced thinly
2 Tbsp oil – I use rice bran oil
Firm cucumber slices for the canapés (I used japanese cucumber)
3-4 small thai red chillies (chill padi)
For marinating the beef:
 6-7 Tbsp light soy sauce

2 Tbsp sugar
1 Tbsp organic honey
3 ½ Tbsp Asian Sesame Oil
1 Tbsp  Sriracha Sauce
2 tsp meat tenderizer
¾ tsp freshly cracked black pepper powder
4 Tbsp spring onion whites, crushed
3 Tbsp garlic, crushed
1 long red thai chill (mild)
2 kaffir lime leaves – central vein removed
1 stalk of lemongrass, just the lower white inner portion
Method:
Wash the beef strips thoroughly.
They should be very thin, small strips. Rinse well and leave to drain.
Crush the garlic, spring onion whites, lemon grass stalk, kaffir lime leaves and long red chili using pestle and mortar to a semi course paste.
Add this and all the other ingredients for marinating the beef. Rub everything in nicely using your hands to mix the flavors.
Cover and refrigerate for 2-3 hours.
Remove from fridge, 20 minutes before cooking.
Add the sliced onion to the marinated beef now and give it a good toss.
Heat a large heavy based, cast iron wok or skillet for best results. You can also use a good carbon steel wok if that's what you have.
Heat for a good 5 minutes on direct flame.
Add the oil and brush the entire surface of the wok/ skillet.
 Now add the beef and onions. Stir fry on HIGH heat, till the beef pieces slightly change in color.
Liquid will be released from the marinated meat.
Stir occasionally till the meat is very tender and almost all the gravy is gone.
Allow a little bit of the gravy to remain at the bottom of the wok / skillet.
Thai Beef and Cucumber Canapés
Use a cut of beef that is suitable for stir-fry. It must be cut extremely thin to cook quickly.
The beef can be served with rice as well. Make sure there ample gravy left.
You can serve in lettuce wraps as well.
As different brands of soy sauce contain different level of sodium and salt, use accordingly.
Key Ingredients: Beef, Cucumber, Soy Sauce, Honey, Sesame Oil, Sugar, Garlic, Spring Onions, Onions, Pepper.
Let us know if you tried it – Thai Beef and Cucumber Canapés. Comments from you provide motivation to keep up the driving force behind this blog, bringing you more delicious and perfected recipes regularly. Please do leave a comment. We love to hear from you.
[jetpack_subscription_form]