25 October, 2014
Thai Basil Chicken Recipe – Pad Kra Pao Gai [ ผัดกระเพราไก่ ]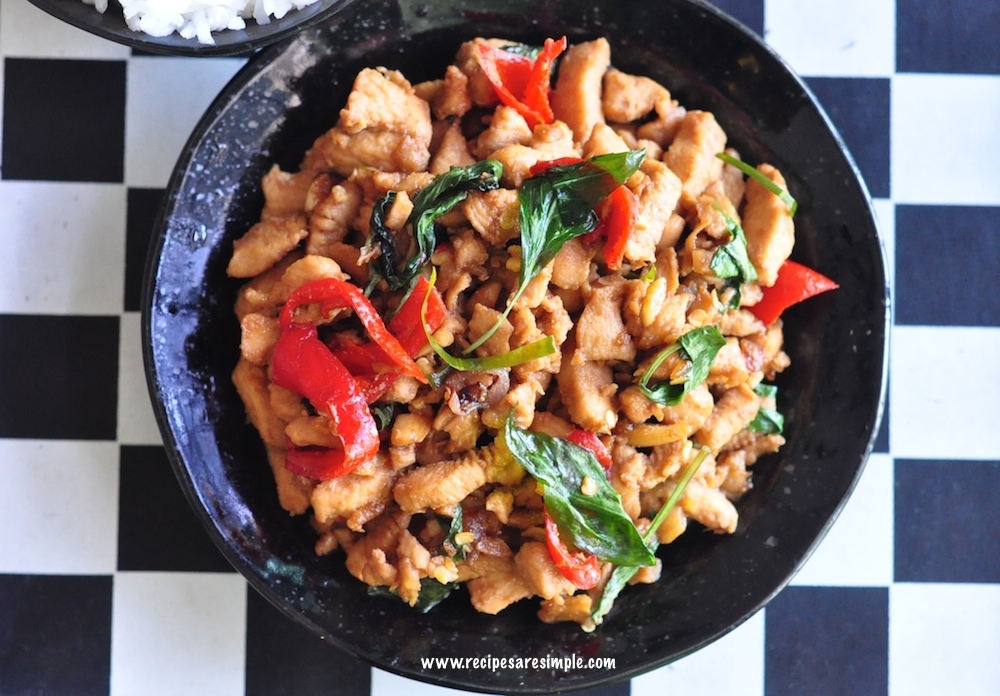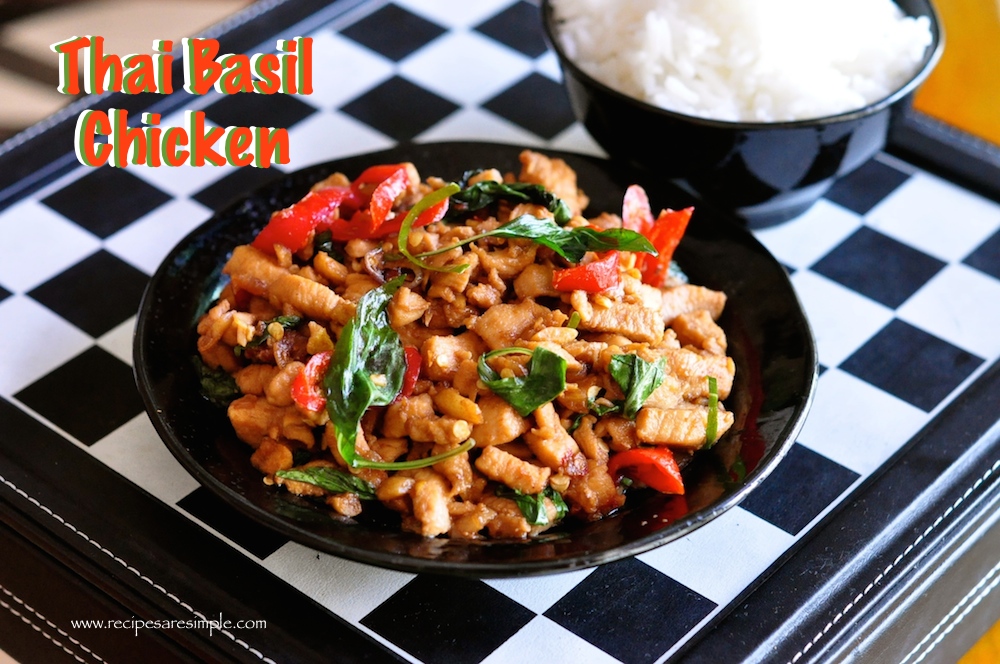 Thai Basil Chicken Recipe
Aaah, one of the joys of Thai Food! The Thai Chicken dish that is loved by the masses, this Thai Basil Chicken Recipe  details its authentic preparation. Laced with the aroma of Thai Holy Basil Leaves, the faintest hint of Kaffir Lime Leaves and brought alive with the notorious Thai Red Chillies ( chili padi ) . This delicious dish is amazingly easy to prepare at home. Give it a try! Also if you love Thai food, try out the Thai Pandan Chicken Recipe.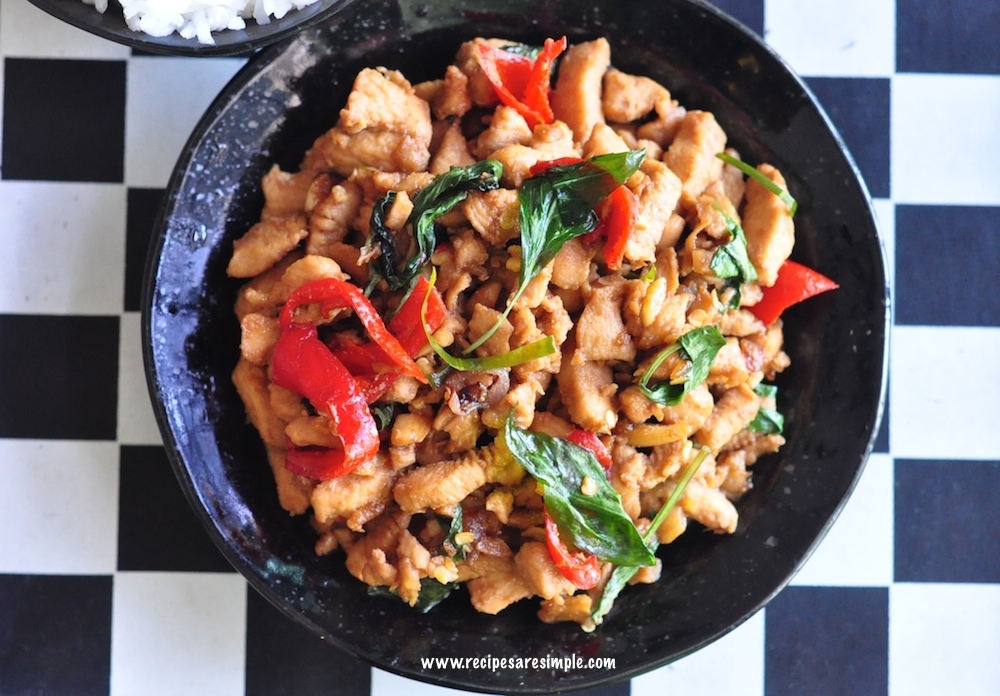 Thai Basil Chicken Recipe
Thai Basil Chicken Recipe

Recipe Type: Main / Chicken / Thai Cuisine

Author: Recipes 'R' Simple

Prep time: 5

Cook time: 5

Total time: 10

Serves: 4
Ingredients for Thai Basil Chicken Recipe:
300 gms boneless chicken breasts or thighs at room temperature, rinsed and drained
12 large cloves of garlic
6 shallots ( small red onion)
6 small thai red chillies

(If you need the dish to be milder, use the longer finger length chillies)

6 tsp dark soy sauce ( the thick, slightly sweet variety)
2 tsp oyster sauce
2 tsp light soy sauce
2 tsp fish sauce ( thai fish sauce)
1 tsp white pepper powder
2 handfuls of thai holy basil, plucked and rinsed
½ tsp kaffir lime leaf ( not more)
3 Tbsp peanut oil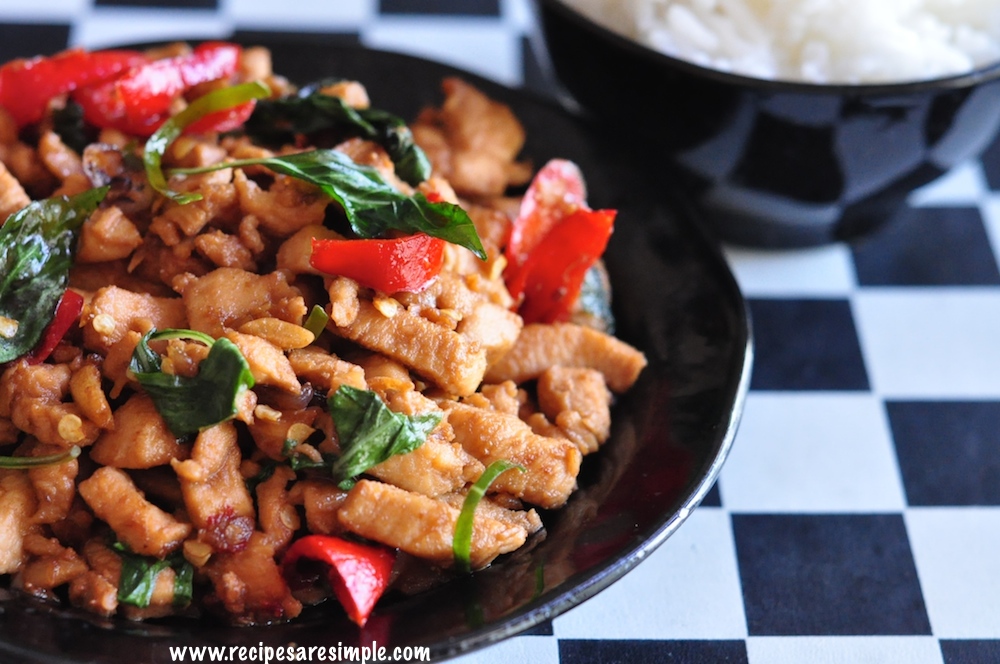 Method:
Once the chicken is rinsed and drained, slice lengthwise into thin strips and then across to get very small pieces. Set aside.
Smash the garlic clover with the broad side of your chefs knife. Then chop finely

( this steps provides the best flavor and texture for this dish).

Slice the peeled shallots into thin rounds.
Chop the thai red chillies into rings or thin strips.
Pluck the leaves of holy basil, rinse and set aside – whole.
Roll the Kaffir lime leaf into a tight cylinder and then proceed to chop finely.

Use only the prescribed amount. It has a very strong flavor and we do not want the dish over powered by it.

Heat oil in a wide, seasoned wok or pan.
Add the garlic and shallots first and stir till  the lovely aroma is released without going brown in the lightest.
Add the chicken and stir continuously on high heat JUST till all the chicken pieces turn evenly white

( no more pink to be seen).

Add the dark, thick soy sauce and continue to cook. Moisture will be released from the chicken. Continue to stir fry on high heat till this moisture is almost  completely evaporated.
Now add the fish sauce, oyster sauce and light soy sauce.
Continue to stir till the moisture is absorbed and the chicken is tender and cooked without going dry. There should still be a little moisture from the sauces.
Add the chopped lime leaves and the whole basil leaves. Stir to incorporate JUST till wilted. Do not overcook here.
 Remove the pan from the stove to stop the cooking process. The leaves will continue to wilt in the heat of the chicken.
Sprinkle over the white pepper powder and stir till incorporated.
Serve over steamed white rice (Thai Fragrant Rice) and a fried egg, sunny side up. Serve pickled Thai red and / or green chillies on the side.
Thai Basil Chicken Recipe
Try it and let us know – Thai Basil Chicken Recipe . What is  your favorite Thai Dish?
At no point should the chicken stick to the bottom of the pan. This is a quick dish. Stir almost continuously.
The chicken should be chopped into very small pieces as this is a quick stir fried dish. We want to ensure thorough cooking of the poultry.
Use a very good brand of fish sauce.
The dark soy sauce is thicker, sweeter and blacker in color as opposed to the light soy sauce which is thinner, salty and light in color.
If you can not find Thai Holy Basil, you can use sweet basil and a little mint combined for  good results as well. (See type of basil here)
Most of these ingredients are available at asian markets and speciality stores.