19 February, 2013
Thai Barbecued Chicken Wings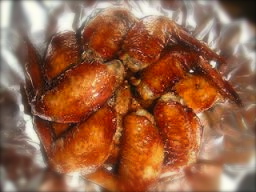 Thai Babecued Chicken Wings
A wonderful spring weekend. A picnic was planned for the next day and we had to bring potluck.
I had nothing in my fridge except a pack of frozen chicken wings and herbs. Reached into my kitchen drawer for a crumpled up old recipe off the local newspaper. "Oh well no time to think about it, Hope it turns out good!"  When we barbecued these at my daughters class picnic, the smell was driving the kids wild. Happy for having saved that recipe, I was delighted.
The smoky allure of a sizzling grill is very tempting and inviting indeed!  Thai Barbecued Chicken Wings is a  popular thai street  recipe. Great served with thai steamed sticky rice.

 Thai Barbecued Chicken Wings
Ingredients:
¾ kg chicken wings (small to medium sized wings)
1 tsp salt
¼ cup

Chopped lemon grass

8

cloves

garlic, sliced
½ tsp white pepper powder
¼ cup chopped corriander leaf/cilantro
1 tsp turmeric
1 Tbsp soy sauce
1 tsp brown sugar
Method:
Combine all the ingredients  and marinate the chicken wings overnight.
Barbecue over medium coals 5 – 7 minutes on each side or till cooked through
Thai Barbecued Chicken Wings  ARE READY
Enjoy
 Thai Barbecued Chicken Wings
Did you enjoy our Thai Barbecued Chicken Wings ?
You May Also Like: 
Read about the Top 10 Most Popular Thai Foods here