5 November, 2014
Teriyaki Salmon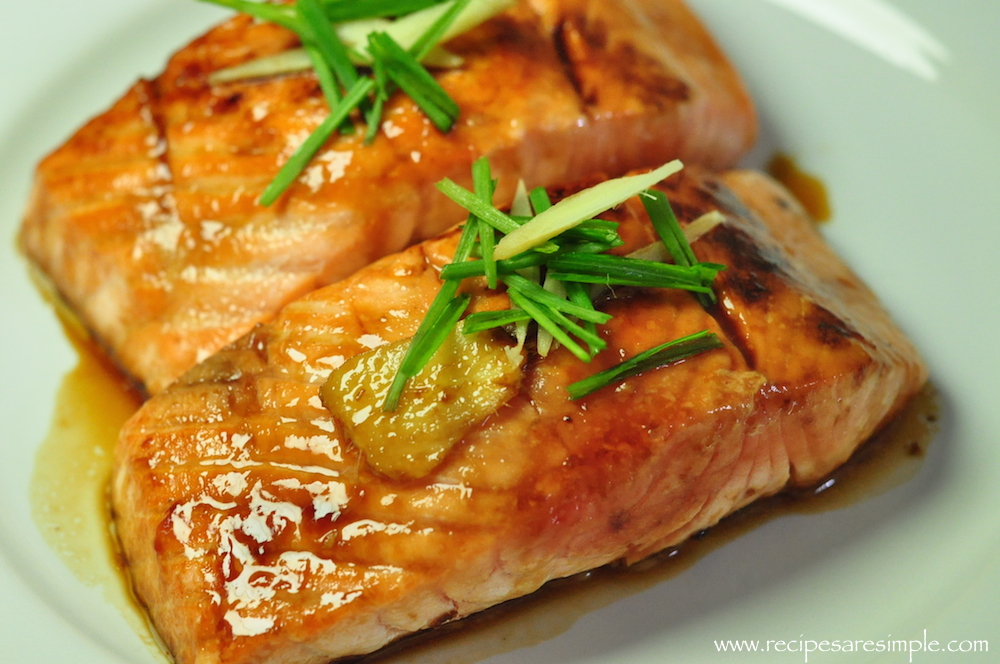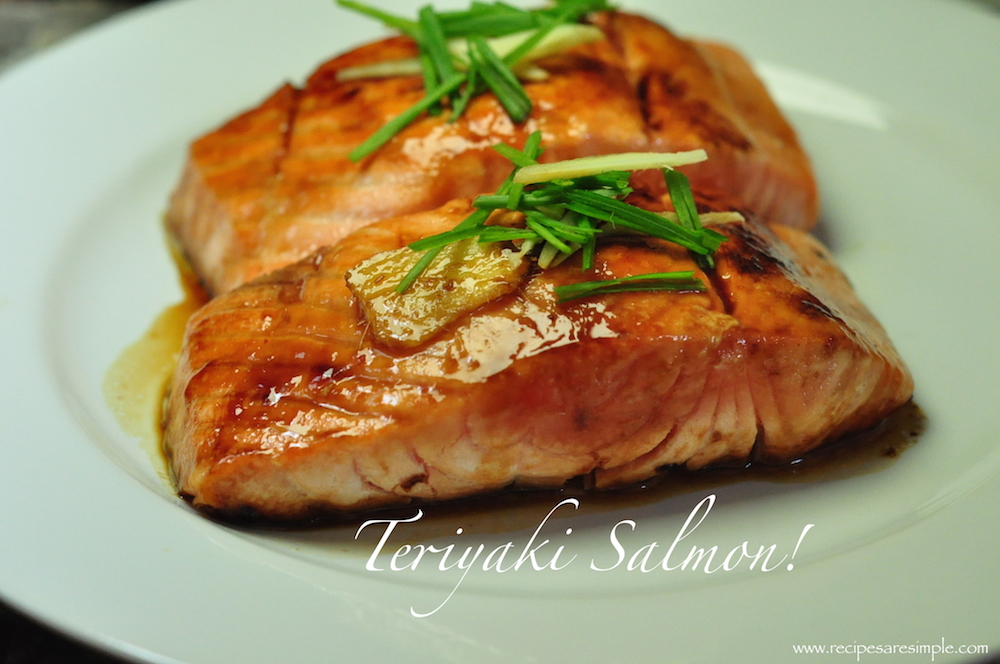 Teriyaki Salmon
  Salmon prepared the Teriyaki way is quite mouth watering and delicious.  It contains, Mirin and Sake  although in small quantities. I have reproduced the recipe without any of the alcohol, making it a non alcoholic Teriyaki Salmon.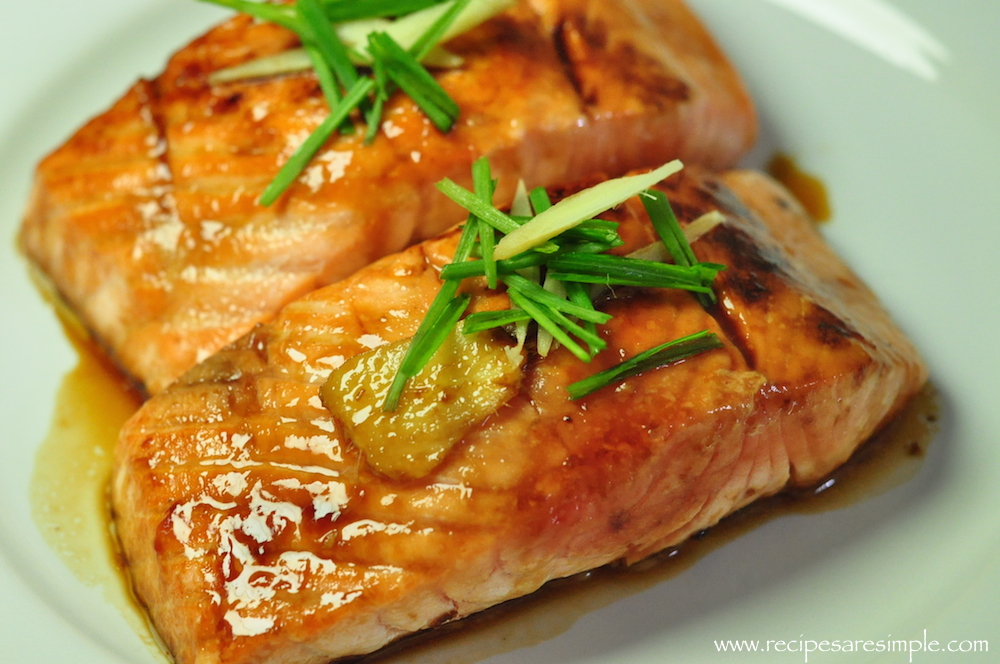 Teriyaki Salmon
Recipe Type: Fish / Seafood / Non alcoholic

Author: Recipes 'R' Simple

Prep time: 5

Cook time: 15

Total time: 20

Serves: 2-3
Ingredients for Non Alcoholic Teriyaki Salmon (original ingredients included):
2 salmon fillets, about 250 gms each
Marinade:
2 Tbsp Light Soy sauce ( no need for replacement)
1 ½ Tbsp Rice wine or Sake ( Replaced with

1  Tbsp Rice Vinegar

 + 

1 Tbsp white grape juice

)
1 Tbsp Mirin + 1 Tbsp Soba (Replaced with  

½ Tbsp ginger juice

– from squeezing freshly crushed ginger + 

½ Tbsp Lime juice

)
1 tsp hot asian chili sauce ( not sweet)
1 – 2 tsp sugar
1 tsp cornflour mixed in 1 Tbsp water
1 knob of ginger sliced into thin strips.
scallions, julienne
oil for greasing
salt to taste
Method:
Preheat oven to 200 ºc / 392ºF
Rinse and pat dry the Salmon fillets. Sprinkle with a little salt.
Whisk together all the ingredients under 'Marinade' in a saucepan ( except for the cornflour solution). Bring to a boil stirring and then allow to simmer briefly.
Place salmon on lightly greased grill pan, skin side down. Brush over the marinade from the saucepan a little at a time, while the salmon slowly gets cooked on a medium heat.
Once the salmon is cooked through to the centre, transfer the fillets to a foil lined oven proof dish. Press the slices of ginger onto the fish . and sprinkle the scallions over the top.
To the saucepan, add the cornflour solution and allow to thicken an bit on low heat. Pour this over the fillets in the oven proof dish.
Place on upper rack in the oven and set to broiler. ( Upper coil only).
Broil for 10 minutes, till top is lightly golden.
Enjoy.
Teriyaki Salmon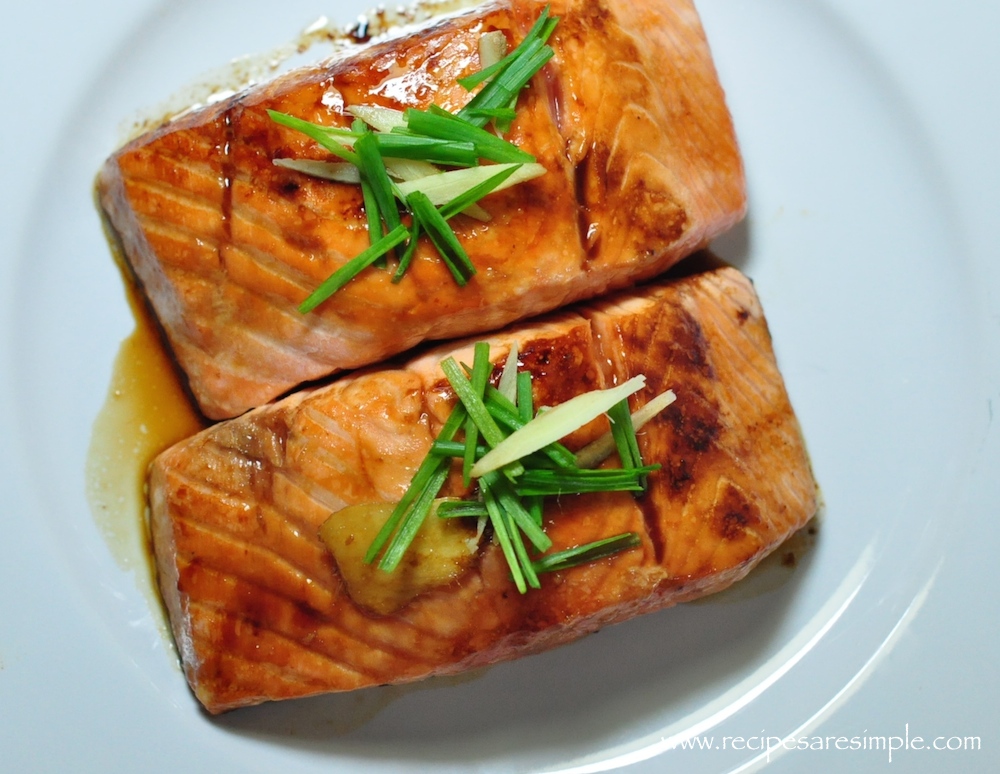 Try it and let us know – Teriyaki Salmon .