6 April, 2016
Tasty Vegetarian Quesadillas | Mushroom Baked Bean Quesadillas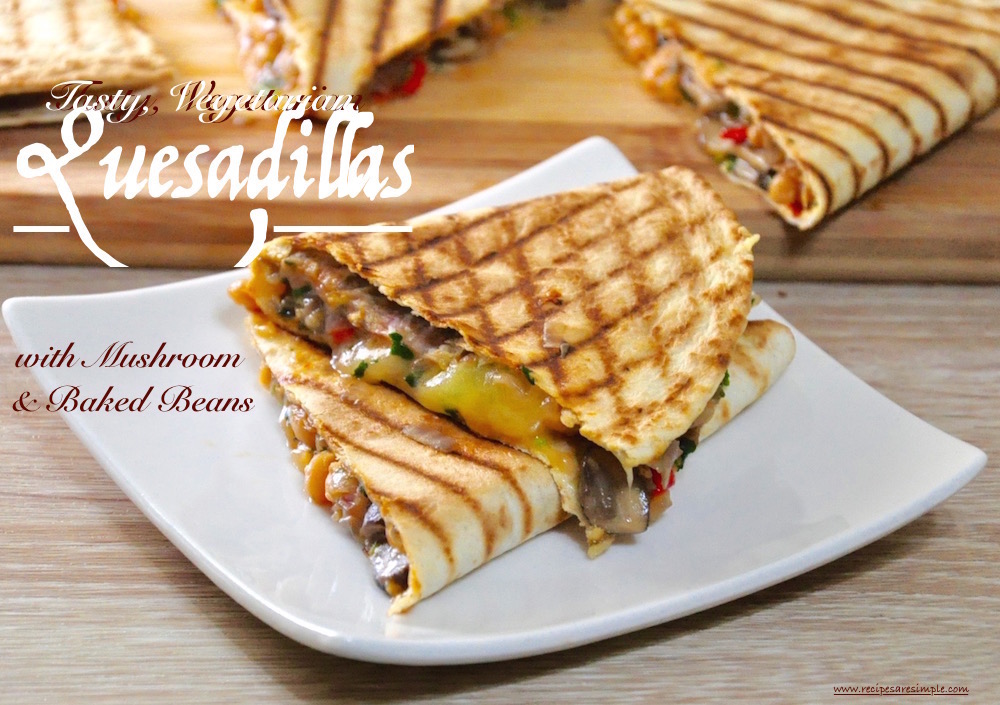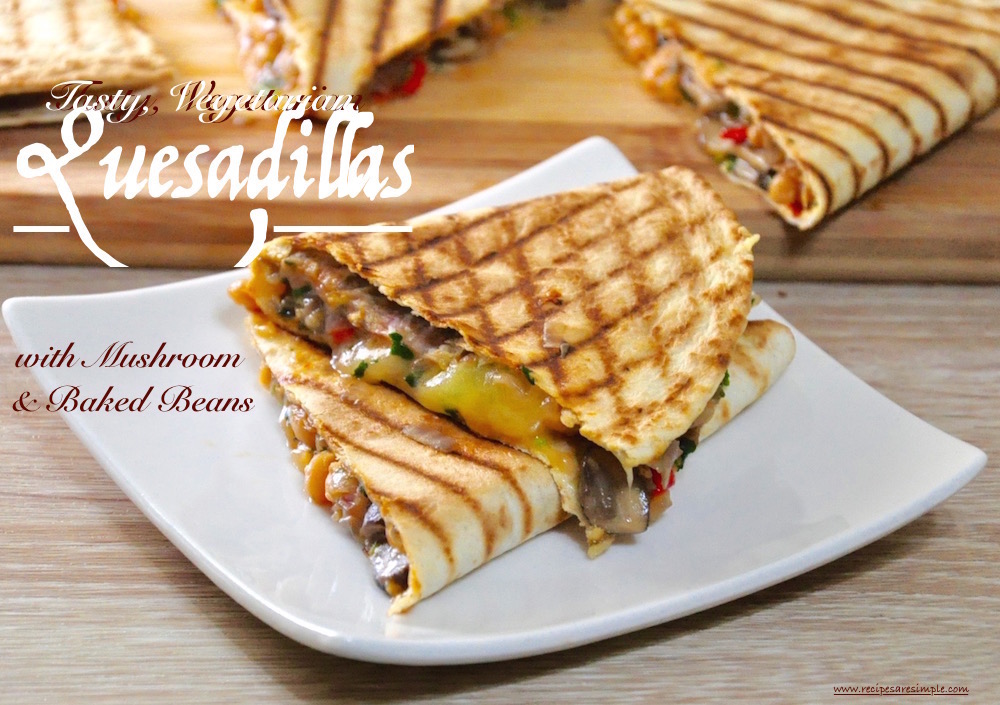 Tasty Vegetarian Quesadillas | Mushroom Baked Bean Quesadillas
These Vegetarian Quesadillas made with Sautéed Mushrooms and Baked Beans, are a 'quick to whip up' snack for anytime! Great way to get some protein on a Vegetarian Diet too. I make these for breakfast on lazy weekends. They are so tasty too!
Tasty Vegetarian Quesadillas | Mushroom Baked Bean Quesadillas
You are here: Home > Vegetarian  > Mushroom Baked Bean Quesadillas
 

Recipe Name: Tasty Vegetarian Quesadillas | Mushroom Baked Bean Quesadillas

Author: Shana c/o Recipes 'R' Simple
Ingredients:
4 flour tortillas medium sized
200 gms fresh swiss brown mushrooms

(makes 3 cups, when sliced)

2 medium red onions chopped finely

(makes 1 ½ cups, when chopped)

2 long and mild red chillies
½ cup chopped fresh cilantro / coriander

(loosely packed)

1 ¼ cups baked beans in tomato sauce (Heinz)
½ tsp mushroom seasoning powder

(optional)

¾ cup of grated cheese

(I like to use chopped up COLBY cheese for this recipe, you could use cheddar or your favorite cheese sliced, chopped up as well)

2 Tbsp Olive oil

plus extra for greasing the pan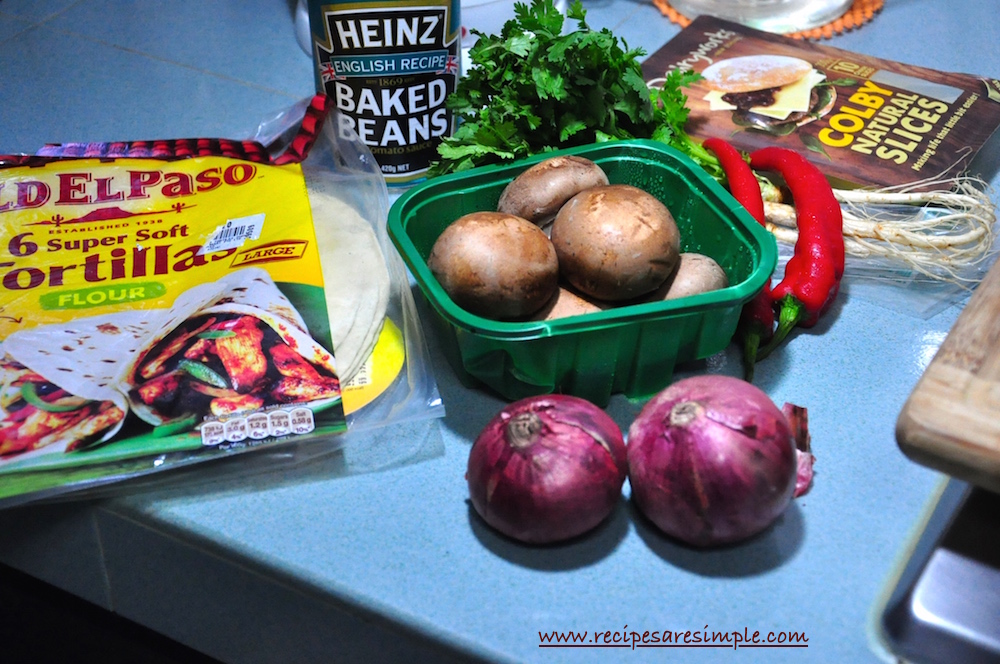 Method:
Twist and remove the stem from the mushroom. Slice thinly.
Chop the onions finely.
Chop the red chili too, de-seeding if you want to reduce heat.
Heat olive oil in a non-stick pan.
Add the onions and saute till softened and translucent.
Add the sliced mushrooms and stir to mix together with the onion.
Once mixed well, leave the mushrooms and onion undisturbed on low-medium heat for 2 minutes.
After two minutes you will see moisture from the mushrooms.
Now stir fry for another 2 minutes, till the onions turn light golden in color and the mushrooms are considerably reduced. (No crisping of the onions.
Add the chopped coriander and allow to cook down briefly.
Next, add the baked beans and chilli. Cook for  a minute more.
Cook till the beans are heated through and lightly mashed into the sautéed ingredients.
Remove the pan from heat.
Place a grill pan on heat now and lightly grease with olive oil.
Place one tortilla at a time.
Place a fourth (¼th) of the filling over one half of the tortilla and spread gently.
Sprinkle the chopped or grated cheese evenly over the top.
By now, the bottom side of the tortilla must have developed nice grill marks. (Avoid high heat to prevent burning of the tortilla).
Fold the tortilla over the filling to make a half circle.
Press gently to seal the quesadilla with the melting cheese.
Don't press too hard that the filling oozes out.
Once the cheese has melted, flip the quesadilla and toast the other side.
Toast till the outside in nice and crisp, without burning.

(It should sound crispy upon tapping with your fingernail.)

Cut each quesadilla into 3 wedges and serve hot and crisp!
Tasty Vegetarian Quesadillas | Mushroom Baked Bean Quesadillas
If you do not have a grill pan, you can use a regular non stick pan, you just won't get those lovely grill marks. Still good.
Don't like Mushroom? Try mixed bell peppers, diced or Spinach as well.
Key Ingredients: Mushroom, Baked beans, Onion, Coriander, Tortillas, Cheese,Olive oil.
Leave a comment if you tried – Tasty Vegetarian Quesadillas | Mushroom Baked Bean Quesadillas.