19 June, 2015
Tasty Vegetable Samosa – Potato and Peas Filling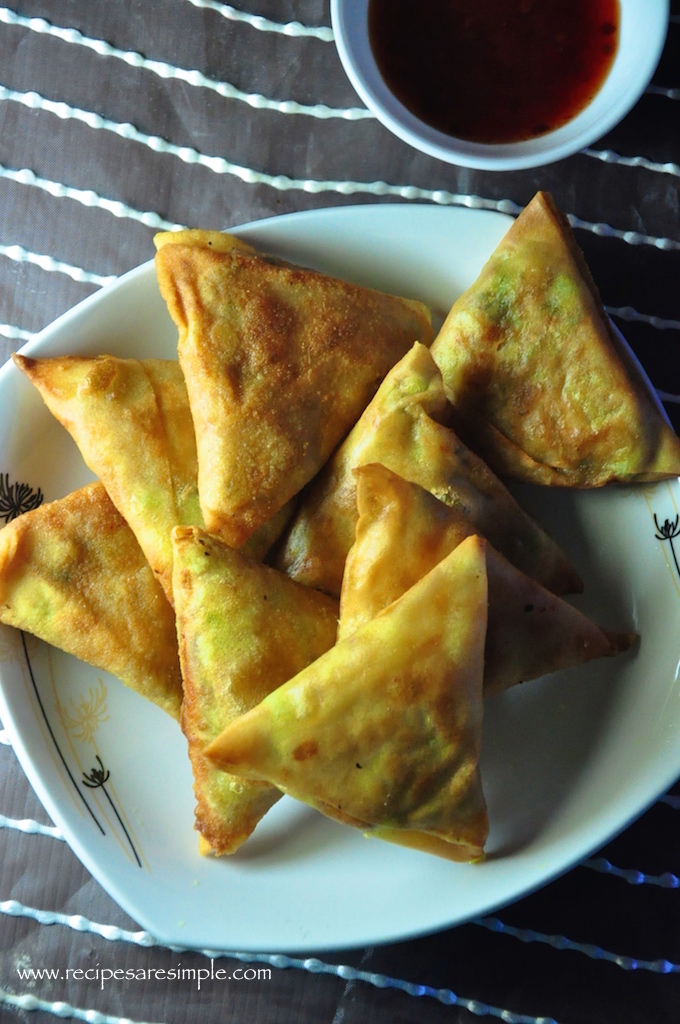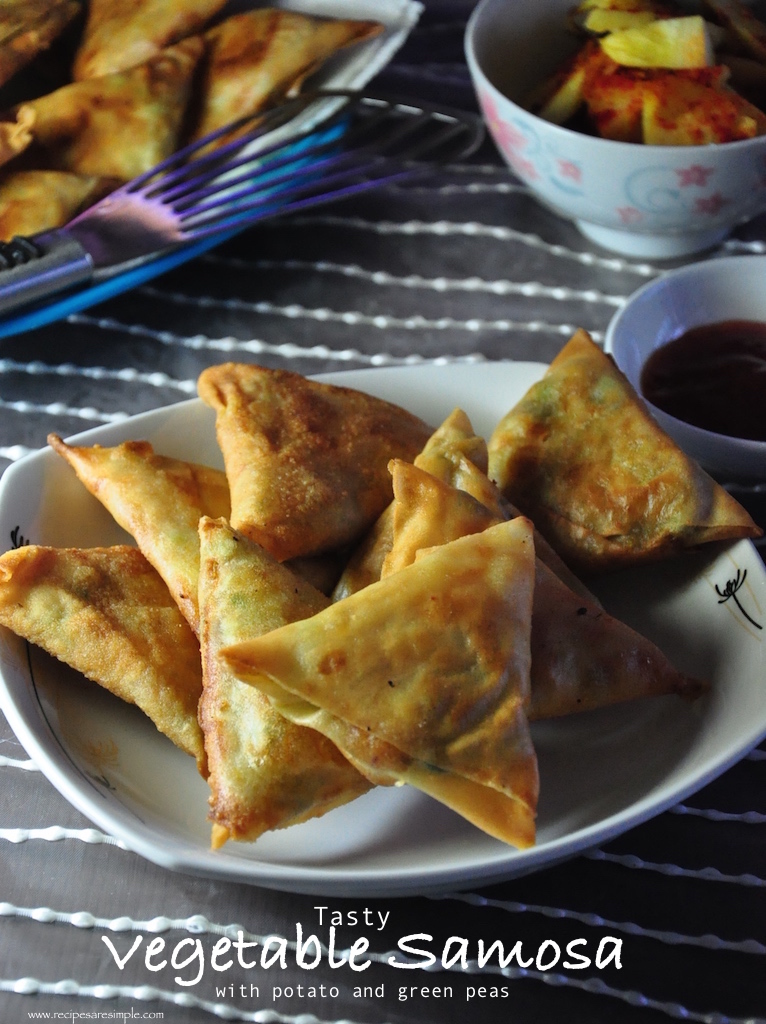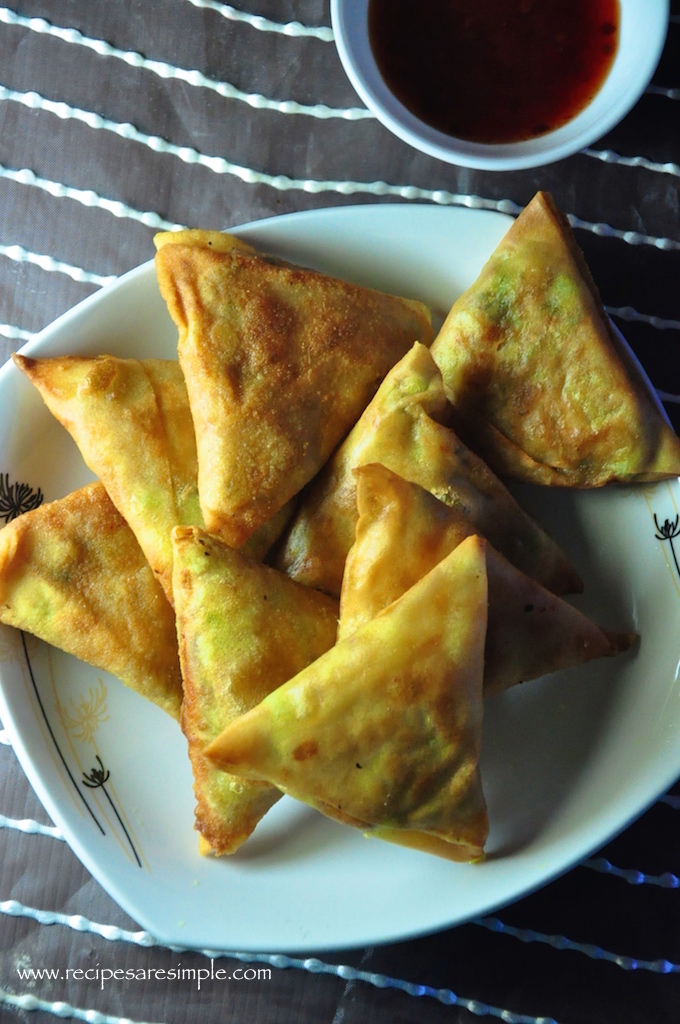 Tasty Vegetable Samosa – Potato and Peas Filling
This is a very simple but tasty Vegetable Samosa Recipe. The 'no nonsense' potato and green peas filling is lightly flavored with curry spices. So yummy, hot and crispy and just lightly spiced. Even chicken and meat lovers, will help themselves again to these vegetable samosas happily. They are made using readymader samosa wrappers that can be found in the freezer section of your supermarket. If you can not find samosa wrappers, buy the smaller sized spring roll wrappers. I will add a post on home made samosa pastry some time too.
These samosas are very popular in Singapore and Malaysia during Ramadan as well.The key to a good samosa, using these thin wrappers / shells is not to overstuff them, while making sure they are evenly filled.
You are here: Home > Snacks&Savories  > Tasty Vegetable Samosa - Potato and Peas Filling
 

Recipe Name: Tasty Vegetable Samosa – Potato and Peas Filling

Recipe Type: Snacks / Vegetarian

Author: Shana c/o Recipes 'R' Simple

Yield: 30 samosa, approximately
Tasty Vegetable Samosa – Potato and Peas Filling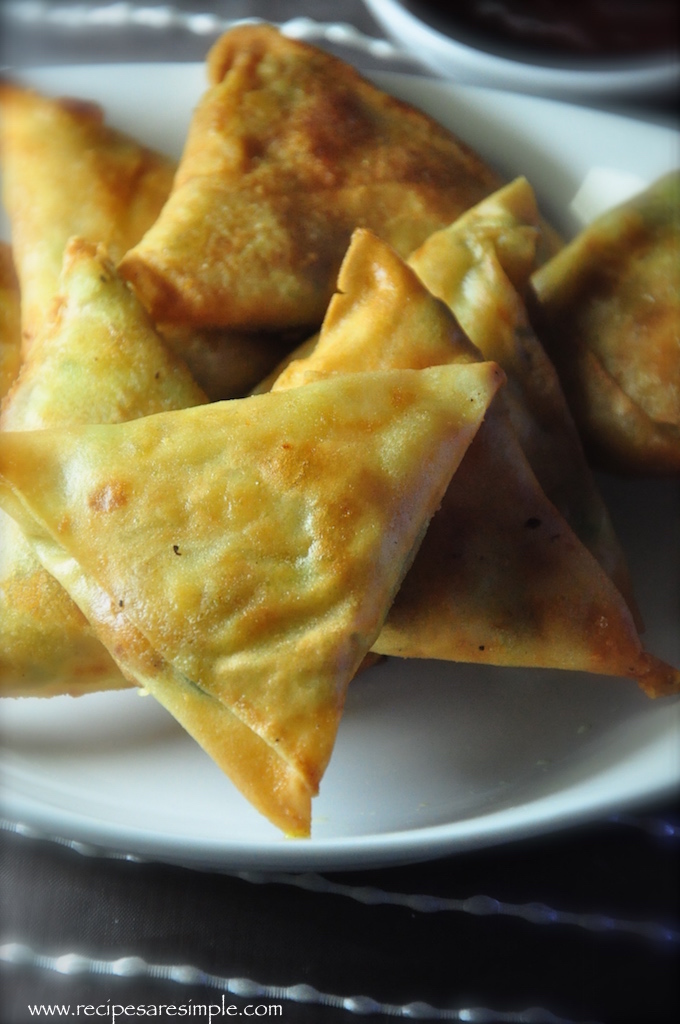 Ingredients:
600 gms potatoes –

I use US Russet potatoes

200 gms frozen green peas
3 Tbsp oil
1 ¼ Tbsp thick coconut cream
3 Tbsp coriander /cilantro, finely chopped
1 packet samosa wrappers or spring roll wrapper / shells (frozen)
1 Tbsp flour mixed in water to make a loose 'glue'
Oil for shallow frying
To be ground:
3 dried chillies,

the shriveled milder variety (kashmir)

7-8 shallots
4 large cloves garlic
3 tsp ginger
¼ tsp cumin
½ tsp green fennel / aniseed / saunf
½ – ¾ tsp salt (to taste)
Spice powders:
1 ¼ Tbsp coriander powder
¼ Tbsp turmeric
½ tsp chili powder
¼ tsp pepper powder



Method:
Soak the dried chillies in boiled water for 30 minutes.
Take out the samosa pastry from the freezer and set the timer to defrost it.

(Not more than indicated on package, about 40 minutes).

Boil the potatoes till tender and mash-able but not completely mashed. You should be able to dice them.
Dice the potatoes.
Heat the frozen green peas in microwave to defrost

or

 place in hot water till thawed. Keep drained to remove moisture.
Remove the soaked dried chiles and squeeze gently.
Add the soaked dried red chillies, shallots, garlic and ginger cumin and green fennel to a small mixer/grinder.
Grind without adding water to a smooth paste.
Heat oil in a wide, non stick pan/wok.
Add the ground paste and fry till fragrant, stirring continuously so that it doesn't stick or burn.
Add the spice powders and fry briefly till aromatic again, sprinkling a little water to prevent scorching of the spices.
When the oil separates, add the diced potato. Also add salt to taste.
Toss gently to coat evenly with the ground paste.
Add the thick coconut cream and mix gently. This adds depth of flavor and scent.
Next stir in the drained green peas and chopped coriander. Toss gently to mix.
Place the filling in the fridge for 30 minutes to cool as well as absorb all the curry/masala flavor.
Prepare the flour  'glue'  : Mix plain flour and water  to make a loose white glue.
Remove the samosa/springroll wrappers from the packaging and place on a tray/plate. Cover with a slightly dampened cloth, to prevent drying out.

The cloth should not be too wet.

Here, I show you the steps fold and fill the samosa pastry, step by step.

These samosas ca be frozen now for future use. Place in a tray lines with wax/ baking paper and place a single layer. Cover with another layer of waxed paper and repeat. Once frozen, the samosas can be packed together in a plastic, food bag.
If you plan on using some right away, I still recommend freezing for at least half an hour.  They come out crisper without any tearing this way.
To Fry: Heat oil for shallow frying in a frying pan. There should be just and inch or inch and a half of oil.
As the oil heats up and before it is too hot, add one layer of samosa.
Turn heat down to low-medium and fry till golden and crisp on one side.
Flip gently and fry the other side. Make sure heat is not so high that the shell turns dark  before the inside is heated through.
Drain on kitchen paper towel.
Serve with Ketchup etc.  My favorite is Thai sweet chili sauce.
Tasty Vegetable Samosa – Potato and Peas Filling
When defrosting the pastry, make sure not to thaw for more than 45 minutes, if too much moisture developed, the sheets will be difficult to separate.
When frying the gourd paste or spices, make sure that at no point does the paste burn to the bottom. Keep stirring adjusting heat and add a few drops of water. Scorched masala will ruin the taste.
If you don't have coconut cream you can use 1 Tbsp of thick coconut milk instead, make sure it gets absorbed by the potatoes.
Seal each samosa with the flour glue as and when they are made. Don't  wait till the whole batch is ready to glue them, the extended portion will dry out and become brittle.
Try to keep the corners tight while folding. Tiny gaps are okay.
Use spring roll wrappers only if you can not find the samosa wrappers. If you do, cut the wrapper in half to make a rectangle similar to samosa wrapper and follow the same steps. The samosa will be smaller. Do not overlap the entire spring roll wrapper, it tends to be heavier and causes darkening.
Key Ingredients: Potatoes, Peas, Shallots, Ginger, Garlic, Spices, Oil, Coconut Cream, Coriander Leaves, Spring Roll Ready Made Pastry
Let me know if you tried the – Tasty Vegetable Samosa – Potato and Peas Filling . Comments from you provide motivation to keep up the driving force behind this blog, bringing you more delicious and perfected recipes regularly. Please do leave a comment. Love hearing from you.