3 January, 2015
Tasty Prawns Fry – Fried Shrimp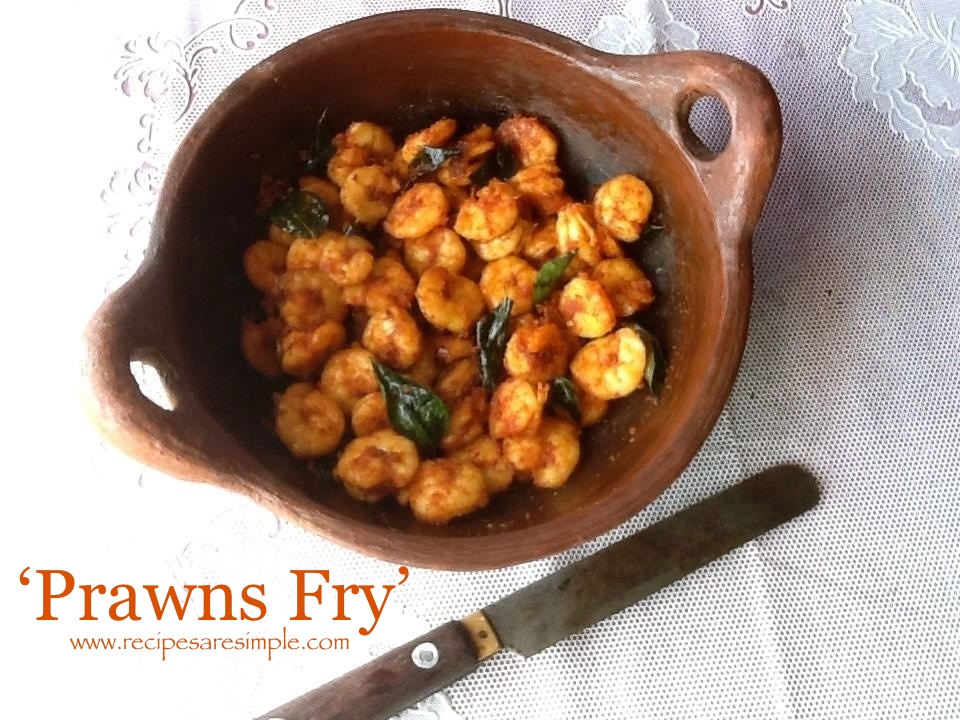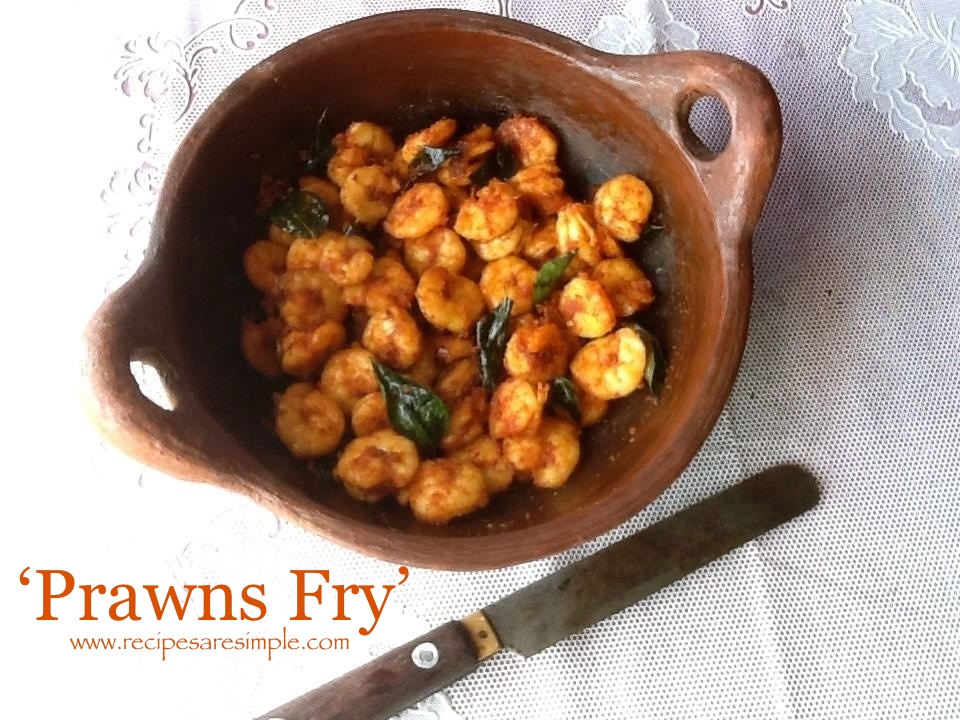 Tasty Prawns Fry – Fried Shrimp Recipe
Who doesn't get tempted by a platter full of delicious fried prawns? My kids often fight over who got more. Who am I kidding? I used to be the same before motherhood took its toll. 😉
This recipe is quite simple. It involves cooking the shrimp with spices prior to frying them to a perfect 'crisp on the outside, succulent on the inside' type of finish! You really get the flavor of the prawns, enhanced particularly by the fresh ginger. Yumm.. I want to make some more!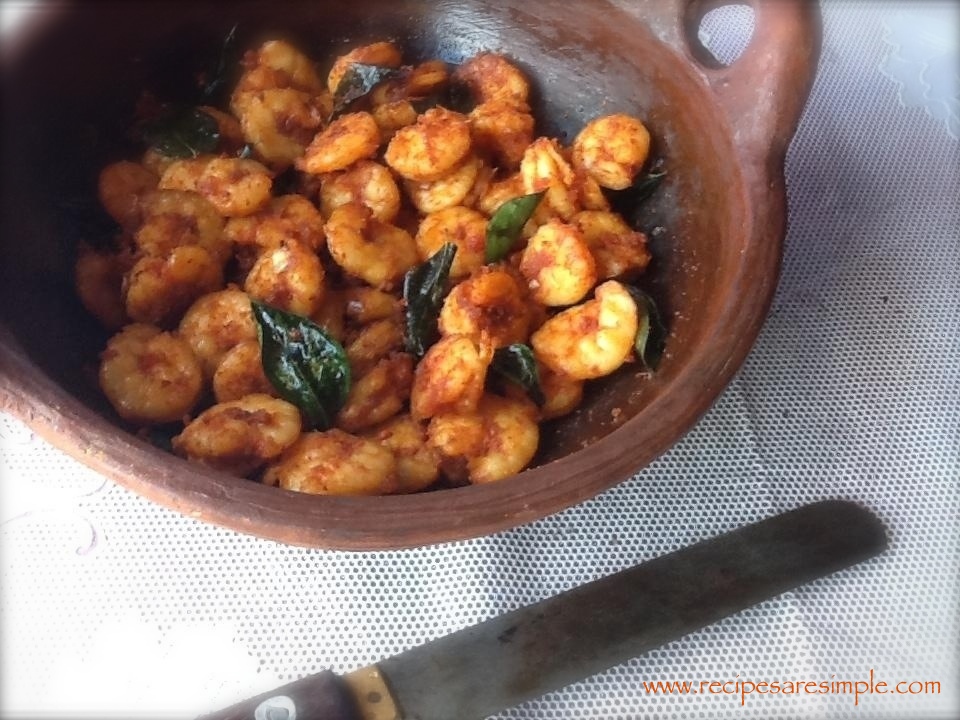 Tasty Prawns Fry – Fried Shrimp
Recipe Type: Fish & Seafood

Author: Recipes 'R' Simple

Prep time: 20

Cook time: 20

Total time: 40

Serves: 6
Ingredients:
½ kg prawns  / shrimp

– small to medium size is best

¼ tsp turmeric powder
1 tsp plus 1 tsp kashmir chilli powder ( divided)
1 Tbsp plus 1 tsp ginger – crushed
4 shallots, sliced
2 tsp garlic,

crushed / minced

handful of curry leaves
salt to taste

– ¾ tsp or so

3 Tbsp Sunflower oil Or Coconut Oil
Method:
Peel, clean and devein the prawns. Rinse once and drain.
Add to an earthen pot ( preferred), along with salt, turmeric powder, 1 tsp of the

chili powde

r and 1 Tbsp of the

crushed ginger.

Rub all the ingredients into the prawns, thoroughly and allow to sit for 10 minutes.
Meanwhile slice the onions and crush the garlic.
Add couple of Tbsp of water ( no more) to the marinated prawns and heat on medium flame.
Stir occasionally with a wooden spoon till the juices in the prawn come out and cook till all the liquid is absorbed and the prawns are cooked tender.
Heat oil in a small wok.
Add the  sliced shallots and the crushed garlic. Saute till  both are softened and add the cooked prawns.
Toss well and fry on a low heat till the garlic and onions blend in with the prawns. Fry a couple of minutes.
Add the remaining chili powder, crushed ginger and curry leaves and continue to fry till the ginger looses its raw smell, the curry leaves are fried and the shrimp is slightly crisp on the sides. 1- 2 minutes more. 

( Do not over fry or your shrimp will get tough)
Tasty Prawns Fry – Fried Shrimp
Try it and let us know – Tasty Prawns Fry – Fried Shrimp .
Fried crab and mussels can be prepared in the same way.
Adding some of the chili powder and ginger last, enhances flavor and color. Make sure the raw aroma of ginger dissipates completely upon frying.
Cooking the prawns in an earthen pot seals the flavor more perfectly than with an ordinary pot or non stick pan.
Do not omit the curry leaves. (  This magic leaf sure does a whole lot of giving, for something that just gets removed to the side of your plate hunh? )
This dish can be prepared all the way up to the frying part, ahead of time and kept in the fridge in tupperware. When needed all you have to do is fry with the chili powder, ginger and curry leaves. Easy when planning for guests.