20 February, 2015
Tasty Home Made Chicken Nuggets in less than 30 Minutes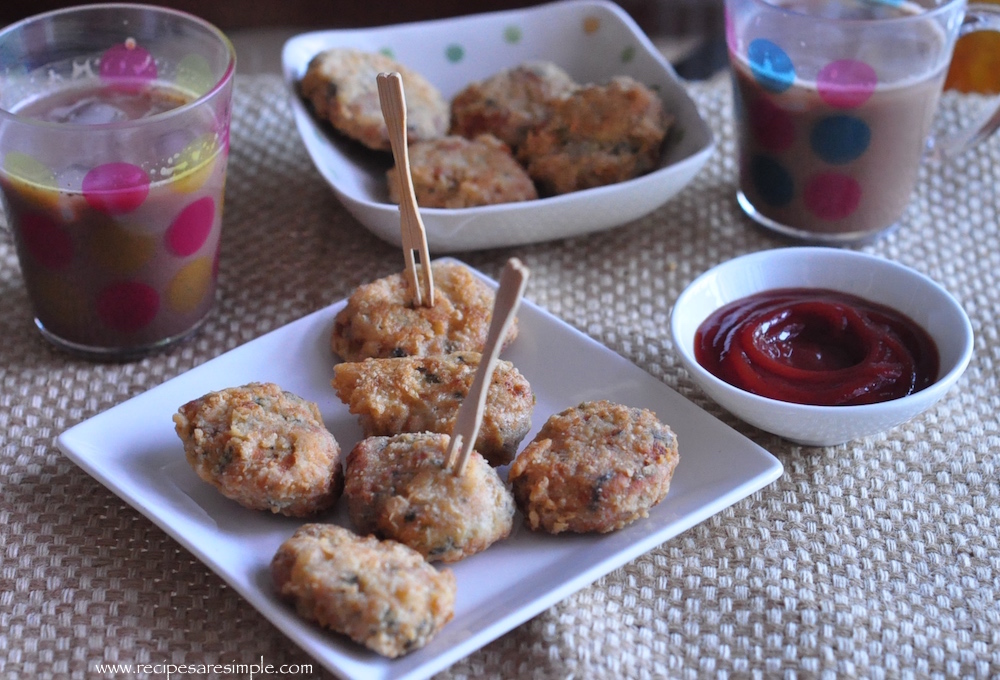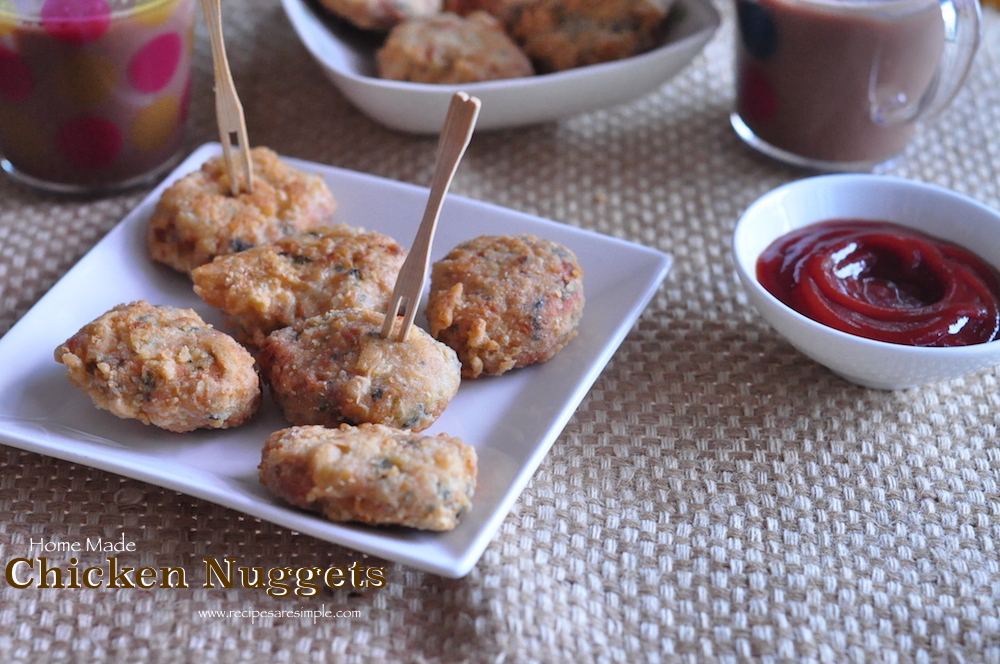 Home Made Chicken Nuggets
Tasty Chicken Nuggets does not have to be a big bag of Frozen 'Unknowns'. These Home Made Chicken Nuggets are something you can serve with pride.
How many of us stock up on those frozen bags of chicken nuggets? They seem so quick and convenient don't they? But only the manufacturers know what on gods earth goes into these tea time favorites! We don't use suspicious ingredients when we cook our meals, do we? So why do we buy them when they come in pre – packaged form? This remains one of the unsolved mysteries of the modern day grocery list!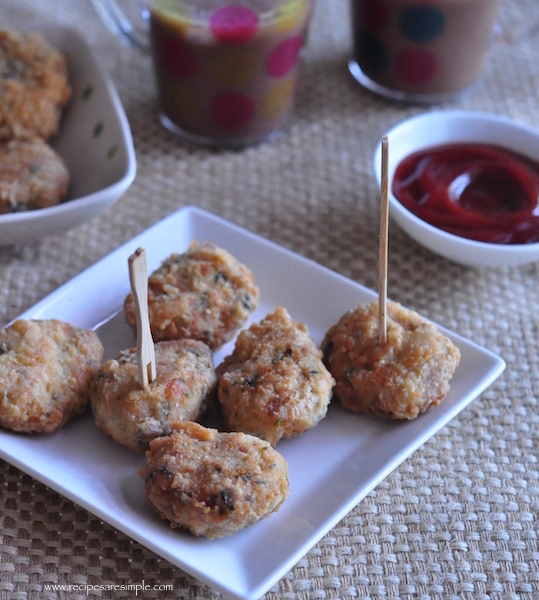 You are here: Home > Chicken  > Chicken Nuggets
 

Recipe Name: Home Made Chicken Nuggets

Author: Shana @ Recipes 'R' Simple

Yield: 10 Chicken Nuggets

Home Made Chicken Nuggets
Ingredients:
200 gms boneless chicken fillet / tenders
2 shallots
2 cloves garlic
2 Tbsp diced celery stick
1 Tbsp fresh parsley
1 Tbsp bread crumbs
¾ tsp salt
½ tsp black pepper
½ tsp paprika
½ tsp butter, softened
½ tsp freshly squeezed lime/lemon juice
For the crumb:
½ cup plain whole meal flour
1 Tbsp bread crumbs/ panko
¹/3 tsp salt
¹/3 tsp pepper
Other:
Egg white  or whole egg, for binding and oil for shallow frying.

I use Soybean oil for Nuggets.
Method:
Rinse and drain the chicken. Cut into small pieces.
Add to a small food processor along with all the other ingredients, except for the oil, egg and crumb ingredients. Mix till all ingredients are blended and the chicken is minced.

You could also use pre minced chicken and grind all other ingredients together and mix in.

Put the seasoned mince into a bowl. Mix again gently with hands.
Shape into 10 nuggets of desired shape. I like to do this on  wax paper.
Beat the egg lightly in a small bowl.

Use egg white only if you do not want any smell of egg.

Mix the flour, bread crumbs, salt and pepper in a plate with a fork to distribute evenly.
Dip the nuggets into the flour plate and coat both sides lightly.
Place on a wire rack. Allow to sit a few minutes.

This helps the flour coating to absorb the egg/ moisture. It keeps the flour from burning and enhances color of nuggets.

Heat oil in a skillet/ pan.

The oil should be hot, but not smoking hot.

Add the nuggets to the pan and leave undisturbed for a minute on medium heat.
Flip over once the bottom is golden. Cook the second side as well.

Do not over fry as the chicken will dry out, rendering the nuggets lifeless!

Drain on Kitchen Paper. Always check one nugget for doneness before serving.
Home Made Chicken Nuggets
If you want to omit the eggs, do so buy making a solution of cornflour mixed in a little water to make a runny consistency. Dip the nuggets in this to create a binding agent.
When mixing the chicken with the other ingredients, it is very important that you do not over mix. Mix gently with hands and form into nuggets without pressing the mince too tightly.
Key Ingredients: Chicken, Bread, Flour, Shallots, Garlic, Celery, Parsley, spices, lime, butter, Oil
Let us know if you tried it – Home Made Chicken Nuggets . Comments from you provide motivation to keep up the driving force behind this blog, bringing you more delicious and perfected recipes regularly. Please do leave a comment. We love to hear from you.