26 December, 2013
Chicken Shawarma Recipe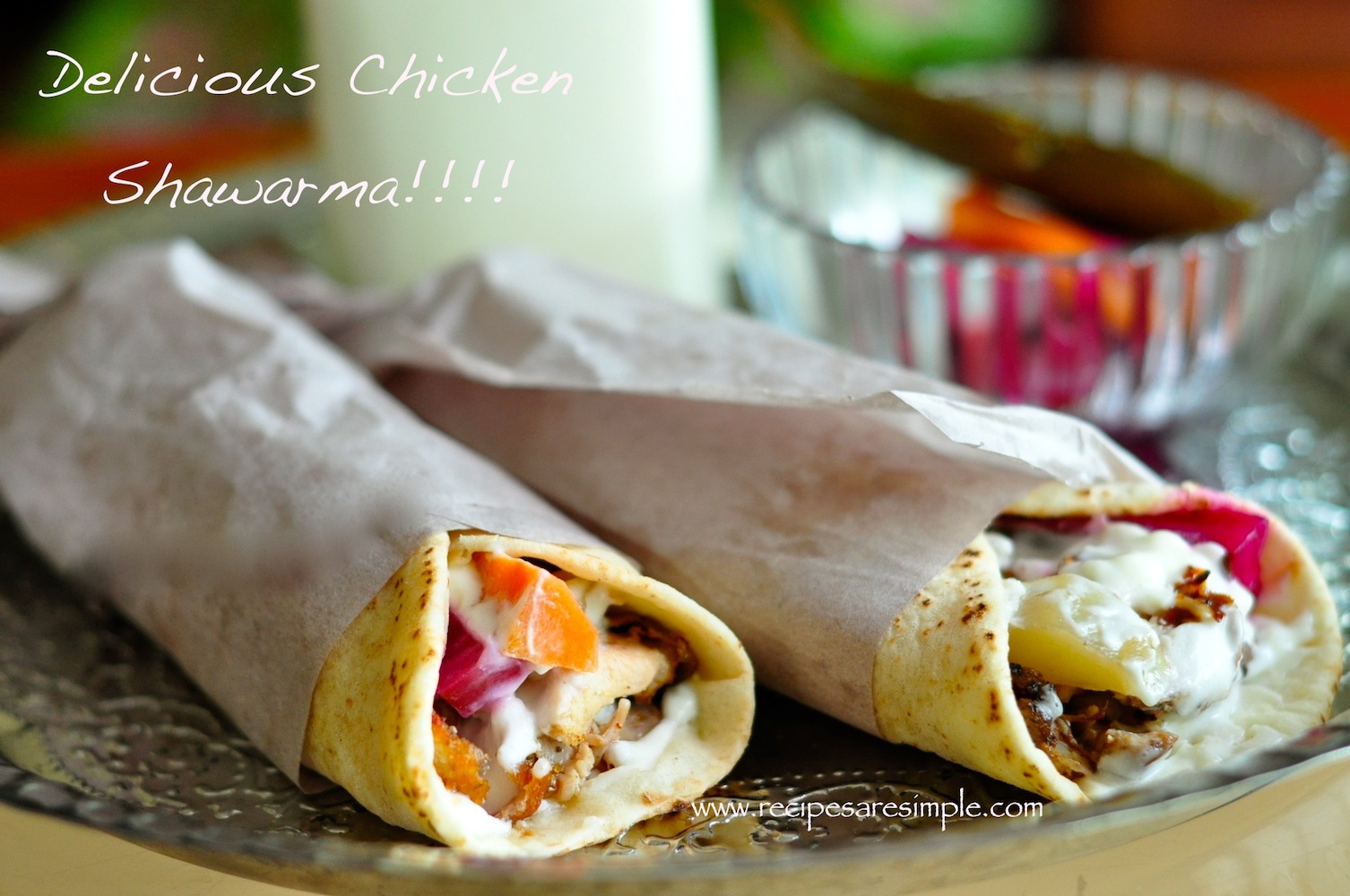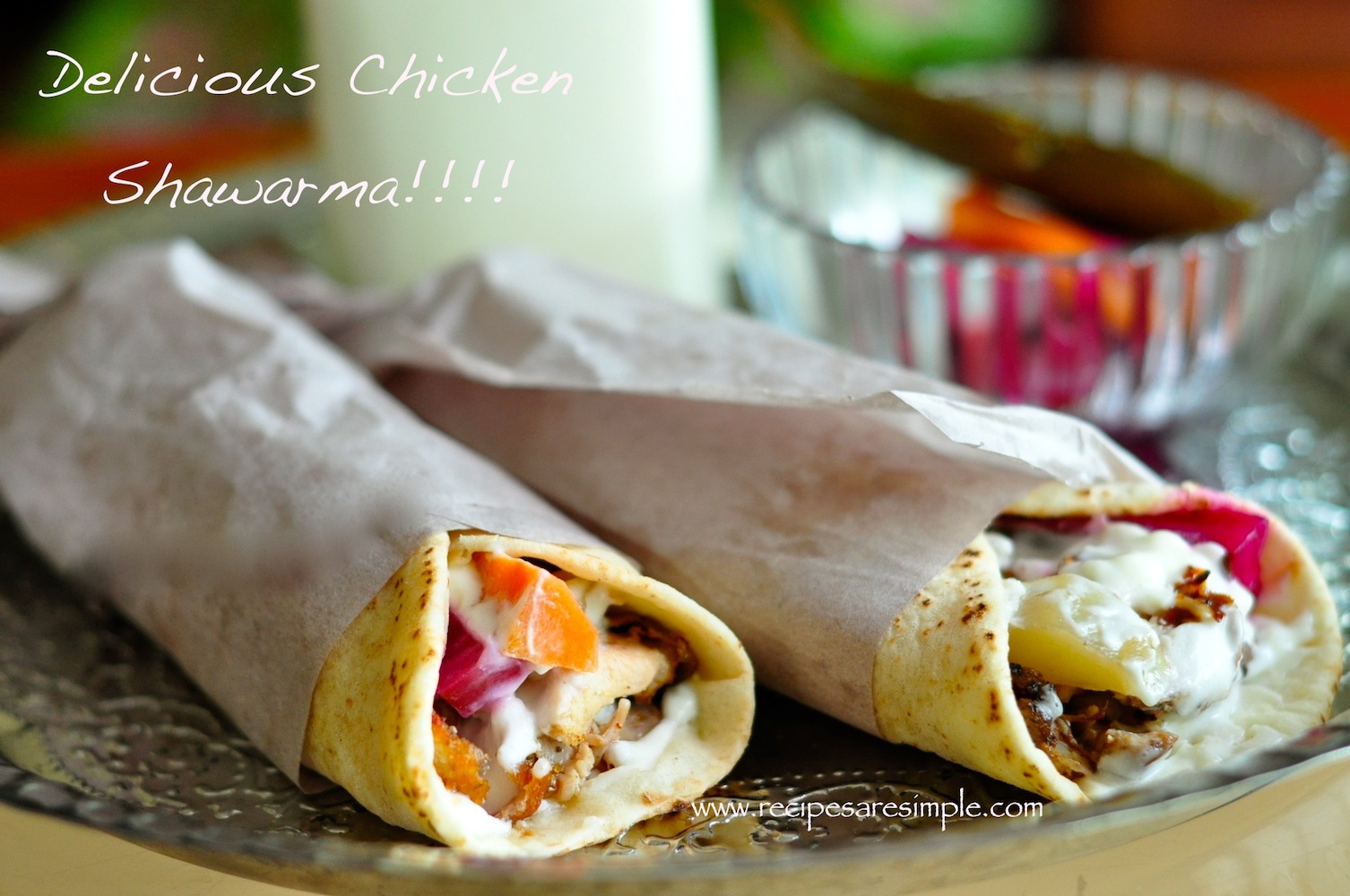 Chicken Shawarma Recipe 
If you ask me to choose a favorite food, I would probably instantly say, "Shawarma". There is nothing I don't love about this Tasty Lebanese Wrap!  I used to have my favorite stall growing up where my Dad would buy these yummy parcels.
Sadly, I found that Shawarma is not available in many parts of the world. I had to recreate that taste that I loved so much. I make both Beef and Chicken Shawarma. Today I am sharing my Chicken Shawarma Recipe here with you. It's delicious!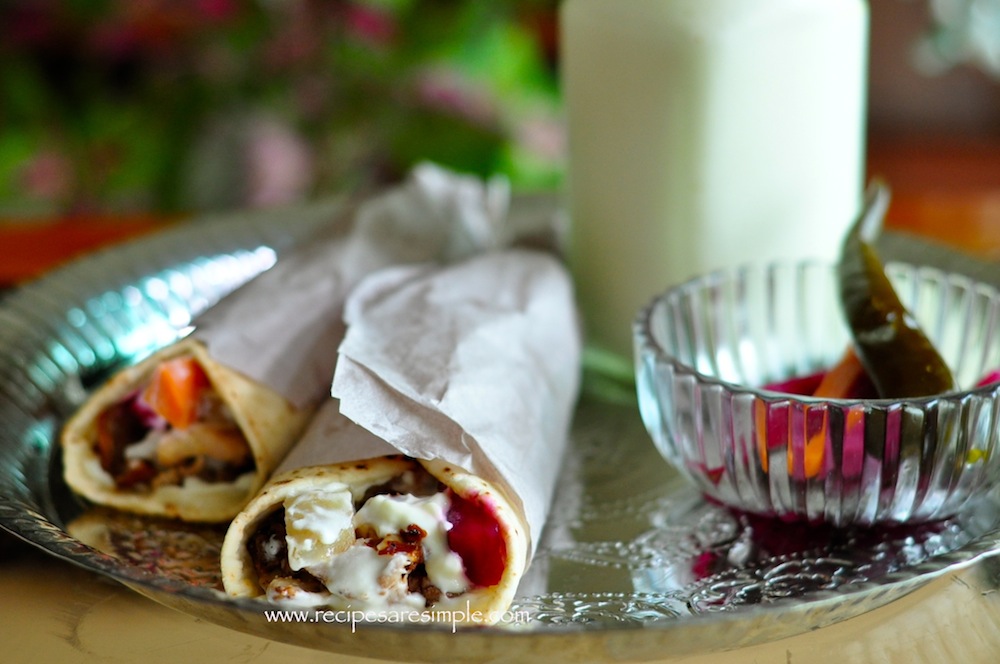 Chicken Shawarma Recipe 
Ingredients:  for about 12 servings
6 chicken breasts  or same amount leg and thigh meat which is more tender
For Marinade:
6 cloves garlic, minced/mashed
juice of 2 lemons
¼ cup olive oil
3 bay leaves, broken
1 tsp paprika or mild chili powder
1 tsp ground cinnamon
1 tsp ground nutmeg
1 tsp allspice
2 tsp cardamom
½ tsp cloves
salt to taste
Garlic Sauce:  makes 2 cups- store in fridge
1 small bulb or half a bulb of garlic
2 cups of vegetable oil ( sunflower/peanut / canola etc)
salt to taste
2 Tbsp lemon juice or to taste ( at room temperature).
Other:
¼ tsp sumac if available
Khubz –

See Recipe

Lebanese Pickle –

See Recipe

Large French Fries – Baked or fried
Tomatoes – sliced into wedges
Parsley
Method:
For Garlic Sauce: Good with grilled meat and wraps, especially chicken.
Use a sterile, dry blender.
Crush the garlic with some salt using a pestle and mortar.
Add to the dry blender.
Run the blender and add the oil in a steady VERY thin stream. Add half a cup at a time. Wait for a few seconds and add ½ TEASPOON lime juice and run till it is absorbed by the oil. Then repeat – ½ cup of oil followed by lime juice wait a few seconds before adding the next portion each time. Also scrape sown the blender each time.
The sauce will emulsify into a thickened cream.
It is very important that the alric is crushed to a paste to begin with. Also the oil must be added in a thread like thin stream. Otherwise the sauce will not emulsify into a thickened cream and will be an oily mess!  Also wait each time after adding lemon to add the remaining oil.
The Shawarma:
Combine all the Ingredients for marinade and rub well into the chicken. Marinate at least 3 hours or overnight.
Grill the chicken indoor or outdoor till tender and cover  tightly with foil for 30 minutes to rest. (Use the barbecue, indoor grill pan or I like to use my oven on broiler setting).
Cut into thin strips. Sprinkle some sumac over the chicken while hot.
Reheat each pita bread for 5 seconds.
Slather some 'Toum' /Garlic sauce over the Khubz/Pita bread.  Place some chicken through the centre, top with three wedges of tomato, some parsley, 2 pieces of pickle, 3-4 fries and then add a little more sauce.
Wrap with  Parchment Paper and serve.
Tastiest Chicken Shawarma Recipe 
Did you enjoy our Tastiest Chicken Shawarma Recipe 
Keeping the skin on the chicken, while marinating and grilling, ensures a moist, succulent chicken. You can remove it after grilling.
I like to make my 'Toum' and Khubz the day ahead. It makes life easier!
Some people add egg white to their Toum but this is not the traditional method.
You can keep garlic in the freezer for a day and peel immediately and make, this mellows the flavor of garlic.
Also once you keep the sauce in the fridge for 2-3 days the garlic burn is reduced.