23 September, 2013
Tandoori Chicken Recipe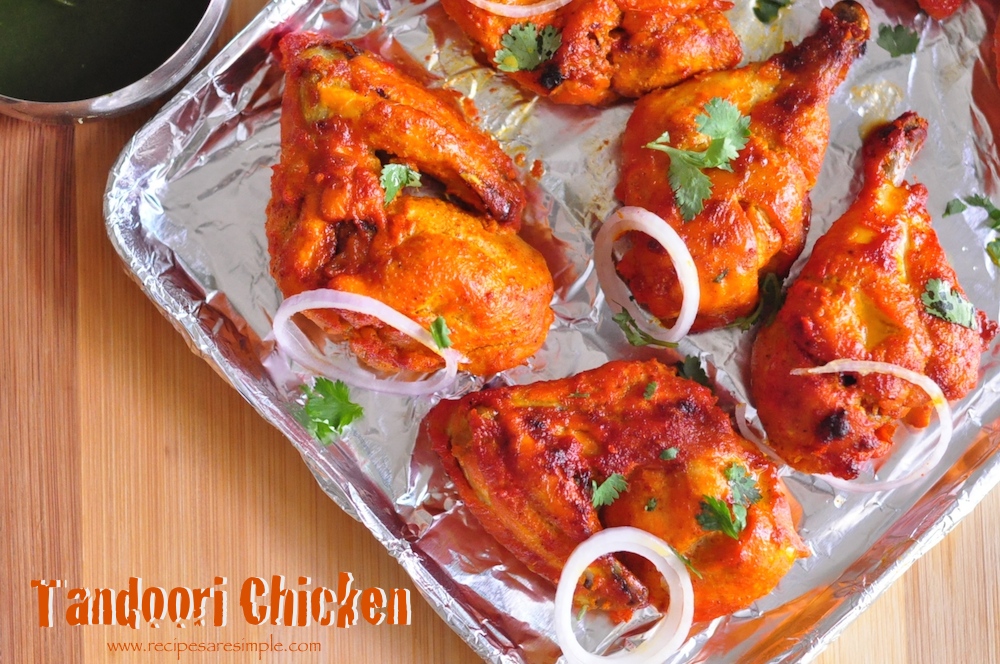 Tandoori Chicken Recipe WITH VIDEO

Indian Tandoor is renowned far and wide for the intense flavor, aroma and melting quality of the meat.

Tandoori Chicken is most succulent preparation of Grilled Chicken by Far. Here's a fail proof Tandoori Chicken Recipe.  An easy guide on how to make Restaurant Style Tandoori Chicken, just as deliciously at home. Quite a regular in our household.

Scroll down for Tandoori Chicken Recipe Video.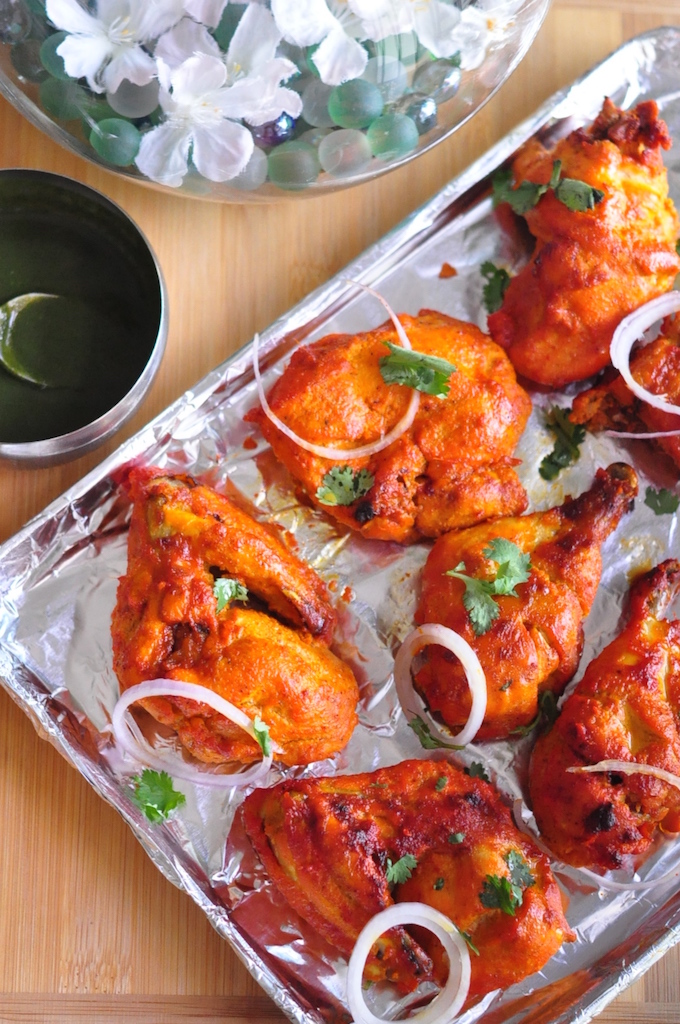 I often make Chicken Tikka or Tandoori Chicken with Home Made Naan  and there's never any left over! BTW, do you know which SuperSTAR Bollywood Actor says that Tandoori Chicken is his favorite food???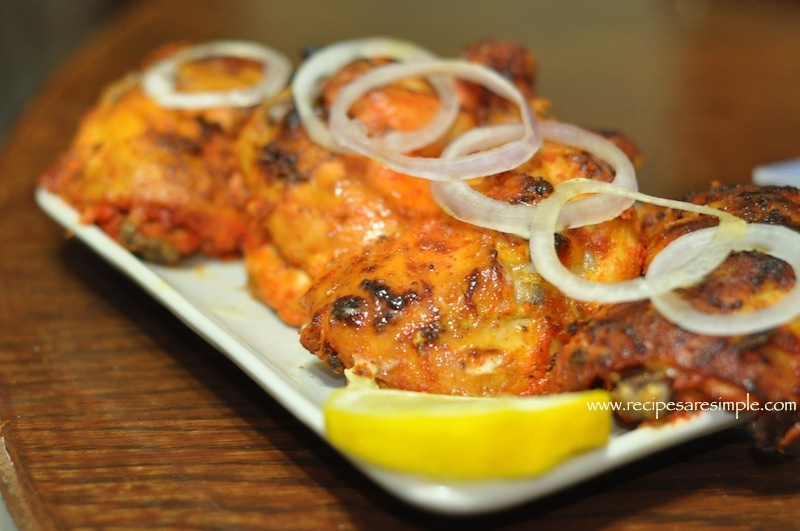 I have also included recipes for the staple side, green chutney as well as a yummy gravy made with the leftover marinade.

Tandoori Chicken Recipe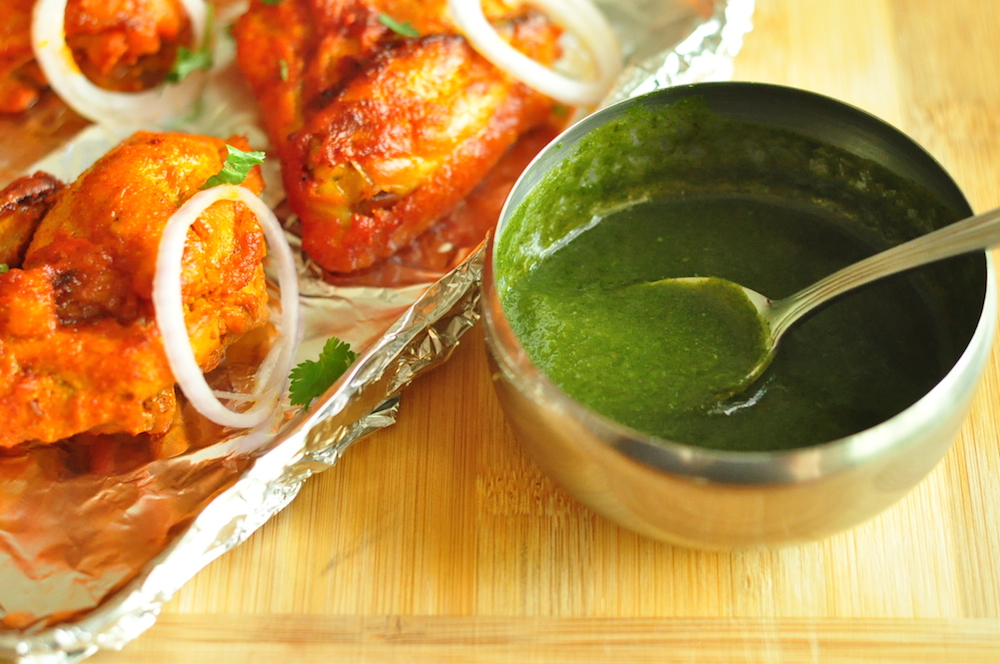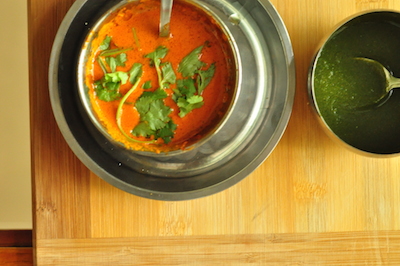 You are here: Home > Chicken Dishes  > Tandoori Chicken 
Tandoori Chicken Recipe
Recipe Name: Tandoori Chicken Recipe
Recipe Type: Dessert
Author: Shana c/o Recipes 'R' Simple
Prep time: 20 mins
Marinating time: 5 hours 30 min
Cook time:  
Total time: 50 mins plus marination 3 hours upto overnight
Yield:  (4 servings)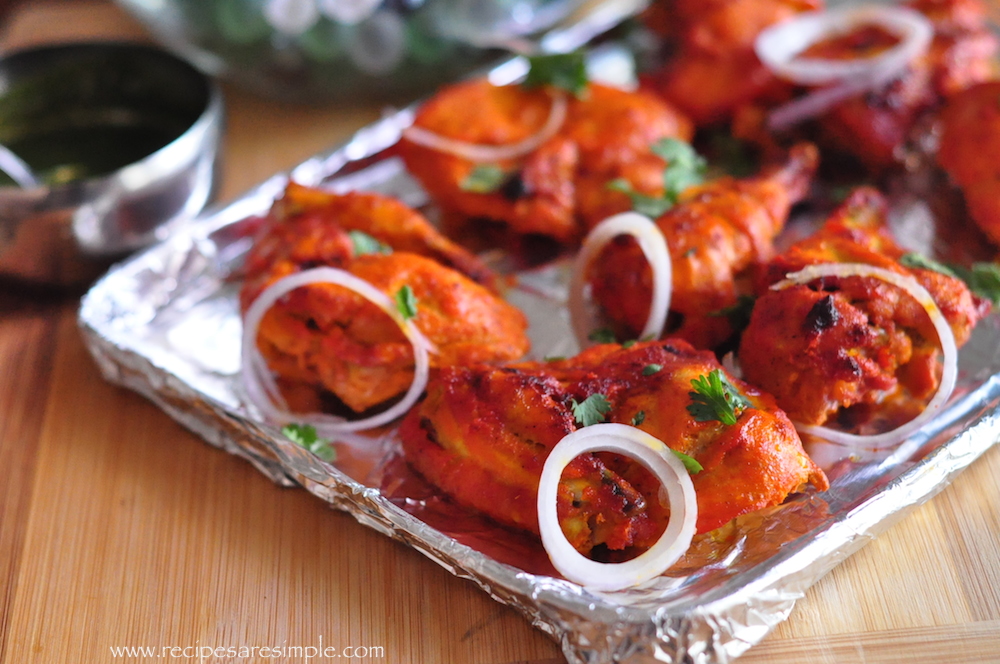 Ingredients:
1 chicken cut into large pieces ( skinless, with bone intact)
12 large cloves of garlic & roughly the same amount of juicy fresh ginger, as the garlic – to be ground to a smooth ginger garlic paste.
'1st Marinade':
half the amount of prepared ginger garlic paste
1 tsp Kashmir Chili Powder – Deep red color, but not so spicy
1 Tbsp Lemon Juice (Indian small yellow limes are best  for this)
'2nd Marinade':
1- 2 Tbsp Mustard Oil
¼ tsp turmeric powder
1 cup yoghurt
remaining half of the prepared ginger garlic paste
1 tsp Kashmiri red chili powder

(mild heat)

1 tsp Coriander powder
½ tsp powdered cumin
a little more than ½ tsp good Garam Masala or Tandoori Masala

(Use your own favorite brand OR the masala recipe, given below)

½ tsp  papaya based, powdered meat tenderizer

(optional but recommended)

¼ tsp red food coloring (powder form) – only optional if you want to achieve the restaurant effect.
Salt  ( about 1 ¼ tsp or to taste)
Other:
Melted Butter for Basting
2 Medium Onions, sliced in rings and seperated for garnish
Lemon wedges for garnish
Extra Kashmir Chilly powder for sprinkling
finely chopped cilantro ( coriander leaves) for garnish
Easy Tandoori Chicken Masala Powder: Lightly toast and Powder grind the following.
4 cardamom pods
4 cloves
6 black pepper corns
1 " cinamon stick
1 tsp coriander powder
1 tsp cumin
Method:
Cut the Chicken into Large pieces and make gashes with a sharp knife. (This helps to force the marinade into the meat, tenderizing it further).
Add the ginger and garlic to a small mixer grinder and grind to a smooth paste. (Add a Tbsp of water to assist in grinding if needed, but not more).
Marinate the chicken with the ingredients listed under '1st Marinade'.  Rub well into the chicken. Refrigerate for 20 – 30 minutes, covered.
Meanwhile, hang the yoghurt in a muslin cloth for 20 minutes (no longer) to separate the whey and get a thickened yoghurt.
Transfer  the 'hung yoghurt' to a bowl along with ingredients for '2nd Marinade' with enough salt and stir well.
Heat the mustard oil in a small pan. When smoking, turn off the heat and add the turmeric powder. Allow to sizzle. Add this turmeric infused mustard oil to the yoghurt mixture. Stir or whisk to achieve a homogenous mixture.
Marinate the chicken again in this, coating all pieces evenly. Marinate for at least 3 hours or overnight, covered in the fridge.
Preheat oven to 200ºC/400ºF.
Remove the chicken from the fridge.
Keep the sliced onion rings in iced water till ready to garnish and serve. This keeps them crisp and reduces the onion 'punch'.
(Optional – smoking the marinated chicken) Place a small steel tumbler into the centre of bowl of the marinated chicken.
 Place a small piece of charcoal on direct flame till it's piping RED Hot.
Immediately place inside the steel tumbler and pour 1 Tbsp of oil over it. As it begins to smoke, quickly cover the bowl and place a weight on top if needed to prevent the smoke from escaping.
Keep covered till the smoke dies down. Discard the charcoal.
Place the chicken on a wire mesh over a tray lined with foil paper in the oven. (This is so the juices may drip into the tray). ( DO NOT DISCARD the left over marinade in the bowl – we will make a gravy using this)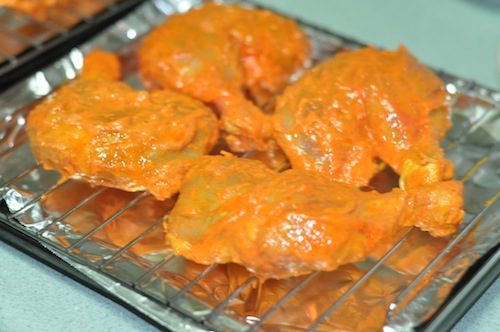 Bake for 15-20 minutes  on a lower rack in the oven. (Note that oven temperatures vary ).
Now return to an upper rack in the oven.Then  change oven setting to 'Broil' – Upper heat source only. Broil for another 10 minutes. You can increase the oven temperature slightly here. (Again, note that this may vary from oven to oven). You will get a slight charred effect. Careful not to OVER COOK, If you try to get more charred effect,by broiling for longer – you will lose the intense moist flavor of the tandoori chicken.
Baste once more lightly with butter and Sprinkle some Kashmir Chili powder on top while hot and Sprinkle with the chopped coriander leaves.
Serve with Naan.
 Green Chutney for Tandoori Chicken Recipe: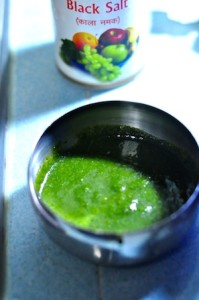 ¼ cup fresh mint leaves (Stems discarded)
½ cup fresh coriander leaves
1-2 green chillies, deseeded if needed
water for grinding
¾ tsp fresh lime juice
¹⁄8 tsp black salt (kala namak)
¹⁄8 tsp sugar
Method:
Add the fresh leaves, green chili to a small grinder. Add just enough water to make a smooth chutney.  Add lime juice, black salt and sugar and stir. Adjust to taste.
Tandoori Chicken Recipe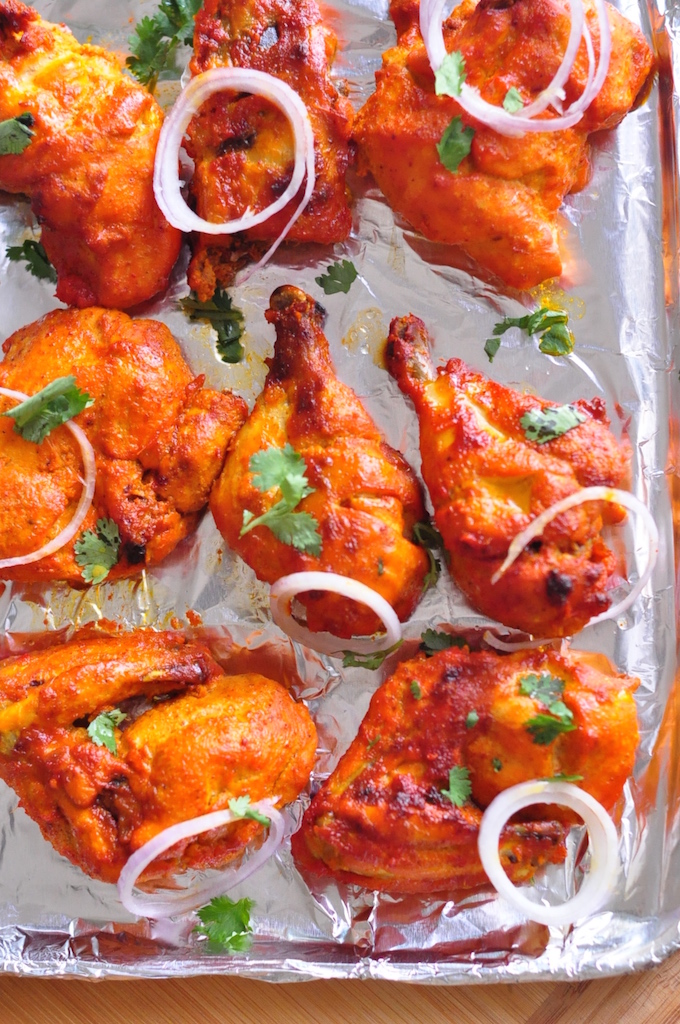 Serve the Tandoori Chicken with lemon wedges.
Remove from any extra marinade while baking(Shake off excess). Do not baste with the left over marinade.
The chicken does not need to be flipped over while baking. This may cause the chicken to be overly dry.
Bake till you see some charred spots and are left with moist parts as well.
Key Ingredients: Chicken, Yoghurt, Spices, Mustard Oil, Ginger, Garlic, Lemon
Let us know if you tried it – Tandoori Chicken Recipe . Comments from you provide motivation to keep up the driving force behind this blog, bringing you more delicious and perfected recipes regularly. Please do leave a comment. We love to hear from you.