14 February, 2013
Taiwanese Fried Chicken – A copy cat of the popular street snack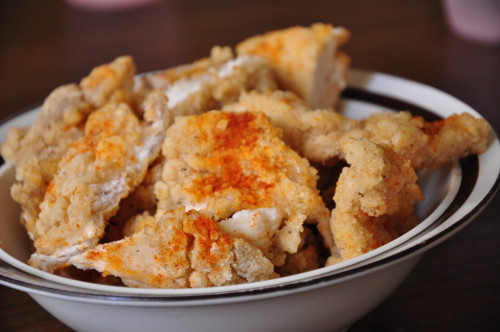 Taiwanese Fried Chicken 
This Taiwanese Fried Chicken – a popular street snack is just so good. Good News is that it can be made at home with ease. Yes!  You found the copy cat recipe here! It's the double dipping of wet and dry batter that makes them so  perfectly yummy. The perfect crunch! These crispy treats fly off the plate! Serve Hot!
Taiwanese Fried Chicken 
You are here: Home > Chicken Recipes  > Taiwanese Fried Chicken
Recipe Name: Taiwanese Fried Chicken 
Recipe Type: Chicken / Fried
Author: Shana c/o Recipes 'R' Simple
Ingredients:
For the 'marinade':
600 gms chicken breast  flattened with a mallet evenly and cut into long strips.
2 Tbsp 'Hsiao hsing' rice wine – optional
2 Tbsp light soy sauce
1 large clove garlic, minced
1 tsp paprika / chilly powder(mild)
Other:
¼ cup glutinous rice flour
Water
1 cup sweet potato flour
salt and pepper to taste
paprika /mild chilly powder to season
oil for deep frying (like peanut oil)




Method:
Marinate the chicken with the ingredients under 'marinade' for ½ an hour. 
In a bowl, make another wet batter consisting of the glutinous rice flour, salt to taste and enough water to make a batter of 'thick buttermilk' consistency.
Mix the sweet potato flour & salt  to taste in another bowl.
Heat oil for deep frying.
Dip the marinated chicken strips into the wet glutinous rice batter well  and then into the dry sweet potato flour mix. Shake off excess flour.
Dip into hot oil and fry till a pale gold color. Turning once.
Remove from oil onto kitchen paper towels and cut into bite size pieces using kitchen scissors.
Sprinkle some mild chilly powder while hot. Serve.
Taiwanese Fried Chicken 
Notes:
The sweet potato flour coating

does not turn brown

while frying. It remains very light in color after frying. Do not try to make it turn dark golden brown, or you will over fry and dry out the chicken.
Dipping first in the glutinous flour batter makes this chicken extremely moist while the sweet potato flour gives it an awesome crunchy outside!
You can also add chinese spice powder if you like the flavor.
Read more about some Taiwanese street snacks here
Key Ingredients: Chicken, Sweet potato flour, Glutinous rice flour, Oil, Spices, Salt, Soy Sauce, Rice Wine/ JuiceB
Let us know if you tried it – Taiwanese Fried Chicken  . Comments from you provide motivation to keep up the driving force behind this blog, bringing you more delicious and perfected recipes regularly. Please do leave a comment. We love to hear from you.