20 April, 2014
Tabbouleh – Lebanese salad with Bulghur Wheat.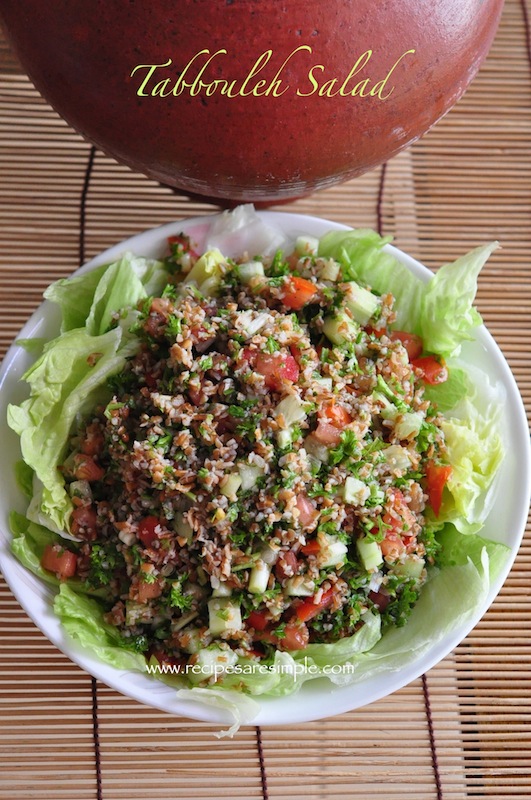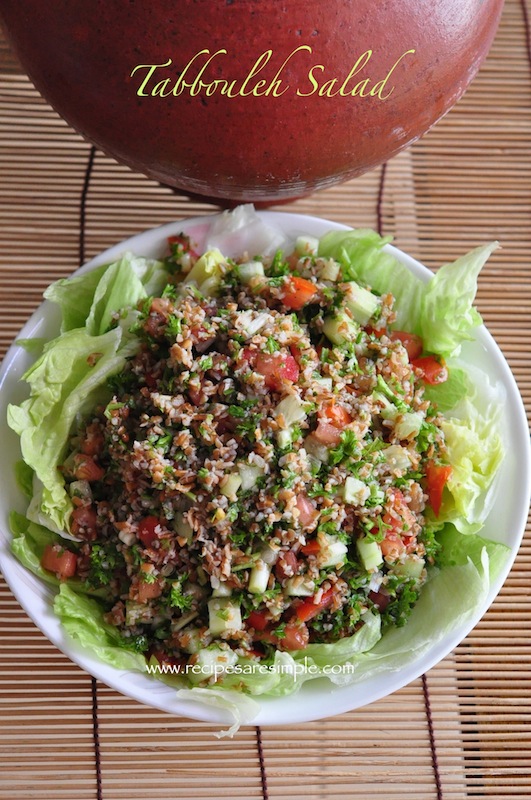 Tabbouleh – Lebanese salad with Bulghur Wheat.
 
Tabbouleh / Tabouli is a Meditteranean salad, consisting of Cracked Wheat (Bulghur Wheat). The word Tabbouleh is derived from the Arabic word 'Tabil'  meaning 'Seasoning'. Usually, the bulghur wheat is tossed with finely chopped parsley, tomatoes, onions,  mint but cucumber and/or lettuce is often added to make a more attractive and crunchy salad. Often served as an important part of a 'Mezze', this dish is popular worldwide.
Bulghur is a whole wheat grain that has been cracked and partially cooked. Although most popular in Tabbouleh, it can also be cooked similar to rice or couscous in other preparations. Parsley is also vital to the Tabbouleh, Lots of it! I like to chop the parsley extra extra finely.
According to Arab Folklore, the ratio of the Parsley to Bhurgul indicates the social standing of the family. The more parsley to Burghul, the higher the economic status.
Tabbouleh – Lebanese salad with Bulghur Wheat.
Recipe Type: Salad

Author: Recipes 'R' Simple

Prep time: 15

Soak time: 10

Total time: 25 

Serves: 6 – 8
Ingredients:
½ cup medium burghul (cracked wheat) soaked in hot water for 10-15 minutes
About 500 gms / 1 lb fresh parsley, washed well and drained
4 Tbsp Fresh mint leaves, washed and drained
1 small cucumber, peeled, cut into small dice – optional
About 125 gms / ¼ lb fresh green onions/ scallions washed and drained
2 firm, red  tomatoes, finely diced
½ cup of torn lettuce leaves (enough to line your serving bowl) – optional
4 Tbsp Extra Virgin Olive Oil
4 Tbsp freshly squeezed lemon juice
1 tsp salt
½ tsp black pepper
Method:
 It is essential for a good Tabbouleh that the parsley, mint and other ingredients be chopped as finely as possible. Especially the fresh parsley, mint and scallions.
Soak the burghul in hot water for 10 – 15 minutes till softened.
Finely dice the tomatoes, cucumber.
Extra finely chop the parsley, mint and scallions.
Add the chopped ingredients to a bowl.
Squeeze out all the liquid from the burghul using a fine mesh sieve and hands. Add to the bowl.
Mix together the olive oil, lemon juice, salt and pepper and whisk well Add over the salad and toss.
Line a salad bowl with lettuce leaves.
Drop the salad over the bed of leaves.
Allow the salad to rest for 30 minutes or o for best results and serve at room temperature.
Serve with Pita bread and Baba Ganoush – Eggplant Dip Recipe.
Tabbouleh – Lebanese salad with Bulghur Wheat.
Try it and let us know – Tabbouleh – Lebanese salad with Bulghur Wheat.
For a variation, add pomegranate syrup and sumac over the salad as a finishing touch. You can also add pomegranate seeds.
It is important to finely chop the parsley – DO NOT USE A FOOD PROCESSOR. The texture of the salad would be ruined.