12 November, 2013
Szechuan Mushroom Dosa Wraps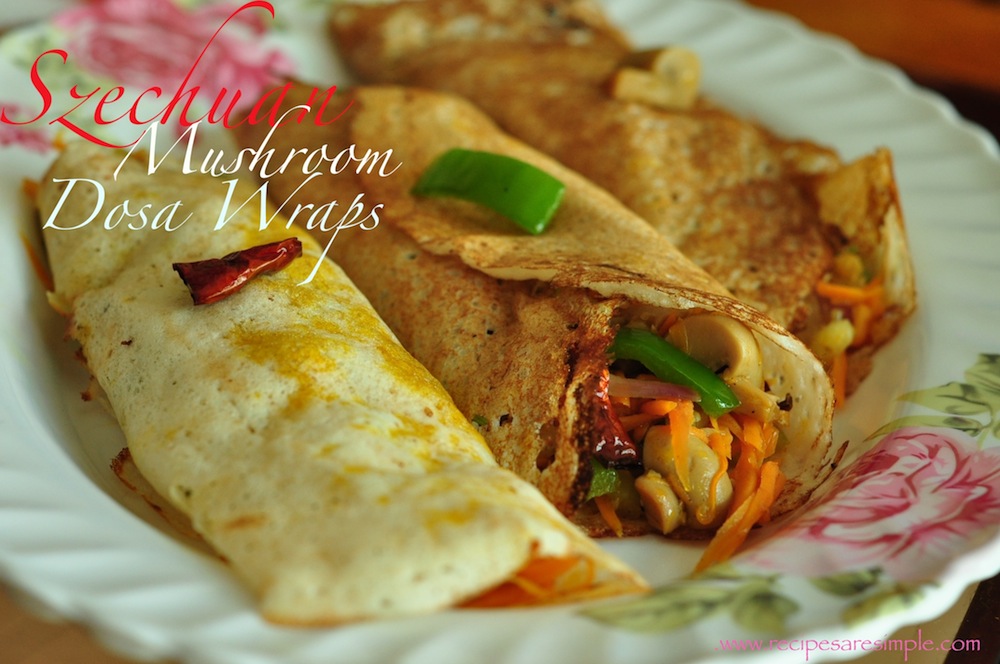 Szechuan Mushroom Dosa Wraps

This Indo-Chinese fusion recipe is really tasty! Combining the Favorite crispy South Indian Breakfast crepe with Spicy Szechuan/ Sichuan style mushroom and vegetable stir fry, it really makes a statement! I saw this idea in a magazine somewhere and forgot about it till I had some Dosa batter  and lots of vegetables left over from making my Szechuan Chicken Fried Noodles. I made my own recipe up and it tasted great!

Szechuan Mushroom Dosa Wraps
Author:
Prep time:
Cook time:
Total time:
Ingredients:
2 ½ cups Store brought or home made Dosa Batter – To learn how to make home made dosa batter click here. 

(Note that if you are making your own dosa batter you will have to prepare the day ahead to let it ferment).

5 dry red chillies, cut into 1 or 2 " pieces – remove seeds to reduce heat.
1 tsp Sichuan red pepper corns if available
½ Tbsp ginger , finely chopped.
½ Tbsp garlic , finely chopped.
1 mild, long green chili, sliced.
1 onion , finely sliced.
1 green capsicum/ bell pepper – julienne  or cut into thin strips.
1 cup mushrooms, canned or swiss brown – sliced.
1 carrot, fine julienne cut.
1 stick of celery, sliced or diced.
3 tsp tomato ketchup.
½ tsp light soy sauce.
½ tsp red chili sauce.
¹⁄8  tsp  pepper powder.
salt to taste.
2 Tbsp Oil.
Method:
Prepare the filling before roasting the dosa.
If using Sichuan pepper corns, dry roast them for a minute and pound them to a powder.
Heat oil in a non stick wok.
When the oil is hot, add the dry red chillies.  Allow to sizzle without turning black.
Add the ginger, garlic and saute briefly.

Add the Sichuan peppercorn powder now.

Add the onion, green chili, celery, mushroom and saute till nicely softened.
Next add the bell pepper/capsicum and the carrot. Stir fry just till cooked but still crunchy.
Add the soy sauce, chili sauce, tomato ketchup, the pepper and salt to taste.  Toss well till flavors comine and take off heat.Taste test and adjust seasoning. Do not make the filling wet by adding too much sauce.
Roast the dosa crepes one at a time and place filling in centre.

Do not over crisp the dosa as it may crack on wrapping.

Wrap and Serve HOT & Crispy! Great Breakfast. You may use a pizza cutter to slice into sections.

Szechuan Mushroom Dosa Wraps
Did you enjoy our Szechuan Mushroom Dosa Wraps?
Dosa is usually served with Sambar or Chutney, however for this recipe I omit.  It tastes just great alone. If you insist on a dip try a chili sauce on the side.