12 December, 2013
Sweet Mung Bean Dessert – Cherupayar Payasam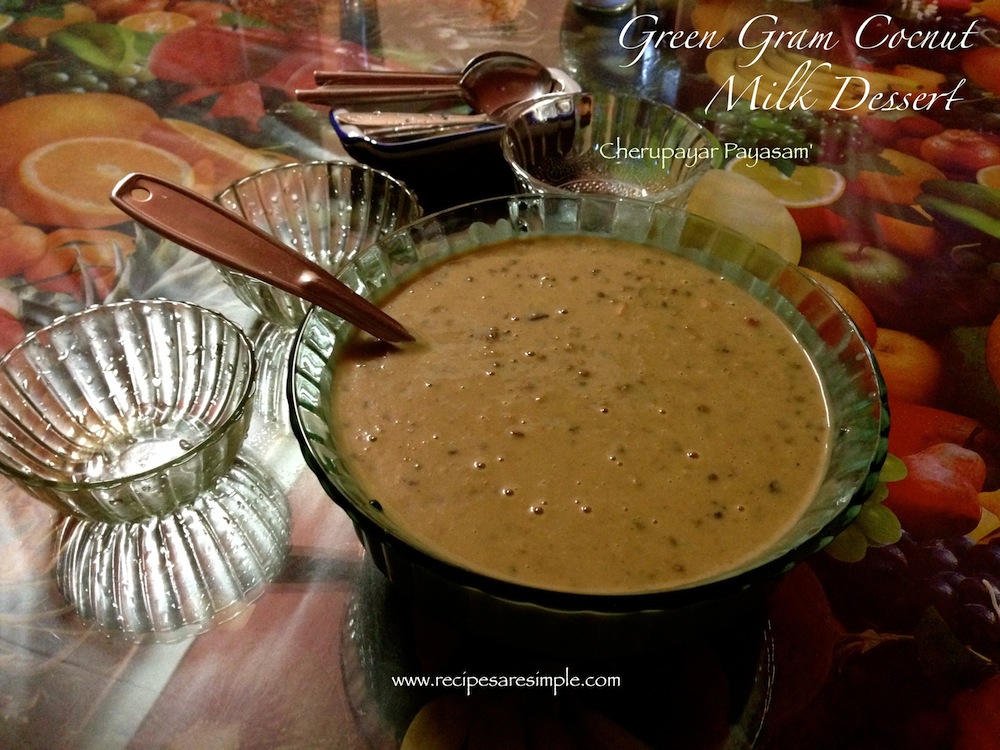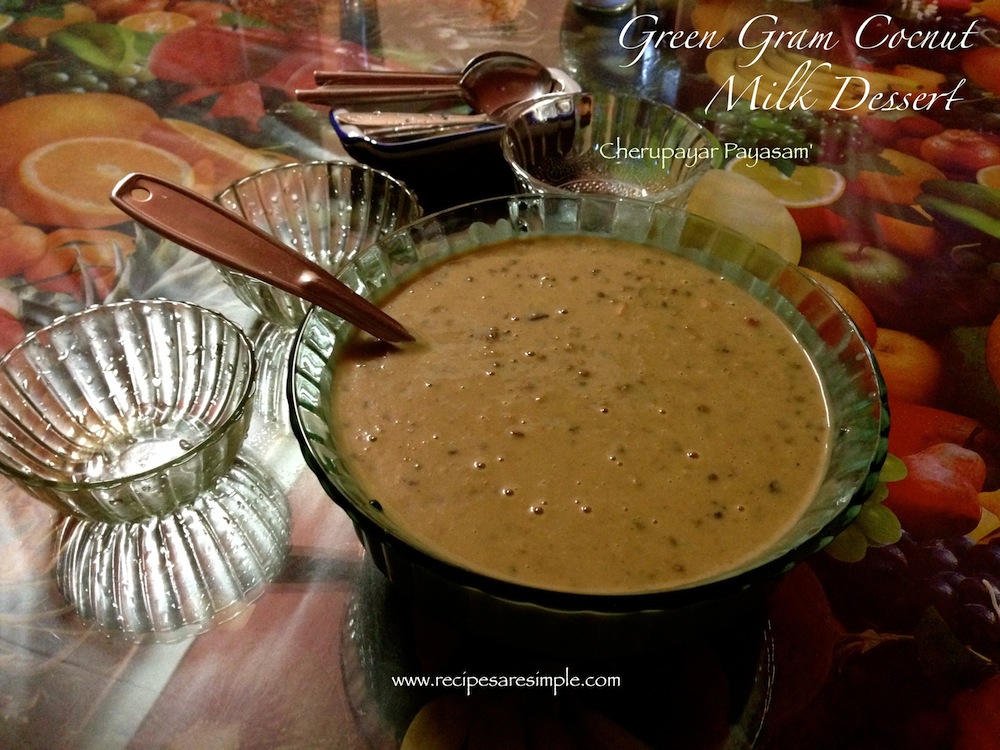 Sweet Mung Bean Dessert – Cherupayar Payasam
Another classic dessert from Coastal India where coconut milk is used a lot in sweet desserts.
The healthy Mung Beans are toasted before they are cooked  in  coconut milk. Enhanced with a hint of spice and sweetened by  raw cane sugar.  The dessert can be served hot in cold weather and is equally tasty chilled.
Sweet Mung Bean Dessert – Cherupayar Payasam
Ingredients:
2 cups dried Mung Beans.
1 cup jaggery or dark brown sugar.
6 cups water.
4 cups thin coconut milk.
1 cup thick coconut milk.
½ tsp ground dry ginger.
1 tsp cardamom powder.
½ – 1 tsp roasted and powdered cumin – to taste
For seasoning: 1 tsp ghee / clarified butter ,2 Tbsp slivered coconut bits OR 3 Tbsp Cashewnuts ,1 Tbsp golden raisins
Method:
Toast the Mung Beans in a non stick deep pan/pot, stirring coninuously on mediaum heat for 2 – 3 minutes till they are evenly toasted without getting darkened.
Add the jaggery, water and thin coconut milk and bring to a simmer.
Add the ginger and simmer, partially covered on low heat till the beans are tender.  (15- 20 minutes).
Next add the thick coconut milk along with the powdered cardamom and cumin and simmer for another 5 minutes till the dessert is thick, smooth and creamy.
Optional – Heat the ghee, add toast the coconut bits/cashews till golden.  Add the raisins and as soon as they all puff up, add to the 'Payasam'.
Serve hot or cold.
Sweet Mung Bean Dessert – Cherupayar Payasam
Try and let us know – Sweet Mung Bean Dessert – Cherupayar Payasam
Notes: 
If using slivered coconut, cut into small bite size pieces.
Roast the cumin in a dry pan till toasted evenly and then grind to a fine powder.